The job market may seem daunting right now, with the recession making even big tech companies let go of employees. But this year is also bringing plenty of industries that need your skills, and there are many in-demand jobs for 2023.
So, what does 2023 have in store for us job-wise?
As already said, on the one hand, it may be difficult to find a new job. According to a recent Harris Poll study:
71% of respondents find the job search harder than they expected it to be
Almost 50% of respondents send their application to more than 50 job openings
Over 60% of respondents have been looking for a job for longer than 6 months
But on the other hand, only in America, it's predicted that there'll be 8.3 million new positions generated before the year 2031, according to the BLS Employment Projections. Employment is also expected to grow to 166.5 million from the current 158.1 million.
Currently, there's also a huge talent shortage and also job positions that continue to grow. So, if you're struggling with finding a job in your current field, you may consider applying for jobs in high-demand industries.
In this article, we'll take a look at the most in-demand jobs for 2023 in some of the major industries — tech, healthcare, and marketing.
Which are the most in-demand jobs in 2023?
Generally speaking, the fastest-growing jobs across all industries are nurse practitioners, wind turbine technicians, and ushers/ticket takers: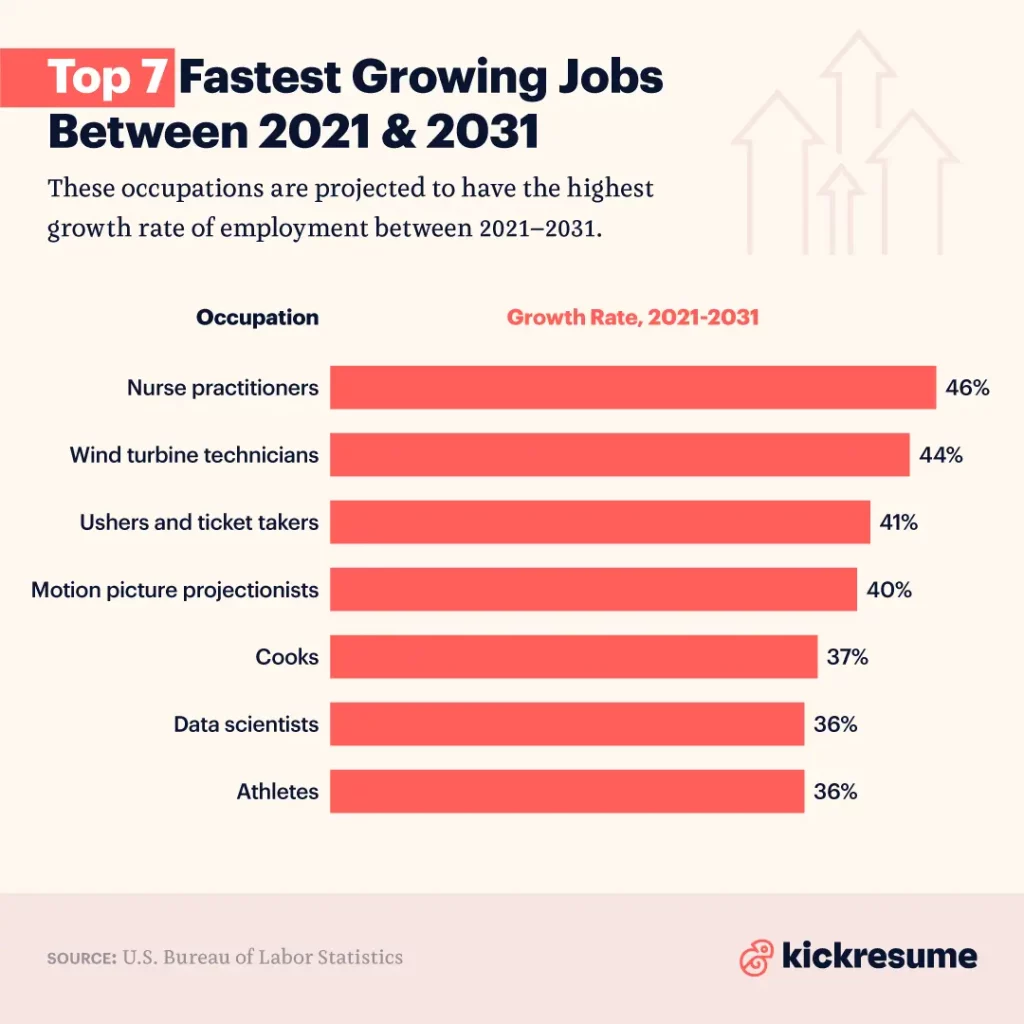 You will find more infographics at Kickresume Blog
Now, let's take a closer look at the top three industries that are busy looking for new talent in 2023: tech, healthcare, and marketing.
1. Technology sector
Despite the feared big tech layoffs, the field of IT is still one of the best places to look for a job in 2023.
While it's true that after long years of constant economic growth, the sector is facing some struggles (and people who have worked their way all the way up to Google, Microsoft, or Spotify are suddenly jobless), the overall situation isn't at all that bleak.
The technology sector is still making high profits and is constantly looking for new people. For instance, at the moment, there are over 600 job positions available at Apple only in the U.S.
Plus, since technology plays such a fundamental role in modern businesses, pretty much every company is now at least partly a tech company. Or needs one or two tech employees.

Which tech positions are the most in-demand in 2023?
Fintech experts are becoming a hot commodity as the financial sector is turning attention to cutting-edge technology. They can also earn up to $87,059 a year.
Software developers skilled in multiple coding languages such as C#, Java, Python, or JavaScript are still one of the most sought and best-paid professionals out there (median yearly salary of $120,730). And the demand isn't expected to drop any time soon.
So are computer engineers, data scientists, and DevOps analysts. And all these jobs are well paid, too, with computer engineers earning a median yearly salary of $128,170.
Thanks to a disturbing amount of hacks and data breaches, there's an increased demand for cybersecurity specialists. In 2022, there was a shortage of 3.4 million workers in the field, and this number isn't expected to get lower in 2023. The median yearly salary for these kinds of positions is $103,590.
AI engineers and developers. In the last couple of years, there has been an increase in AI jobs by 32%, and this number is expected to keep on growing. Combine this with an average salary that's above $100,000/year, and you got yourself a prospective career on top of a comfortable life.
2. Healthcare sector
A career in healthcare has always been in demand. In 2023, it's no different; quite the opposite.
After the COVID-19 crisis, the healthcare staff is exhausted, and more specialized workers are needed.
The growth in life expectancy and the aging population also lead to an increased demand for carers, quality physical rehabilitation, pain management, and mobility assistance staff.
And while jobs may require years of studying and substantial student loans, others are easily filled with workers who have yet to gain initial experience or education.
Sometimes, only a year-long course is required to gain a new qualification and enter the healthcare system. So just in a couple of months, you can be working as a dental hygienist, occupational therapist, or EMT. Medical assistant jobs, for instance, can be obtained with a relatively short training period.
And working in healthcare offers you many advantages, such as benefits, career stability, and a potentially high salary.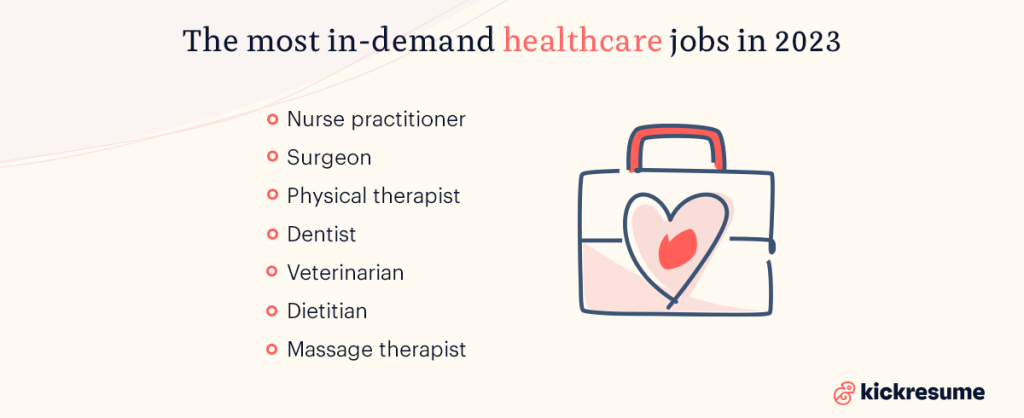 The most in-demand job positions in healthcare for 2023 are:
Nurse practitioner. Nurse practitioners have the highest projected job growth rate between 2021-2031. They also make a decent median yearly salary of $120,680. However, it may take up to 6 years of specialized education and training to get there.
Surgeon. Surgeons are notoriously in demand, which reflects in their pay — with their yearly earnings reaching up to $421,279.
Physical therapist. To become a physical therapist, sometimes it's enough to only complete a year-long master's program. It'll lead you to a career with plenty of job opportunities and a median salary of $95,620/year.
Dentist. Another prestigious medical career. After years of hard and expensive education and training, you can look forward to, on average, $189,621 a year.
Dietitian. In this case, it may be enough to earn a 3-year-long bachelor's degree in nutrition and pass a registration state exam to become a needed medical professional. Then, you can look forward to $67,459/year.
Massage therapist. After completing just one course, you easily find a job and earn a median wage of $22.55 per hour.
3. Marketing sector
Marketing is a key element of any successful business. Every company needs a marketing strategy and at least a couple of employees on their marketing team.
As a result, these kinds of jobs are always in demand.

Which marketing professionals are the most wanted in 2023?
Digital marketing specialist. With more than active 860,000 online vacancies, digital marketers are among the top 10 most in-demand jobs listed on LinkedIn. And the average salary is $53,714 per year.
Video content specialist. With over 80% of all consumer internet traffic being videos, video contents specialist are needed everywhere. In exchange, they can get over $45.000/year.
Social media collab coordinator. In 2023, it's influencers who rule the world of marketing. And companies are starting to get it, so we see a sharp rise in demand for social media collaboration managers and coordinators. The average social media coordinator salary is $42,500 per year.
SEO specialists. One of the most sought-after positions in digital marketing or any experienced link-building companies is, without any doubt, an SEO specialist. The good news is that you often need only a three-month course to master the basics of SEO and start a new career. The average salary is $54,673 per year.
Data analysts. Data analysts are now needed in every industry, marketing being no other. As a marketing data analyst, you can look forward to an average salary of $71.000 a year.
UX designers. You need a college education to become a UX designer, and you can earn around $95,577 a year.
However, remember that thanks to its creative nature and the air of prestige, positions in marketing are also highly popular among job seekers.
So, if you're interested in a career in marketing, you must stay on top of current trends in the field.
In the end, marketing is an ever-evolving industry. What's trending today can be obsolete tomorrow.
For example, we barely remember Snapchat, but everyone has a TikTok now. Also, the recent launch of OpenAI is changing the face of marketing as we speak.
Final tips
As you can see, the job market is sketchier and more competitive than ever before.
So apart from applying for most in-demand jobs, what other things can you do to land a job in 2023?
Put emphasis on soft skills and the ability to embrace change.
Keep learning new technical skills. You can do so by taking up online courses whenever you need to add a new skill to your resume. And if you obtain certifications that will back up your experience, your chance will grow even more.
Keep up with the new trends. In the second decade of the 21st century, you need to be able to adapt and continue learning to respond to the demands of the market that's being rapidly shaped by the recession and development of AI technology.
Work on your transferable skills. In times when changing careers is no longer a rare thing to do, it's your safest option to remain relevant.
Know which portals to use for your job search. Different portals are good for different industries or types of jobs. For instance, if you're interested in finding a remote job, turn to the Pyjama Jobs portal.
Tailor your resume to each specific job application. A generic resume won't make you stand out from the crowd.
FAQ: The most in-demand jobs for 2023
1. What are the jobs that receive the most job applications per opening?

Architect, product manager, pharmacist, and software developer.

2. What "low-skill" jobs have the highest number of job openings?

Personal care aids, retail assistants, cashiers, and restaurant staff.

3. What are the best-paid jobs in 2023 in the U.S.? 

Doctor (surgeon and anesthesiologist), pilot, data scientist, AI scientist, marketing executive, and lawyer.
This article was recently updated. The original article was written by Jakub Kaprál in 2020.
Junior Writer

Kaja Jurcisinova is a junior copywriter at Kickresume. Kaja completed her undergraduate degree in Art History at the University of St Andrews in 2018 and graduated with a Master's in Arts and Culture from the University of Groningen in 2021. She was an intern at multiple cultural institutions across Europe, including the Dutch Museum Association in Amsterdam, the Matter of Art Biennale in Prague, and the European Cultural Centre in Venice. At the moment, she resides in Visby on the Swedish island of Gotland.