Nicholas Botto, director of career services at Southern New Hampshire University, has strategies to help you get started with networking at university and explains why college is the perfect place to begin building your network.
As a career advisor, I regularly hear from career seekers expressing concerns about crafting the perfect resume to please applicant tracking systems, struggling to get through recruiting filters, and other technology-related challenges standing in the way of their success.
Sadly, these conversations often highlight a critical missing element of many career seekers' strategies: networking.
For a college student — and particularly an online learner — the concept of developing connections can be daunting. Colleges and universities are complex organisms, after all.
What's more, for some, it may be pretty intimidating to connect with experts. Not to mention everyone around you may appear far too busy to have the time to sit down and chat.
Worry not. Many of these qualities are precisely what make the university landscape ideal for aspiring networkers.
Overcoming the 3 main challenges of networking at university
From my experience, college students most often struggle with the following three things when trying to network:
#1 Challenge: Universities are complex
There are professionals from all kinds of different fields, PhD students, and a diverse range of interdisciplinary experts, all contributing to the rich landscape that characterizes university life.
Is it really a challenge, though? In my opinion, the complexity of a college or university isn't a networking hurdle.
Rather, it represents an incredible opportunity.
One of the signs of a healthy network is its robustness. By surrounding yourself with unique backgrounds and experiences, you can enhance your perspective on your desired career path.
This can also open your eyes to new and unique opportunities that you may not have otherwise considered.
Here's how I'd go about it:
Expert tip #1
#2 Challenge: Connecting with experts
The idea of connecting with a faculty or staff member may be intimidating. After all, these individuals are experts in their fields. Why would they ever want to talk to someone just starting off on their journey?
These hesitations, however, are often unfounded.
Rather than feeling bothered by talking about their experiences, many professionals actually enjoy engaging with students to share their knowledge.
It can give them the opportunity to share how they got to where they are and help someone get their foot in the door.
Leveraging their insights can help you sidestep common mistakes and effectively allocate your time and resources, focusing on aspects of your career that promise the greatest long-term rewards.
So, what's the best way to approach them?
Expert tip #2
#3 Challenge: Everyone is so busy
Concerns about being a burden or wasting someone's time are two of the most common hesitations I hear from students when networking is brought up in discussion.
To these concerns, I recommend seriously considering what the contact can potentially say:
"Yes! I'd be happy to connect"
"No. I'm sorry, but I'm unavailable at this time"
or they can simply not respond
In both of the two less-than-ideal cases, it doesn't take the respondent much effort.
Meanwhile, in the best-case scenario, a potentially life-changing relationship is started.
Again, for many professionals, being asked to share stories and insight into the fields they're passionate about is considered highly complementary — far from a burden.
This is how to do it the right way:
Expert tip #3
Now that these anxieties are relieved, it's essential to consider how to approach a networking experience.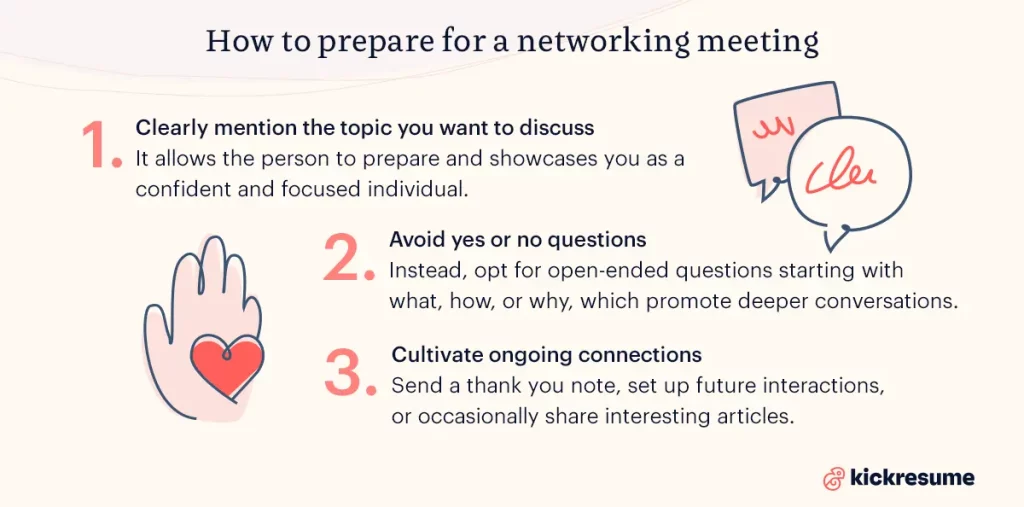 How to prepare for a networking meeting
This begins with the inquiry. The clearer you can be with your request, the better.
Here's how you do that:
1. Clearly mention the topic you want to discuss
And the amount of time you're asking for. It not only allows the connection to prepare for the conversation but also showcases you as a confident and focused individual who knows what they want.
Also, it lets the recipient better visualize the conversation as well as how they could potentially fit it into their day.
As an added benefit, if the connection determines they're not the best option for the conversation, they may suggest another professional from their network.
2. Avoid yes or no questions
When it comes to the conversation itself, remember that networking isn't about asking for jobs. Rather, it's about building a relationship.
For that reason, avoid yes or no questions and prepare some open-ended questions that begin with words such as:
What
How
Why
These questions allow these experts to tap into their experiences, backgrounds, and knowledge base and can help you come up with the steps you may need to take to achieve the goals you're setting out for.
3. Cultivate ongoing connections
Finally, once your networking meeting is over, it's necessary to explore ways to nurture the developing relationship. Consider:
Sending a thank you note expressing appreciation for the meeting
Suggesting additional opportunities to connect, if you didn't set up future interactions during the meeting
(Occasionally) sharing interesting articles or thoughts on the topic or shared area of interest
Doing so lets your contacts know that you've found the meeting insightful and want to keep in touch rather than just using them to help you in your career.
Key takeaways: Networking at university
Pleasing an algorithm, creating an attractive professional resume, or preparing for the interview questions are certainly valuable skills for any career seeker. But at the end of the day, people hire people.
Setting aside time to meet and build relationships with professionals is as essential as any other part of a modern career search.
These conversations can help determine if curiosity is a true passion, if the good parts of a career path outweigh the bad and ugly, and shed light on challenges that may arise down the road. And even help you kickstart your job search.
Thankfully, a college or university is a perfect practice space for networking-related skill development.
About the author

Nicholas Botto is the Director of Career Services at Southern New Hampshire University. He's the state director of the New England Association for Cooperative Education & Field Experience and holds a master's degree in higher education administration.
SNHU doesn't endorse or sponsor any commercial product, service, or activity offered on this website.