When you're trying to figure out how to start networking, it can feel a lot like a first date. You're starting a little awkward conversation with a stranger and you need to get them to like you. But just like with dating, some ready networking pick-up lines may come in handy.
The trick for early networking is to be bold, go straight to the point, and make yourself memorable.
We've put together 10 tips and plenty of pickup lines to help make your networking emails and events less awkward and more efficient. Pick a few and off you go.
Disclaimer: These tips can be helpful regardless of whether you're a fresh graduate or an experienced professional. Good networking skills can boost your career and even help your business if you have one.
1. Begin with people you already know
You don't need to meet new people to start networking effectively. Actually, you probably already know some people who might help you out — even if they don't work in your target industry.
Where to look for them?
Turn to your friends and family if you're a fresh graduate. Since they already know you and trust you, they're much more likely to help you out than complete strangers.
"Hey aunt Lydia, my mum told me you worked in an event agency a couple of years ago, are you still in touch with someone there?"
Find your university's alumni database and look for people in your field. Reach out to them and ask them for short interviews to get advice on your career. Try to find the ones who have backgrounds similar to yours. For instance, maybe you're an expat from the US who's looking for a marketing job in France. Trust me — if you find someone with a similar story, there'll be a special bond.
"Hi! I heard you studied in London. I went to LSE, class of 2010. What about you?"
Don't forget about people who have given you guidance before. Perhaps you've had university professors who took you under their wings. Or senior co-workers from your last job who taught you a great deal. Update them on where you're in life at the moment and ask them to meet and catch up over coffee.
Once you've reached the people you already know, you can expand to their acquaintances and finally strangers once the process becomes second nature.
2. Make friends, not network connections
Would you want to work with someone who only sees you as a networking connection? Probably not. No one wants to be taken as a mere stepping stone on your way to getting what you want. And you probably don't want to see yourself as a "networker" either.
As a result, most people in the business sector have developed a keen nose for people full of bull. People want to foster reliable relationships, not utilitarian connections. If you approach people with the latter kind of attitude, you'll often come across as disingenuous.
So don't be all about business — but rather foster meaningful relationships.
"Would you like to join me and my friends for a match next week? We can even grab a pint after if you're up for it!"
3. Find a way to help them first
If someone's worth approaching, their time is probably more valuable than yours.
Even when you're not approaching the wealthiest man in the world, never assume their time or advice comes free of charge. This could easily close the door for you indefinitely.
For this reason, you want to provide your network with value first.
It doesn't really matter whether you're a fresh graduate or someone with years of experience under your belt. Research the company/person you're approaching and find something small to contribute.
Don't forget it's not only about being actually useful, it's also about making the gesture. Like this example:
"I've heard you're having issues with figuring out finances for the project. I'm an accountant by training, so I'd be happy to help you out!"
Most importantly, do it without expecting anything in return. If you get rejected anyway, don't show disappointment. Next time will be better.
In any case, once you've established a new contact by providing something valuable, don't ask for a favor straight away. For the time being, it's all about them; you need to invest your time and effort first. But it will pay off eventually — sometimes in the most unexpected ways.

4. Follow up — don't let your relationships collect dust
Most connections have an expiration date. Some networkers reach out to someone and as soon as they get what they want, they disappear until they need something again.
Don't be that person, and keep your relationships alive by reaching out to your contacts regularly.
Once you disappear off their radar, you'll be easily forgotten, the trust you've built will diminish, and you'll have to start again from scratch.
Moreover, you always want to follow up on your previous meetings and emails. Never forget to thank them for their help or advice.
If you discussed any further steps with your contact, reaffirm your intention to follow through and thank them specifically for anything they have offered to do.
"We've met recently at the XY conference and I would like to follow up on the topic of "XY."
You'll be forever forgotten if you don't stay in touch. Drop them a quick email such as:
"It was nice to meet you, I had a lot of fun at the event. Here's a link to the article I mentioned last night."
5. Don't ask for a job — ask for advice instead
Why? After all, you might feel like you don't really need more information. It can even seem counterproductive.
Still, when you simply ask for advice, you don't put them in an awkward position.
After all, they probably don't know you well so they'll naturally hesitate to recommend you for a job. And when you're being too pushy, you destroy opportunities that could arise later down the line.
On the other hand, when you ask for advice, you make an impression of someone who wants to learn and improve. And most people are eager to help those who are already grappling with a problem on their own.
"I have been thinking about changing industries and your story caught my eye. Would you be so kind and share some tips with me? How did you manage to do it?"
This way, they'll get to know you better and if you show yourself as a likable and dependable person, they might even recommend you for a job in the end.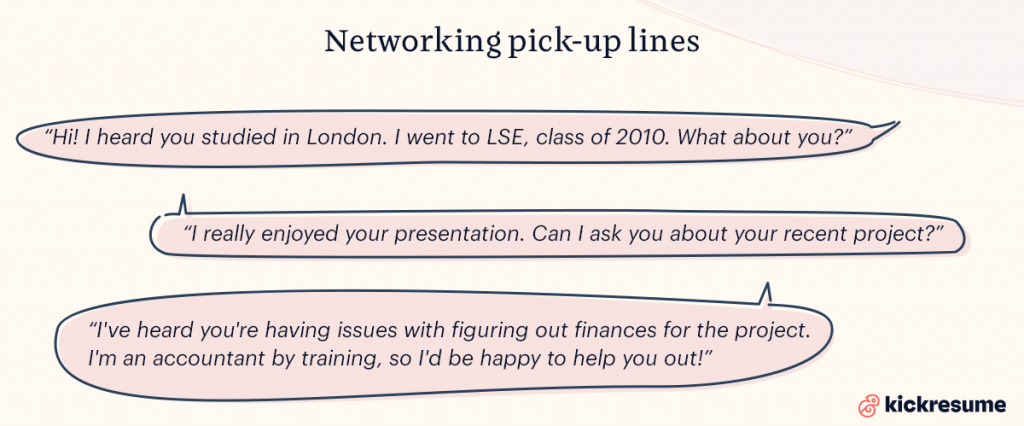 6. Do your research and connect via things you have in common
Be curious. If you have the chance, do some research about the person beforehand. Write down a few questions about their activities or projects.
"I really enjoyed your presentation. Can I ask you about your recent project?"
"I can't remember the name of this one article. But I think you'd enjoy it. Once I get home, I will send you the link."
Always try to find the right way to connect with a person. Doing your homework is crucial for that.
If you have access to the guest list, look up some information about potential connections on the list and find an interest you share. This will provide you with an evening full of conversation topics.
"Did I see you on the golf course last week? How did the game go?"
7. Impress by being well informed
As always, it comes down to research and preparation. Before any networking event, make sure you are up to date with news relevant to your industry as well as current events overall.
"Have you been following the BBC's coverage on … ? What a crazy month it's been."
"What do you think the next year will look like for the company? Will the crisis in South America affect us?"
"What do you guys think about the recent predictions on … ? Do you think it will impact our customers as well?"
8. Wine and dine them
This may sound too simple, but offering someone a drink is truly an excellent way to start a casual conversation:
"This wine is delicious. I'll go get one more. Would you like to join me and chat a bit?"
Alternatively, you can bond over food:
"This chicken is a bit dry, what do you think?"
If you really don't know anything about the person and have no idea how to start a conversation, talk about simple things like these that we all have in common.
9. If everything else fails, complain about the weather and traffic
Admittedly, everyone's favorite topics to rant and rave about. These conversation starters will never fail you.
"I hope the sun will hold up until the weekend. We've planned a hiking trip with my kids."
"Oh, the traffic was horrible on my way here. I am just glad I made it on time."
"It's impossible to park in this neighborhood. Do you guys ever think about selling your car and just using Uber instead?"
10. Finally, be bold and try something new
People get tired of cliché networking pick-up lines very quickly. If you want to make yourself memorable, go a bit more creative.
For instance, if you see a fellow soul endlessly scrolling through their phone, approach them with a glass of wine and share your hate with them:
"I hate networking."
Just make sure you switch to more pleasant topics after. Everybody hates the hater.
Or this one is something especially ladies can relate to and proves that you can start networking anywhere:
"Have you ever wondered how many hours in life we waste by standing in the bathroom queue?"
The only downside is that it can be extremely awkward, so do this one at your own risk.
Final networking pickup lines tips
Update your LinkedIn profile. It will be the first place your contact will look once you've contacted them. At the same time, LinkedIn is like a speed dating site for professionals. You might get noticed even if you're not looking for something new.
Establish new contacts both online and offline. Don't be just an anonymous email — be a friendly face. On the other hand, don't forget to develop a robust online presence.
Don't limit your outreach to people who are obviously connected to your target industry. This will significantly limit the opportunities you'll find.
Don't be a hater. Never badmouth your previous employers or colleagues. You'll be seen as a negative person and quickly dismissed by your potential contacts. Remember that negativity doesn't build trust.
Sit with the right company. When you're at social gatherings, don't sit with your co-workers and get to know new people. If you never roam outside of your social circles, you'll never get further than where you're now.
Always have your resume ready and updated. You never know when a new contact will request it. This way, you'll be ready to send it right away.
FAQ: Networking Pickup Lines
What are the best networking venues?

Charity events, fundraisers, and volunteering experiences.

Why is networking so important? 

Because most of the job offers aren't even advertised! 75 to 95 % of job offers are a part of the hidden market — the one you want to penetrate via networking.

How large your network should be?

The usual answer to this question given by HR experts is that ideally there should be about 250 in your network. A network of this size is sufficiently large yet still manageable and you'll be able to sustain it over time.
Now that you know how to establish new connections and grow your professional network, learn how to perfect your resume and cover letter as well!
Good luck with your job search!
This article was recently updated. The original articles were written by Zuzana Prostredníková and Martin Poduska in 2017.
SaveSave
Junior Writer

Kaja Jurcisinova is a junior copywriter at Kickresume. Kaja completed her undergraduate degree in Art History at the University of St Andrews in 2018 and graduated with a Master's in Arts and Culture from the University of Groningen in 2021. She was an intern at multiple cultural institutions across Europe, including the Dutch Museum Association in Amsterdam, the Matter of Art Biennale in Prague, and the European Cultural Centre in Venice. At the moment, she resides in Visby on the Swedish island of Gotland.