Our story began both with an idea and a question: Why can't everyone have an outstanding and well-formatted resume?
The idea caught on and over the past two years we've helped over 1.3M people worldwide kick-start their careers.
What began with a simple resume tool, ended up teaching us a great deal about how people approach job search and allowed us to understand the challenges they frequently have to face.
Now you can find every important career lesson we've learned in one little book. We call it The Job Seeker's Guide to the Galaxy.
"In less than one hour of reading, this career guide will take you through every step of the hiring process."
The Job Seeker's Guide to the Galaxy is the answer to those of you who want to score the job of your dreams but don't know where to start. And we can see why.
So much of the advice on job search is abstract, formulaic and clichéd. It's of little help when you're stuck in the trenches of job hunting. We wanted our career guide to be the exact opposite — hands-on, practical and specific.
The Job Seeker's Guide to the Galaxy is just that. A bullshit-free, step-by-step manual that will guide you through every step of the hiring process.
It will take you all the way from deciding what you want to do for a living to acing that final job interview.

This book took us about 4 months to complete. It was a time we've spend writing, drawing, doing research and collecting feedback.
Ultimately, our aim was to make an uncompromisingly useful career guide that would be as pleasant and easy-to-read as a children's book.
For this reason, it wasn't enough to simply amass a heap of well intentioned career advice. We've also had to give much thought to the book's design, layout, length and readability.
It was a team effort but we want to give special credit to Katka Koncova for her beautiful illustrations and to Double Atelier for their tireless work on the book design, visuals and layout.
In the end, the effort paid off and not only is the result an absolute pleasure to read, it's also more beautiful than we ever imagined.
So what will you learn?
How to write a resume and cover letter
How to lay the foundations of your online presence
What you need to do to prepare for a job interview
How to ace that final job interview
And many clever shortcuts to "hack" the application process to your benefit
Enough talk. Get The Job Seeker's Guide to the Galaxy here. It's free and you're welcome to share it with your friends and family to help them get the job of their dreams too.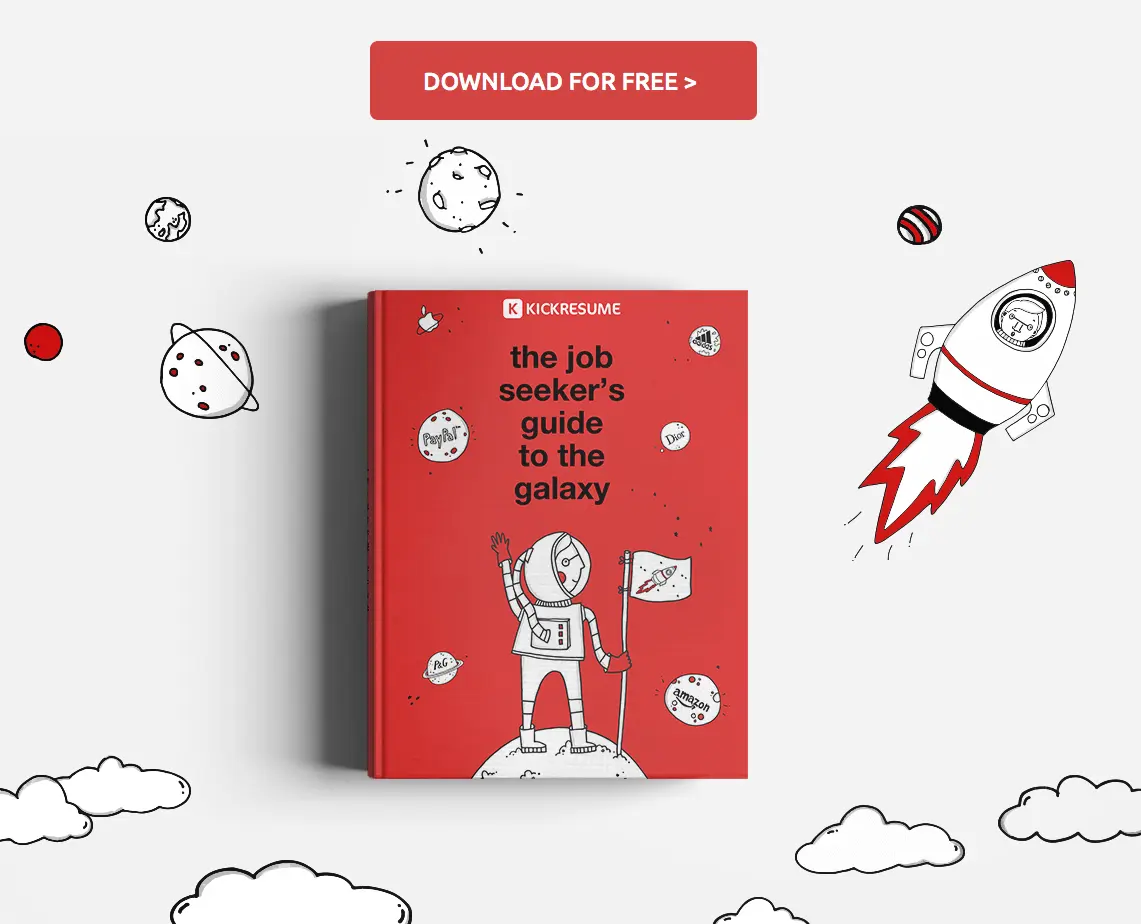 Excited about our new Career Guide eBook? Your journey doesn't stop here. Take things a step further and explore our extensive collection of resume samples. These practical examples will complement your reading and help you visualize a stand-out resume.