Today, we're taking a closer look at job applications. More specifically, we're digging into an important part that people often forget: professional references.
Think of it like this. You're interviewing for a job. You've presented your skills, experience, and enthusiasm to the employer.
But, there's a little doubt lingering in their minds – are you as good as you claim to be?
This is where professional references play their part. Basically, they act as a validation for your job application claims, give employers much-needed reassurance, and confirm you're not just good on paper. 
In this article, we're going to dig deeper.
What are professional references?
Professional references are individuals who can vouch for you and your qualifications for a job. They've seen your work in action, and they can attest to your ability to deliver on your promises.
Most often, professional references are people you've worked with in past roles. 
They could be your:
former managers
colleagues
or even clients
The key here is that they've worked closely with you, and they can confidently recommend you to a potential employer.
Why do these references matter so much to employers?
It's all about trust and validation. Employers want to be confident that they're making the right hiring decision. And you never know when someone may be lying on their resume.
A resume can tell them about your achievements, but a reference can provide insight into your work ethic, problem-solving ability, and overall team fit.
A strong professional reference is the "green light" employers need to move forward with a hire. They bridge the gap between a fantastic resume and solid employment.

After all, nothing beats a positive word from those who've already experienced your skills and work style firsthand.
How to choose professional references?
So, we've understood what professional references are. Now, let's tackle an important question – how do you choose the right references?
Choosing the right professional reference comes down to finding someone who can do two things:
Attest to your skills
Make a positive impression
They're typically individuals you've worked with closely. This could be:
Former supervisors or managers;
Colleagues from past roles;
Clients you've successfully worked with;
Mentors or coaches from your industry;
Team members from volunteer or extracurricular activities;
Teachers, especially if you're a recent graduate;
Professional acquaintances from industry conferences.
But what about friends? You might wonder. Sure, they might give glowing reviews. but they could be considered biased. It's best to stick to professional contacts.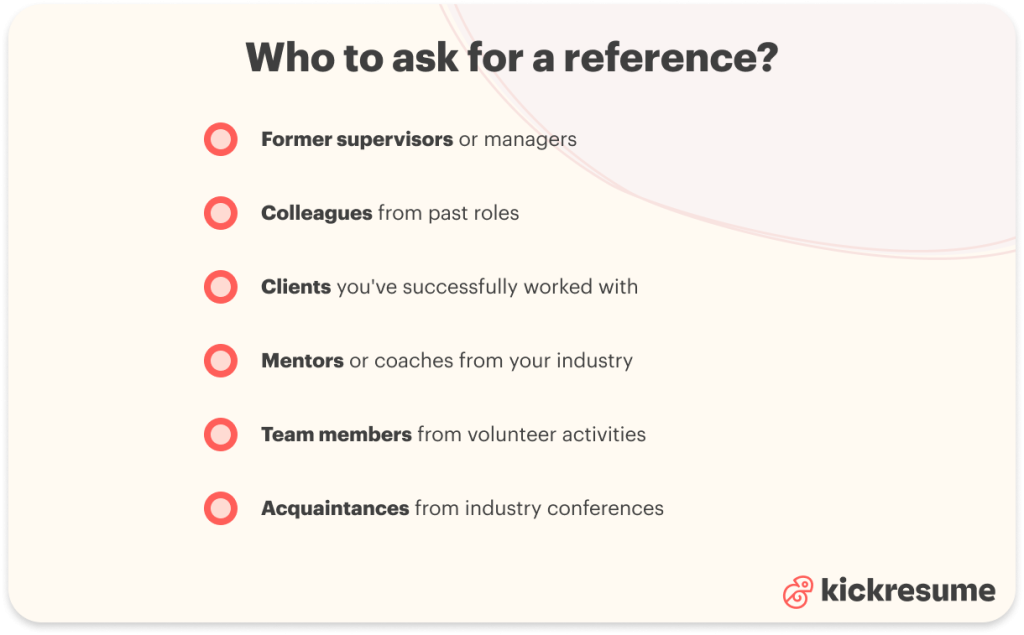 And what about asking people? how does that work? Let's look at that more closely.
How to ask someone to be a professional reference?
Asking someone to be your reference needs to be handled delicately and professionally.
The first thing is to make a simple, direct request. This means you can either:
Make a phone call asking someone to be a reference
Or ask them to be a reference in person
Either way you choose to ask someone, the key is to ask as directly as possible, "Would you feel comfortable providing a positive reference for me?"
Keep this in mind: Being someone's professional reference is a responsibility. Not everyone might be comfortable with that.
Of course, you shouldn't forget to explain your job applications and why you want them as your reference.
If someone is hesitant or outright refuses, don't take it personally. Your references must be willing and able to give a positive account of your skills and experience.
Finally, show gratitude, irrespective of their answer. You never know when you might need advice, assistance, or another reference down the road.
How to list professional references on your resume?
The easiest way to list professional references on a resume is to create a separate "Professional references" resume section, which you can place at the end of the CV.
So, what information goes into this professional references resume section?
Here's what you should list for each reference:
Their full name
Their current job title and organization
Their contact details (email and phone number will do)
Your relationship with them (e.g., Former Supervisor)
But what if the employer hasn't asked for your references up front, but you think they might be interested? This is where "References available upon request" comes in.
It's a line you can include at the end of your resume to indicate that you have references ready if needed.
Should you include references on your resume?
Here's the thing – not every job application requires it. Plus, space on your resume is precious. You're better off using it to showcase your skills and achievements.
So, in most cases, keep the references off your resume.
However, there are certain situations when it's okay to include references on your resume:
If the job listing requests them
If your reference is well-known in the industry or company
If you're a recent graduate and your resume is sparse
As a freelancer, where your client references can provide assurance
If you have an employment gap on your resume, references can offset this
If you find yourself in one of these scenarios, do prepare a separate professional references resume section.
Example of professional references on resume
Let's take a look at a well-done professional references resume section:
Or, if you'd like to go the "upon request" way...
A well-laid professional references page like this one serves as the perfect finishing touch to your application – a snapshot of people ready to vouch for your professional worth.
To make it more tangible, we also provide a visual glimpse into how a "References" section can look like in a real-world resume: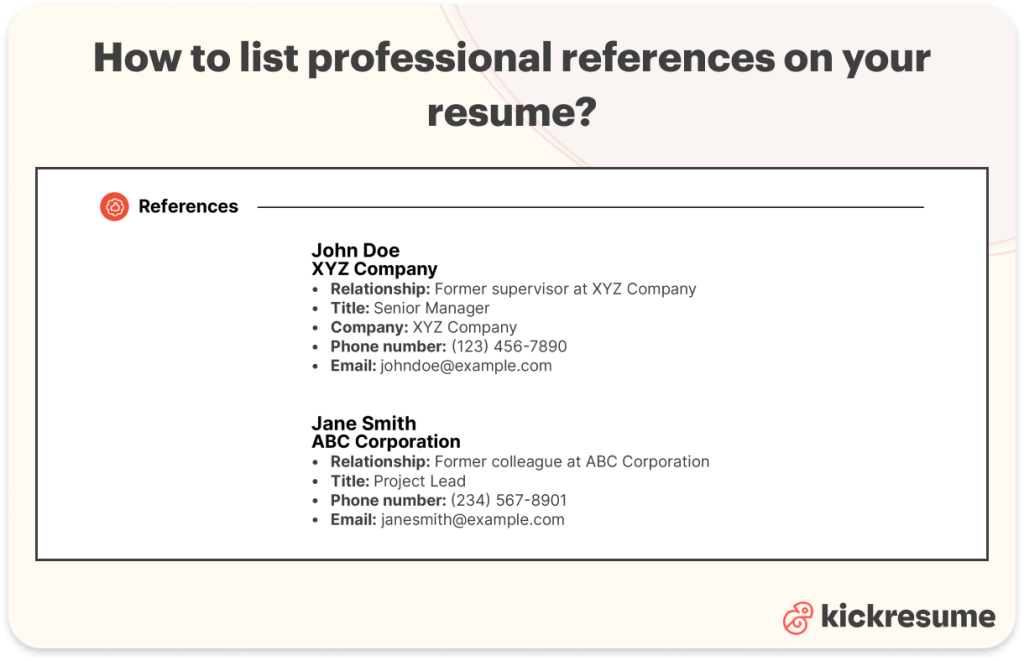 You can do this in a super easy way with Kickresume's resume builder, ensuring your references section is not only organized but looks professionally appealing as well. All that in seconds.
Key takeaways: Professional references
And there we have it – a comprehensive look into professional references. From understanding their importance to choosing the right people, putting references on a resume, and topping it off with a great example.
The journey might seem extensive, but the power of professional references in job applications is immense.
They provide that precious seal of trust for potential employers, confirming that you are as good as your resume says. They provide an extra layer of credibility, making your application stand out.
So, make sure to use this opportunity. Take good care of your professional connections, pick your references smartly, and list them neatly and professionally.
Your dream job might just be a reference away!
FAQ: Professional references
Career Writer

Klara recently graduated from the University of St Andrews in Scotland. After having written resumes for many of her fellow students, she got an opportunity to write full-time for Kickresume. Klara is our go-to person for all things related to student or 'no experience resumes'. At the same time, she has written some of the most popular resume advice articles on this blog. When she's not writing, you'll probably find her chasing dogs or people-watching while sipping on a cup of coffee.