Are you interested in taking on the role of a project manager? Whether you've been formally trained for the job or you've just been recently promoted, having the right project manager skills in your resume makes all the difference.
As a project leader, having expertise in your field is great but not enough.
You also need to have specific soft skills to be able to keep everyone else on your team on the same page throughout a project.
Leadership, communication, and emotional intelligence are just some of the essential skills any project manager should have.
In this article, we'll explore the top hard and soft skills that you need in your resume to score a job as a project manager.
Plus, we'll show you an example of a project manager resume written by a certified professional resume writer that you can use as your first draft.
Why you should invest in gaining new skills as a project manager
First things first. Why are your skills so important?
As IBM executive Alex Kaplan puts it, skills are the currency of the future.
It's easy to see why — your skillset is like a valuable commodity. The more skills and knowledge you have, the more attractive you'll be to potential employers. In a way, it really is an investment.
That's why expanding your knowledge and skills is always worth exploring.
Furthermore, since the start of the pandemic, there's been a shift in the skills employers look for on resumes.
According to a 2021 McKinsey research, more than half of companies now prioritize advanced cognitive skills, such as critical thinking, decision-making, and quantitative skills.
And, since 2019, project management skills have been particularly in demand.
Just take a look at the infographics below.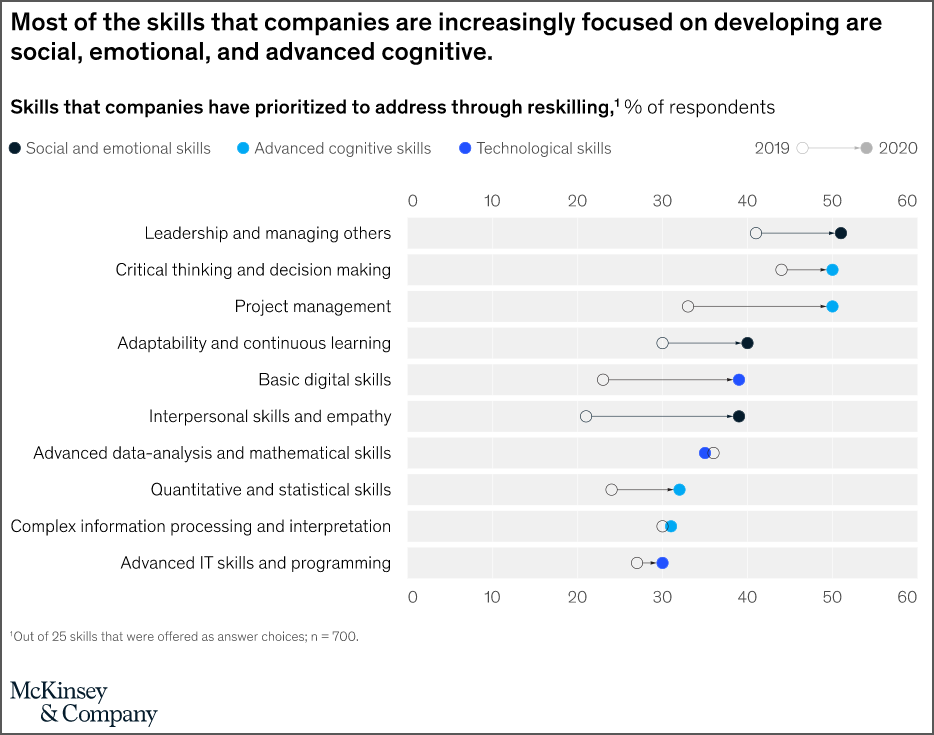 Hence, it's no surprise that project managers are looking to upskill themselves. They need to demonstrate a wide array of social, cognitive, and technical project manager skills to stay ahead of the competition.
So, you should do that, too.
Top project manager skills to put on a resume
A resume of a modern project manager should display a full range of skills that employers look for nowadays.
We'll explore the top 7 project manager skills that are in demand, why they're essential, and how to demonstrate them on your resume.
Hint: Things have changed in the past few years, and so have the requirements for project managers. What worked in 2010 is no longer enough.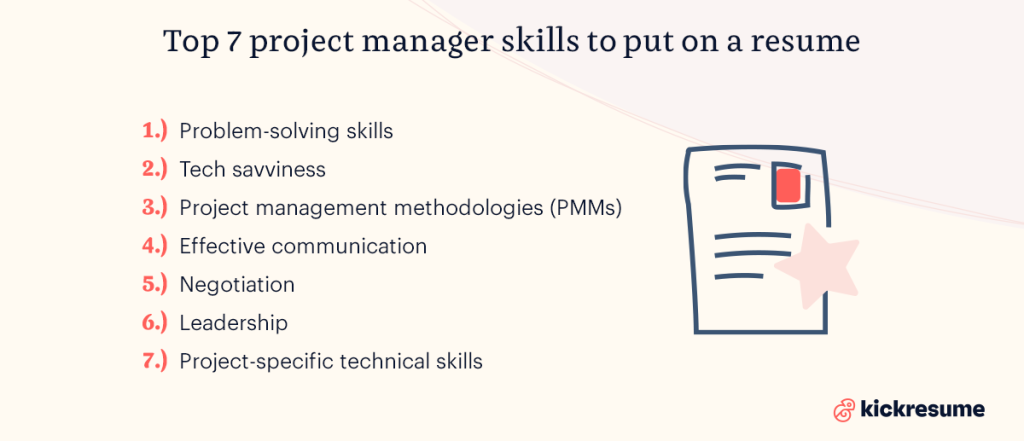 1. Problem-solving skills
Projects often encounter obstacles, delays, and unexpected challenges.
That's why project managers must have the ability to quickly spot and resolve any issues that arise to ensure projects get done on time and within budget.
Problem-solving skills allow you to identify the root cause of an issue, come up with solutions quickly, and move forward with the project.
In addition to that, you should be able to communicate effectively and explain your decisions and solutions to the team. Ideally, all while keeping everyone on the team happy.
Here are 3 examples of how to demonstrate problem-solving skills on your resume:
2. Tech savviness
It's predicted that AI will take over 80% of project management tasks by 2030, according to Gartner, a technological research and consulting firm.
But don't panic — this doesn't mean that you're going to be replaced.
Instead, AI will help you by automating mundane tasks, such as data collection, tracking, and reporting. This will give you more time to focus on tasks that AI still can't do.
Hence, project managers need to be tech-savvy and learn to work with AI rather than against it.
As a project manager, you'll need to know what tools are out there, how to use them to your and your teams' advantage, and teach your team members to work with them effectively, too.
Here are 3 examples of how to show you're tech-savvy on your resume:
3. Project Management Methodologies (PMMs)
First, what's a project management methodology exactly?
Project management methodologies (PMMs) are frameworks for organizing, planning, and executing projects. There are many different types, including Agile, Waterfall, Scrum, Kanban, Lean, and Six Sigma — and the one you choose depends on the project's size, scope, industry, and objectives.
Project management methodologies (PMMs)

Waterfall. Waterfall PMM follows a linear approach, where a project phase can't begin until the previous one is completed.

Agile. It's characterized by iterative development, adaptability, continuous improvement, and collaboration between cross-functional teams.

Scrum. Helps self-organizing teams work on more complex projects. It consists of a series of quick daily tasks, short daily meetings, and a leader keeping everyone in check.

Kanban. It emphasizes visualizing the workflow of a project by using boards and other visuals to show the project's current status and the stage of each phase (e.g. in-progress, completed, to-do lists).
As a skilled project manager, you should have at least a basic understanding of these methodologies and, ideally, also experience with implementing one or two of them in the past.
Including them on your resume will make you go from a rookie to a professional mentor to your team.
Here are 3 examples of how to showcase on your resume that you implemented PMMs:
4. Effective communication
Can you imagine trying to get a project done without effective communication?
Without it, team members would have no idea of their roles or the project's objectives, and stakeholders and clients would have no clue about the progress of the project.
So, how to demonstrate effective communication on your resume?
First, you can talk about your ability to assess the team dynamics and "tailoring" your communication style to different individuals depending on their position or age.
How to tailor your communication style depending on someone's position or age?

Position: For example, speaking in more detail to team members, summarizing with stakeholders, and being positive and clear with clients. 

Age: When working with Gen Z, you'll want to keep in mind that they prefer transparent communication. Millennials, on the other hand, tend to respond better to a more upbeat, diplomatic style of communication.
Second, as the modern workplace is increasingly relying on remote work and async communication, you can't rely solely on communicating via in-person meetings and emails.
You should show on your resume that you can use various online communication tools and software.
These are some of the tools that you can mention in your resume skills section:
Other popular project management software include Trello, PlanRadar, Hive, and Microsoft Planner.
Of course, you don't need to list every single online tool or project management software. Most have similar UX, so familiarity with a few will be enough.
Tip: If there are any specific online tools mentioned in the job ad, include them in your resume.
5. Negotiation
Project managers negotiate with stakeholders in all stages of a project. In a sense, they're the middlemen between customers, clients, team members, senior management, and other partners.
Negotiation begins when you're just starting on a project. First, you need to set the project scope and goals. When defining goals and tasks, you need to reach a consensus with multiple stakeholders.
To set realistic timelines, for example, you may need to bargain with the team, senior management, or the client. It can involve negotiating with your team and optimizing processes to save time and money.
Or vice versa, you may also need to ask for a budget expansion from the sponsors.
And ultimately, in any project that involves multiple stakeholders, there's also a strong chance of conflict.
Being a good negotiator comes in very handy in those situations.
Let's look at examples of how to display negotiation skills on your resume as a project manager:
6. Leadership
A key part of being a successful project manager is having strong leadership skills.
A project manager should be able to motivate and guide their team in order to reach project goals. Leadership is also about understanding the limitations of a team and ensuring that tasks are properly allocated, taking into account the individual capabilities of each team member.
This often means taking a situational approach to leadership, understanding the different needs of your team, and varying the leadership styles accordingly.
For example, some members may welcome a coaching approach, whereas others thrive under democratic or affiliative leadership.
Let's look at examples of how to display leadership skills on your project manager resume:
7. Project-specific hard (technical) skills

Apart from a variety of soft skills and general leadership skills, you should also have specific technical knowledge in project management.
This way, you understand all stages of a project, can weigh in on all aspects of it, and help your team members.
What sort of hard skills you'll need will depend on your industry and the particular company, but here are some examples:
Programming: Knowledge of programming languages, such as Python, C++, or Java comes in handy in web development, software engineering, and other IT industries.
Data analysis and visualization: Data analysis is used in many different sectors, including business, logistics, pharma, and finance. Consider learning software like Excel, R, Tableau, or Python.
Marketing: In marketing, you can demonstrate knowledge of social media marketing, inbound marketing, UX & UI trends, CRM and CMS, and tools like Google Analytics, SEO tools, and WordPress.
Design: Project managers in the fields of graphic and UI/UX design should have a basic knowledge of tools like Photoshop, Illustrator, Figma, Sketch, InVision, and also UX design tools.
And here's how to showcase hard skills on your project manager resume:
Project manager resume example
Finally, to help you tie everything we talked about together, here's a project manager resume example.
This resume was crafted by a certified professional resume writer specifically for the role of a Project Leader.
Project Leader Resume Example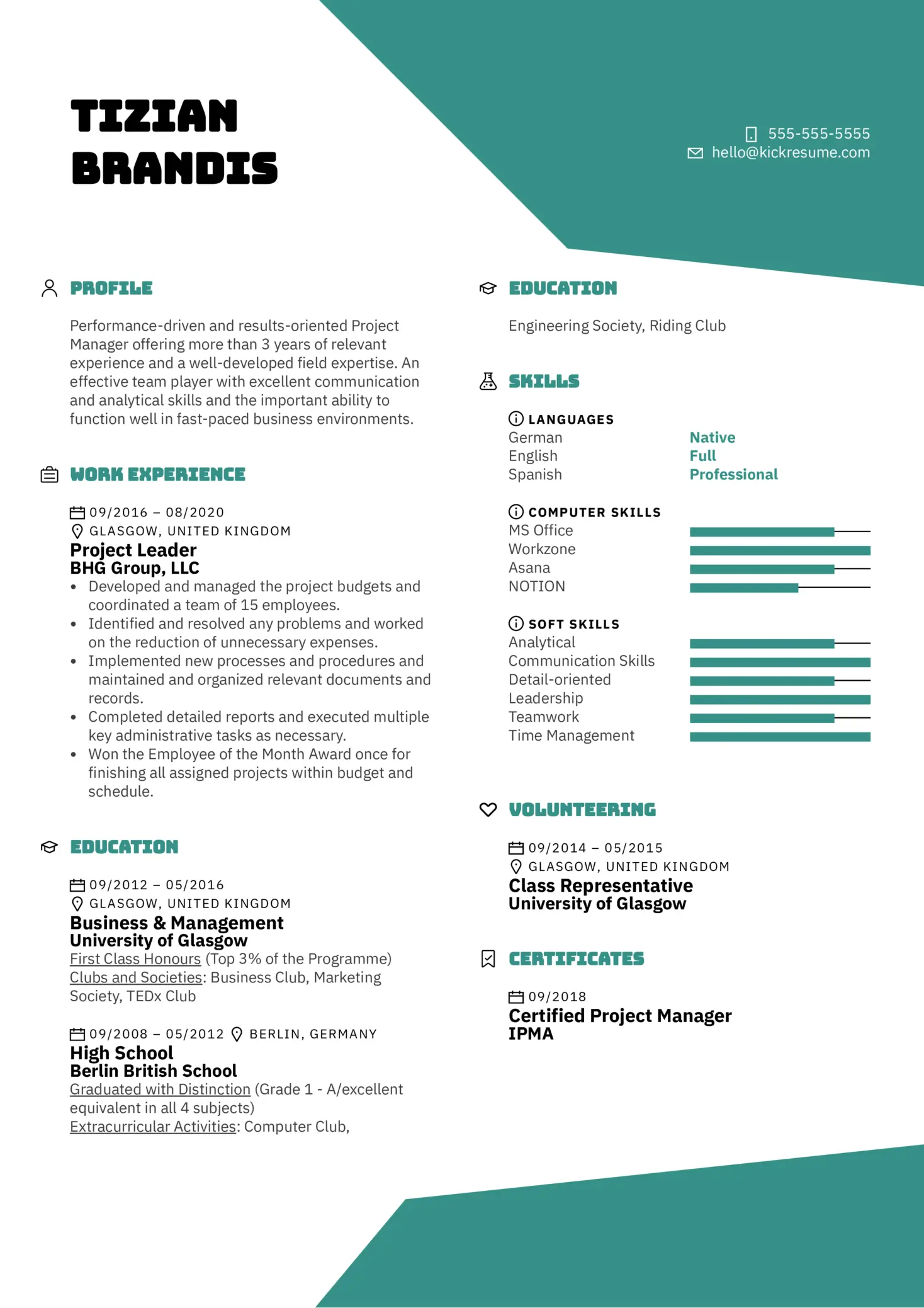 There are several things that make this project manager resume example noteworthy:
A strong and effective resume summary is right at the top;
The work experience bullet points include great examples of how Tizian used his problem-solving and negotiation skills (e.g. "Identified and resolved any problems and worked on the reduction of unnecessary expenses.");
Skills section is thematically divided into three blocks: language, computer, and soft skills;
It includes relevant hard skills for a project manager role;
Emphasis on important soft skills (communication, analytical, leadership, etc.).
Career Writer

Klara recently graduated from the University of St Andrews in Scotland. After having written resumes for many of her fellow students, she got an opportunity to write full-time for Kickresume. Klara is our go-to person for all things related to student or 'no experience resumes'. At the same time, she has written some of the most popular resume advice articles on this blog. When she's not writing, you'll probably find her chasing dogs or people-watching while sipping on a cup of coffee.