Imagine you could get solid job search advice directly from someone with experience in recruiting and HR. Wouldn't that be helpful? Now you can do just that thanks to our new interview series Recruiter Reveals! Every month I interview our resident HR expert Christy Morgan on various job search topics — be it resumes, cover letters, job interviews, or anything marginally career related.
Welcome to the very first edition of our new interview series Recruiter Reveals with Christy, our resident HR expert and former recruiter!
This time, we'll talk about job search myths. Because there are too many of them floating around! For instance, should you really cut your resume to one page? Or omit the cover letter? Who knows?
I've compiled a list of seven common job search myths and asked Christy to help me debunk or confirm any of them. We'll also discuss each topic more in-depth.
Are you ready to get to know the real truth behind popular job-searching advice?
In this interview, we'll talk about these job search myths:
Should your resume be one page long?;

Do recruiters scan resumes in 6 seconds?;

Do qualified job candidates get past ATS?;

Are cover letters really dead?;

Do most jobs never get posted?;

Can your Instagram cost you a job?;

Is a thank-you note after an interview a must?
Many sources, resume builders included, recommend having a single page resume. Of course, except for managers. Are longer resumes automatically dismissed?
This one's a myth. A one page resume is perfectly acceptable if you're a student or fresh graduate. Also, in Silicon Valley, there's this trend towards one page resumes because they say you should be able to project your experience on one page. But I'd say that having a two page resume is standard. Of course, it also depends on the industry and the level of experience. For instance, in academia, two pages would be probably too short because they usually include things like publications or projects.
How many pages is too many then?
In general, more than two pages is too much. But again, this depends on the industry, level of experience and sometimes on the country too. But let's say that with two pages, you can never go wrong.
The longest resume I've seen was 16 pages long — from a teacher who filled his resume with all his presentations and publications. Isn't it better to use a portfolio in such cases?
Yes, it would be great to use a portfolio or to simply put a title and a link to the publication in your resume and forget about lengthy descriptions. The rule of thumb is to keep it as short as possible. Just because it's there in the document doesn't necessarily mean that the recruiter's going to read it. If you make it easier for hiring managers to find the information they want, the more likely they're to read it.
Speaking of resume reading, is the 6 seconds resume rule true? Do recruiters really spend only 6 seconds looking at each resume?
This one's a little bit of a myth. It takes about six seconds to screen the resume for the key information that I'm looking for, such as location, summary, keywords, or if there's a skills section. Within this time frame, I should be able to get a feel for who you are and what you're looking for. But it's mainly about six seconds for me to pick out the basic information I need. It doesn't mean that I'm going to spend just six seconds on it or that I won't continue reading after.
Doesn't it also depend on resume design? For instance, if you have two candidates and one resume was made in a word processor while the other has an attractive design, do you automatically prefer the prettier?
As a human being, I think that if you see something nice, it's going to be more attractive to you. But it doesn't mean that the content is actually suitable. Someone may have a Word document which is perfectly fine as long as it's clear and easy to follow. However, if the resume design looks great and the content matches what I'm looking for, then yes, it's probably going to give an extra edge to them. Especially if someone's applying for a job in a creative field, then a nice design is definitely an advantage.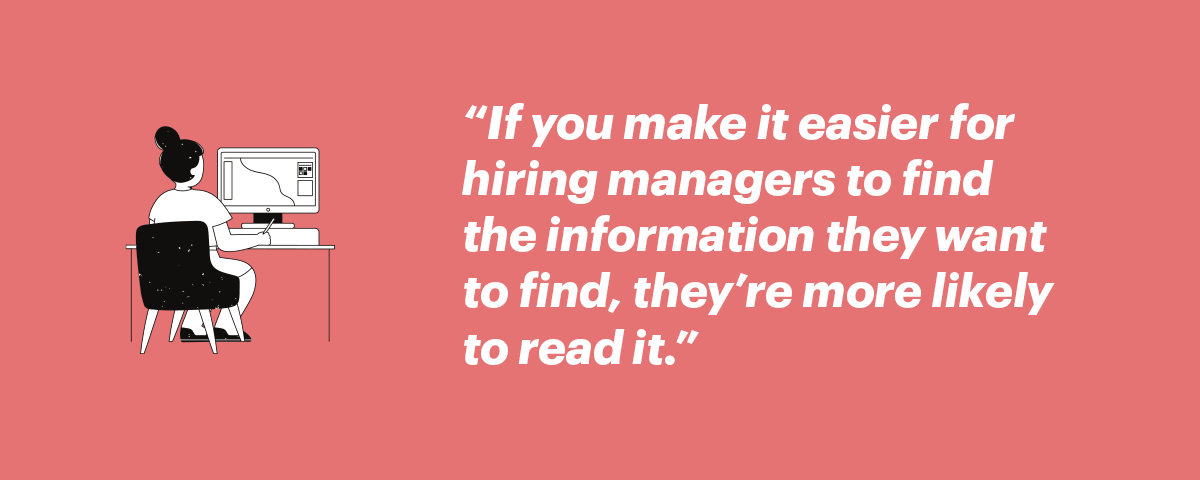 Let's now talk a bit about applying for a job. Is it true that most jobs never get posted?
It's somewhat true and it can be for many reasons. Maybe a company has a role that's available and they already have someone internally who could be a good fit. Perhaps they know someone via networking who would be suitable. Or maybe they have found a suitable candidate in their ATS database. They might go to a recruitment consultancy, which might have candidates already. Or they might have a head hunter who will find the very specific type of person they're looking for. It's just that for some companies there's no need for them to advertise.
Did something like that also happen to you when you were working at Hudson as an operations manager, for instance?
Yes, it would happen from time to time. Advertising can be an additional cost. And this is why ATS systems are great because recruiters can store all resumes there. So, if there's a new position opened, we can first check candidates in our database and if we find someone suitable, we can contact them directly and don't necessarily need to advertise.
What's the best way to apply for a job then? Company's career page, LinkedIn, or?
It depends on the industry, what type of companies you want to work for, what job you're looking for. Even the country you're in (for example, LinkedIn is popular in many countries, but not in others). If someone wants a very specific job at a specific company, in that case I'd approach the company directly or the manager on LinkedIn. Or see if anybody in my network is connected to them and try that route. But if you don't know what you're looking for, then you can try different job boards.
It depends on the size of the company and whether you know somebody there. If you know somebody in the company or someone can connect you, then yes, it can help. Also, if it's a smaller company or a startup, they're less likely to be using an ATS, so direct is a great way to go. But if it's a bigger company, they almost certainly use an ATS (with a few exceptions) and they need to forward your resume to their ATS anyway. So, you still may get rejected by the ATS, plus you may annoy the hiring manager because it's another bit of admin for them to deal with.
Oh, the dreaded ATS! :D What do you think about the myth that you'll get through the ATS if you're qualified for the job?
These are actually two job search myths. Firstly, every resume makes it through the ATS. It's a myth that ATSs filter out resumes. What they do is filter all incoming applications against the job description vs. the person's relevant work experience, hard skills, education, and so on. At that stage, your application will be rejected or given further attention. In the end, it's about whether it's ranked well and viewed by the recruiter.
And secondly, you can have a job seeker who is a perfect fit for the position but perhaps won't rank high enough in the ATS because they fail to use keywords effectively on their resume. So, you should always tailor your resume to the specific job opening, even if you consider yourself qualified for the job.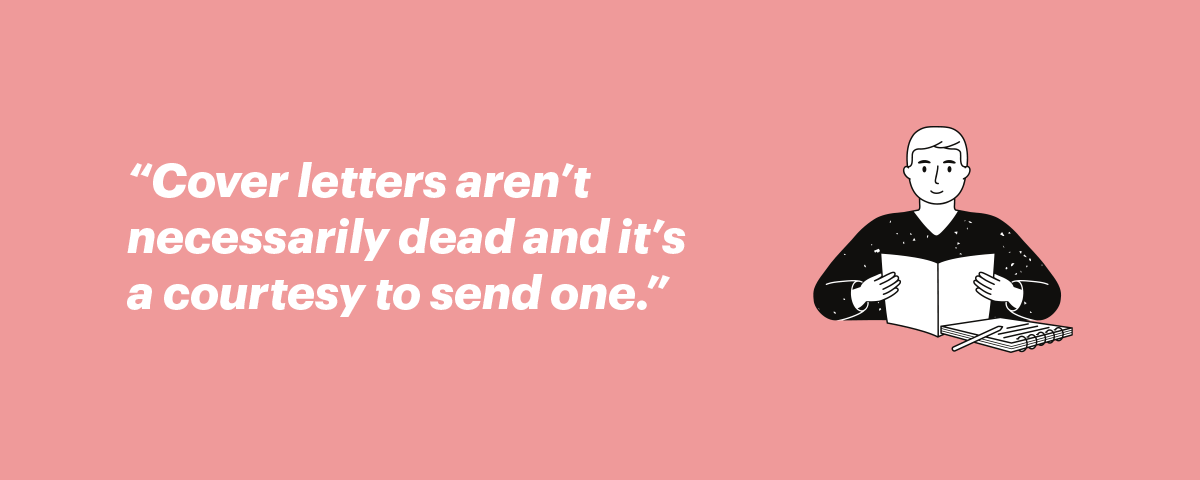 But due to this, companies may also miss good candidates. Are ATS systems reliable then?
That's a good question. And it's also slightly complicated. In theory, they're quite reliable, however, you have all different practices of how recruiters use them, how customized they are, how precisely the filters are set, or how aware job seekers are of tailoring their resume to ATS-friendly practices. So, while the technology itself is relatively reliable, it's the human aspect that's not necessarily reliable.
Do cover letters go via ATS too? And is it true that cover letters are dead and they never get read?
They're not dead, as such, and it's still considered a courtesy to send one. Conversely, it's quite true that they don't always get that much attention. They go through the ATS too, but they're not as heavily weighted as a resume. Due to that fact, the cover letter may not get seen anyway. Also, people generally repeat the same content they have on their resume, rather than telling the reader why they are a great fit for that specific company and job. I know it takes time to tailor a cover letter, and it's frustrating because it may not be read. But it's better to err on the side of caution, especially if this is a job you really want.
So, they're not dead and they're looked at sometimes, but you have to write them well and need to include relevant keywords without repeating your resume. Just get to the point and highlight what's relevant for the position.
What if a company doesn't ask specifically for a cover letter in the job description? Is it still a plus to send one?
I'd probably send one anyway if the job application allows me to send an additional file. However, we need to bear in mind that bigger companies have big HR teams, ATS systems, so they might not read it anyway. But if it's a smaller company, it can make you stand out and it's more personal.
Let's now change the topic to social media. Is it true that your social media activity can cost you a job? Did you ever reject someone because of what you saw on his/her social media?
It for sure does happen that someone gets rejected because of their social media. I wouldn't say that I have rejected somebody myself for that specific reason, but I have kind of felt that maybe someone wasn't the best fit. But I rather interview them first because some people just do stupid stuff online. But if it was something really bad, for instance racist, then yes, I would probably reject them.
The truth is that your social media activity can cost you a job even if you already have one. I remember when I was working in Germany, I personally knew of a company which hired somebody and only later checked the person's Facebook profile and found racist comments. That person was working with foreigners. Needless to say, they lost the job very quickly.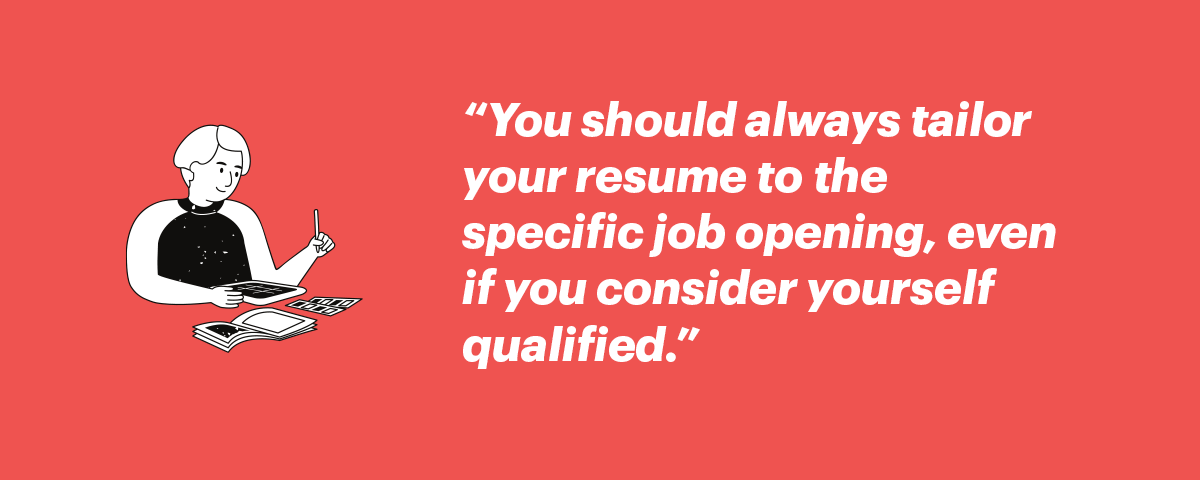 Ouch! But I'd be interested to see what a regular job candidate's online check looks like. I imagine that many job seekers would like to know more about it, too.
Pretty much every recruiter will have a look at your LinkedIn because that's a business networking site. You should definitely have a profile there and it can give you more credibility if you have a strong profile or relevant connections. On the other hand, for recruiters it's also a good way to fact-check. Sometimes people write some things on their resume and on their LinkedIn, it's a completely different story.
When it comes to things like Facebook or Instagram, some companies will check you out. However, it's a personal thing and I feel like no company has the right to ask you to see it (even though some ask anyway). So, be very careful about your other social media profiles, ideally make it private. In case you make it public, then you need to be aware that a recruiter may check it out.
What if you search for a candidate on LinkedIn and find out he/she doesn't have a LinkedIn at all? Is it a red flag?
I would probably be a bit suspicious why they're not there in this day and age. But it's not a reason to not interview somebody or reject them. It's just something that will leave a question mark.
When a job seeker already makes it to the job interview, is it really expected from him/her to send a thank-you note after it? Does it take them a step closer to getting hired?
It's not expected, but it's always a courtesy. Some recruiters may say "Oh, he didn't thank me" and some don't care. It really depends on the recruiter. So, I think it's a courtesy and if you have time to do it, do it. Because not everybody will and it can make you stand out. But at the same time, companies are also not necessarily thanking job seekers for coming to a job interview. I think it's a two-way street. I always say to my clients that how you get treated at an interview is how you will probably get treated at the company.
Key takeaways — what job search myths are true?
Did any of that surprise you? Here's a rundown of what job search myths are true and which of them are false:
Your resume needs to be one page long. — false. A two page resume is a standard, but it also varies based on industry, career level, or country. Longer resumes aren't automatically dismissed.
You only have six seconds to impress the hiring manager with your resume. — false. It takes six seconds for them to scan your resume for basic info. But it doesn't mean they won't continue reading after.
Most jobs never get posted. — partly true. Companies may find a suitable candidate in their database, through networking, or internally. There's not always a need for them to advertise. Whenever you have a chance, approach your dream company directly.
You'll get past ATS if you're a good candidate. — false. Even if you're a great candidate but fail to use relevant keywords on your resume, it may be ranked low by the ATS.
Cover letters are dead, so don't bother writing one. — false. They don't get as much attention as resumes and sometimes they may get overlooked, but it's always a courtesy to send one. Especially if it's a smaller company, it can make you stand out.
Your social media activity can cost you a job. — true. You should be only visible on LinkedIn and make other social media profiles private, at least during your job search.
You're expected to send a thank-you note after the interview. — partly true. Some hiring managers expect it, some don't. But you can never go wrong with doing so.
About Christy Morgan

Christy Morgan has over two decades of experience working within international recruitment, HR, and candidate support. She began her career at Hudson, joining as a Team Coordinator in Australia before working her way up to senior management in Ireland and Ukraine as Operations Manager. She also spent 7 years in Canada, where she worked as a Candidate Support Consultant and External HR Advisor. Now based in Slovakia, Christy assists clients all over the world with resumes, CVs, cover letters, corporate bios, LinkedIn, and interview coaching. She is also Kickresume's Resident HR Expert.
Content Manager & Resume Expert

A journalist by trade, a writer by fate. Nikoleta went from writing for media outlets to exploring the world of content creation with Kickresume and helping people get closer to the job of their dreams. Her insights and career guides have been published by The Female Lead, College Recruiter, and ISIC, among others. Nikoleta holds a Master's degree in Journalism from the Comenius University in Bratislava. When she's not writing or (enthusiastically) pestering people with questions, you can find her traveling or sipping on a cup of coffee.