Gen Z workers are becoming a significant part of today's labor market. It's predicted that they'll make up more than 30% of the global workforce by 2030, with 46% wanting to work fully remotely. That's why remote onboarding of Gen Z workers should become a common practice for modern employers.
The thing is, offering remote positions has become an indispensable tool for attracting and retaining young talent at your company,
It's also vital that you learn how to encourage younger workers to stay with you long-term in the era of job-hopping and the gig economy.
If you're struggling to build a solid Gen Z remote onboarding strategy, we're here to help you. We'll show you the top 5 tips to ensure a smooth, efficient onboarding process for your remote "Zoomer employees".
What are Gen Z workers like?
Gen Z generation is a term to describe people born between 1997 and 2012.
Many of them are now young graduates starting their careers.
Here are some of the key qualities that make this generation of workers different from their older colleagues:
Gen Z workers are digital natives and the first global generation. They grew up in an environment where technology made information and communication more accessible than ever before. This makes Gen Z tech-savvy and resourceful workers.
They're competitive. Gen Z entered adulthood during the recent economic recession. This means they value job security and they know they have to be competitive and focused on the quality of their workplace performance.
They want to work for employers with strong values. 80% of Zoomers will choose an employer that shares their beliefs. This generation prioritizes values such as equity, diversity, and sustainability.
Gen Z prefers remote/hybrid work. Young workers are more independent and mobile so they work better outside the traditional office setting. Surveys show that Zoomers consider remote work possibilities a necessity in today's labor market;
They prioritize mental health. Work-life balance is a key factor for 40% of Gen Zers when it comes to choosing a job.
Company culture is important for them. Gen Z workers crave authentic workplace communication and valuable connections. That's why company culture is something they pay close attention to.
They're willing to commit. 61% of Gen Z employees would like to stay with the same employer for more than a decade.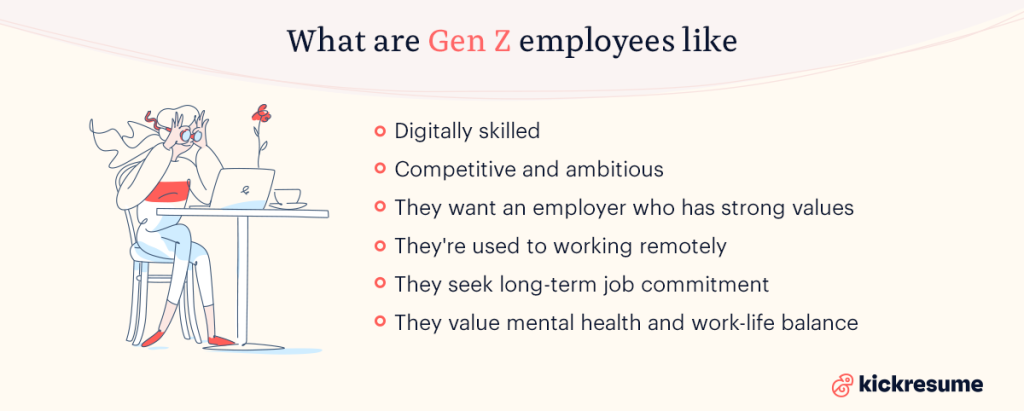 Why is the proper onboarding of Gen Z workers crucial?
Onboarding is a crucial tool for quality employee integration and effective human capital management. And it can be done in various ways.
As Gen Z workers are now scoring their first jobs, it's crucial for employers to adjust their onboarding process to their needs.
Efficient onboarding of Gen Z workers ensures:
Connection — so Gen Z employees can become an integral part of the team.
Encouragement — so new hires can become motivated and ready to show their best performance.
Knowledge transfer —so they become equipped with all the relevant information and resources to do their job well.
Engagement — so they'll understand their roles and responsibilities and will be ready to act on them.
Together, this will allow a new Gen Z employee to quickly build up work productivity and organically fit within a team.
Why invest in a remote onboarding strategy?
The 2020 pandemic has pushed employers all over the world to implement remote and hybrid workflows. And chances are that we'll never go back to the office-work-dominated labor market again.
This means that many of the Gen Z workers don't have any office-work experience. Some even highlight this in their resume headlines.
As a result, the onboarding process has to adjust to the changed realities of the job market.
Proper onboarding is even more crucial for remote workers than for employees who would start working in the office. In this context, investing in a solid onboarding solution becomes a strategic necessity.
That's because a remote employee misses out on experiencing aspects of their workplace such as the office atmosphere or real-life communication with colleagues.
And in a way, remote onboarding has to make up for the lack of these experiences.
That's why you should create an engaging, dynamic, and structured remote onboarding program. It will allow you to ace remote employee productivity and retain your hires in the long run.
The 5 keys to remote onboarding of Gen Z employees
Let's see how to make the remote onboarding process of young employees engaging, valuable, and truly impactful.
1. Create a positive first-day experience
First impressions matter. Even more with remote employees who don't get to experience the physical atmosphere of the office.
As an employer, it's in your best interests to make sure that your Gen Z remote employees' first day at the company is a positive experience.
However, don't go overboard and make it too long. In fact, more than 50% of potential Gen Z hires think that onboarding should take only one day or less.
This leaves employers no room for mistakes, especially if they want to make the right first impression and retain the young hires.
So, what can you do to create a memorable first-day onboarding experience for Gen Z workers?
Consider these tips:
Introduce the new employee to the team. Organize an introductory video call to make them feel welcome. Consider some ice-breaker activities or discussion topics that the new worker can actively participate in.
Ask your new hire to introduce themself on the social media account of your company. Gen Zers are active social media users and they will value this gesture. Who knows, maybe they can later become your company's social media ambassadors.
Give them their first task. Make it actionable and clear – it will give the young employee a sense of confidence in their skills and it will keep them busy.
Assign an onboarding mentor to your Gen Z hire. Young workers expect support and guidance from their superiors.
2. Provide clear guidelines and structure
This is perhaps the most important aspect of the onboarding process – remote or otherwise.
The more straightforward and transparent you're as an employer, the better your Gen Z remote employee will perform.
Clear guidelines give an immediate sense of purpose, help to avoid anxiety, and lead to higher productivity.
Here's how you can provide Gen Z employees with a comprehensive remote workplace structure they can follow:
Establish short-term and long-term goals. Ideally, you can do this together with the new hire. Employees like to be proactive and participate in decision-making and goal-setting processes. What you can do is to organize a one-on-one Zoom call to map out the milestones the worker aims to achieve after 1 month, 6 months, and 1 year at your company.
Outline the scope of responsibilities. Walk your hire down all the tasks and duties they need to carry out according to their role. On top of that, let them know what they can delegate, where they can seek assistance, and how they can access the necessary online resources for task completion. For this, you can also use various onboarding templates.
Create a clearly defined schedule. Establish essential deadlines, set a regular digital reporting schedule and deadlines to ensure consistency.
Determine the employee KPIs. Gen Z workers tend to be very result-oriented. So being familiar with KPIs helps them stay focused. Have a sit down with them to outline the key performance indicators. This will help them set their priorities and concentrate on the right deliverables.
3. Offer accessible, module-based online training materials
Employees usually need to learn a great deal at a new workplace.
Getting familiar with company policies, figuring out report template structures, and going through numerous guidelines — all these recourses are essential to smooth onboarding.
Remember that Zoomers are tech-savvy people who value fast and accessible knowledge. Make the most out of it.
Here's how you can leverage modern technology and optimize the learning process for your remote (Gen Z) workers:
Collect all the onboarding materials and upload them to cloud-based storage. Create one centralized digital location that employees can access from any device. It will save you lots of time and optimize such processes as file-sharing. Besides, new remote hires will be able to come back to the easy-to-navigate archive if they have questions. Young workers will appreciate this smart approach.
Opt for e-learning to provide employee training for remote hires. E-learning can be super handy as it brings together in-office and remote employees, letting them absorb the knowledge they need to work effectively. Besides, younger employees process information better if it's presented in an interactive, portioned-out, and visual manner. Module-based e-learning fits these criteria perfectly.
Emphasize the video format for tutorials and how-to guides. Gen Z generation loves video content, and the workplace is no exception. When you create digital training materials for your new remote employees, give priority to video-based instructions. Why not create a Loom video instead of a PowerPoint presentation?
Gamify training and learning experiences. Where possible, implement the gamification of digital onboarding training activities. Gen Z workers are very responsive to edutainment, and making some aspects of your onboarding program a little more fun can boost training efficiency.

4. Create and promote a healthy remote workplace culture
We've already mentioned that company culture is one of the most important factors Gen Z employees consider when choosing an employer.
As many companies implement remote workflows, workplace culture can no longer be associated with an office vibe or friendly coffee breaks.
What matters to young remote workers are company values that manifest in every workplace interaction, even if it's digital.
If you want to successfully onboard and retain your young remote hires, try and build a workplace culture that promotes inclusivity, collaboration, and work-life balance. Here's how:
Make sure your company doesn't tolerate ageism. Gen Z workers might have less experience but they're willing to bring value to your team. Foster intergenerational communication and don't allow any age-based discrimination.
Promote workplace diversity. Outside of practicing it, you can even run educational initiatives to help your employees understand the positive impacts of diversity.
Organize knowledge transfers and team-building activities. Make sure your Gen Z hires interact with their colleagues through professional and social activities facilitated by the HR department. All of these can now be effectively run on digital platforms.
Offer mental health resources and practices to employees. Make your employees feel supported by helping them to maintain high motivation and avoid workplace stress or burnout. Provide whatever resources you can afford. It might simply be a list of useful websites and psychological help hotlines. Or you can organize a mental well-being online workshop for your employees.
5. Prioritize growth opportunities
Employee empowerment is one of the top workplace trends of the decade. And it's especially important for Gen Z workers.
These young professionals are eager to grow and acquire new skills, so they value employers that help them along this self-improvement path.
In fact, 29% of Gen Z say that professional learning opportunities are among their top reasons to stay with a company for the long term.
So try and cater to the educational ambition of your young remote employees right from the start of the onboarding process.
However, you don't have to cram a skill-boosting course into your remote onboarding week.
Instead, consider giving your new hire a glimpse of the opportunities that they can access if they stay with you.
You can:
Showcase your selection of e-learning courses or knowledge transfer programs.
Implement mentoring software for new hires.
Give valuable and regular feedback to promote growth and improvement.
Organize digital networking events or workshops for your employees.
All these initiatives will show the new Gen Z worker that they can grow together with your company even if they're not physically present at the office.
Final tips
Gen Z workers are smart and enthusiastic, but also demanding. They offer excellence, but they also expect from their employers. Recognize their value and give them room for professional growth. In return, they offer hard work, long-term commitment, and new creative solutions to work problems.
Keep in mind that while it may seem like a lot of work, applying changes to your onboarding process leads to a mutually beneficial partnership. In other words, it's a recipe for facilitating a thriving workplace.
Remember that you don't need to rework the whole onboarding structure. Implement these tips where possible and experiment with the best strategies that work for your hybrid or remote workplace.
About the author

David Morneau is the co-founder and CEO of inBeat, a hybrid micro-influencer marketing SAAS/agency that helps brands scale their marketing efforts. He has helped over 200 DTC brands to date.