Naturally, landing a job at a tech giant like Apple, Google or Facebook requires you to send in a killer application.
But that shouldn't put you off — but encourage you to look for the ways to create a powerful resume and a convincing cover letter.
Here's a close analysis of a real Apple resume that got someone a job of their dreams. Use these proven tips and tricks to improve yours and score a job you've been eyeing for ages.
Resume Sample: Customer Support Hired by Apple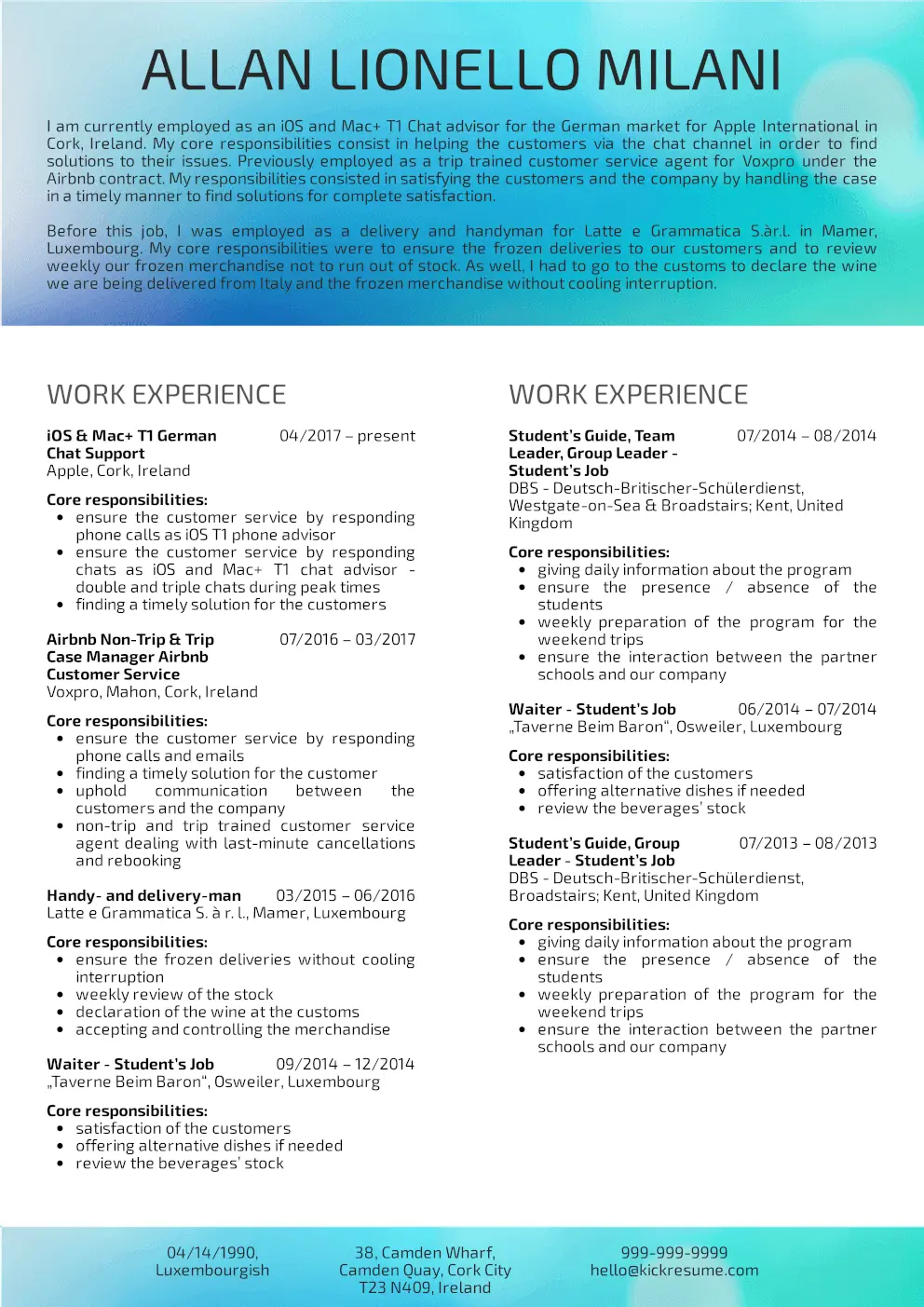 The top of your resume is your first — and sometimes the only — chance to grab the reader's attention. And that's exactly what the profile section should do. Lure the recruiter into reading the rest of your resume.
If you're not sure about its length, think of your elevator pitch. It's your digital handshake that should stay brief yet powerful enough to make a good first impression.
All in all, try to sum up your career trajectory in a maximum of five sentences. This will maintain the balance between having enough space to describe your experience and make a solid presentation of your key skills without losing the reader's attention.
2. Work experience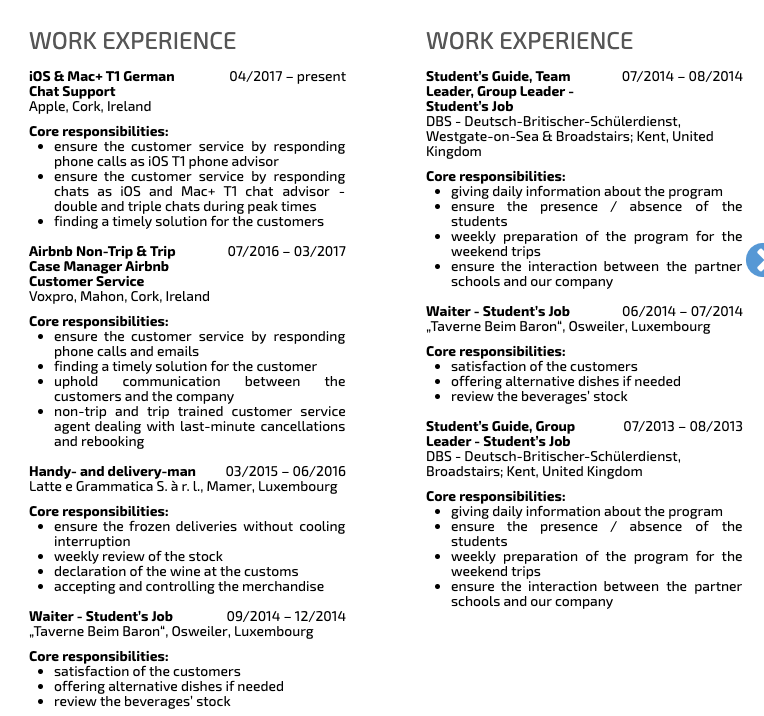 You'll never go wrong with bullet points, a highly practical formatting tool to introduce your core responsibilities and list any type of information that asks for a much faster, vertical style of reading.
Bullet points and action verbs go together like peanut butter and jelly. Make sure to use a variety of verbs in your resume to specify what exactly you were responsible for in your past jobs.
Reverse chronological order will ensure the most recent jobs will show up first. This way, you'll effectively hint at where you're heading with your career and what types of skills you've been building.
3. Strengths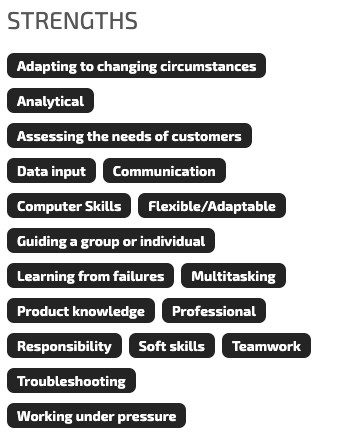 Some of us tend to think of soft skills as subordinate to hard skills.
Yes, practical experience is something you definitely need to get the job. But the inclusion of your soft skills in your resume is extremely important, especially when speaking of the customer service industry.
After all, it's the transferable skills that make you a well-rounded colleague who's pleasure to work with.
The next thing is — what might be relevant for some positions might not suit others. Take the industry into account and use words and phrases that best describe your patterns of behavior and personality traits.
Remember to stay true to yourself, too. Make sure you don't make up things just because you think you have to. When it comes to the hiring process, lying simply never pays off.
Support your career with a winning resume
This Apple resume sample followed pretty simple rules to land a job in one of the world's top companies.
The combination of the smart formatting of the work experience section, the attention given to the job seeker's strengths and the compelling profile summary results in a stand-out career document that's hard to beat.
Whether you're here to write your resume from scratch or came just for a quick resume makeover, we've got dozens of different layouts and designs to please your resume taste buds.
Bon appétit!
Career & Resume Writer

Jakub Kapral is a former professional linguist and a career writer at Kickresume. He has written almost 100 diligently researched resume advice articles and his texts are visited by thousands of people every month. Jakub is a natural teacher who looks to help those who want to enhance their career prospects. He's also an avid drummer and a proud father of two.