Hey! We think there's one real resume example that's definitely worth your attention. Why?
First, it's Disney. The world of its own that gave rise to countless animated movies. The home of Donald Duck, Buzz Lightyear, Winnie the Pooh and many other popular characters.
Second, this brilliant resume proved to be Brendan McLoughlin's ultimate winning ticket to get the Video Production Assistant role.
Resume Example: Video Production Assistant at Disney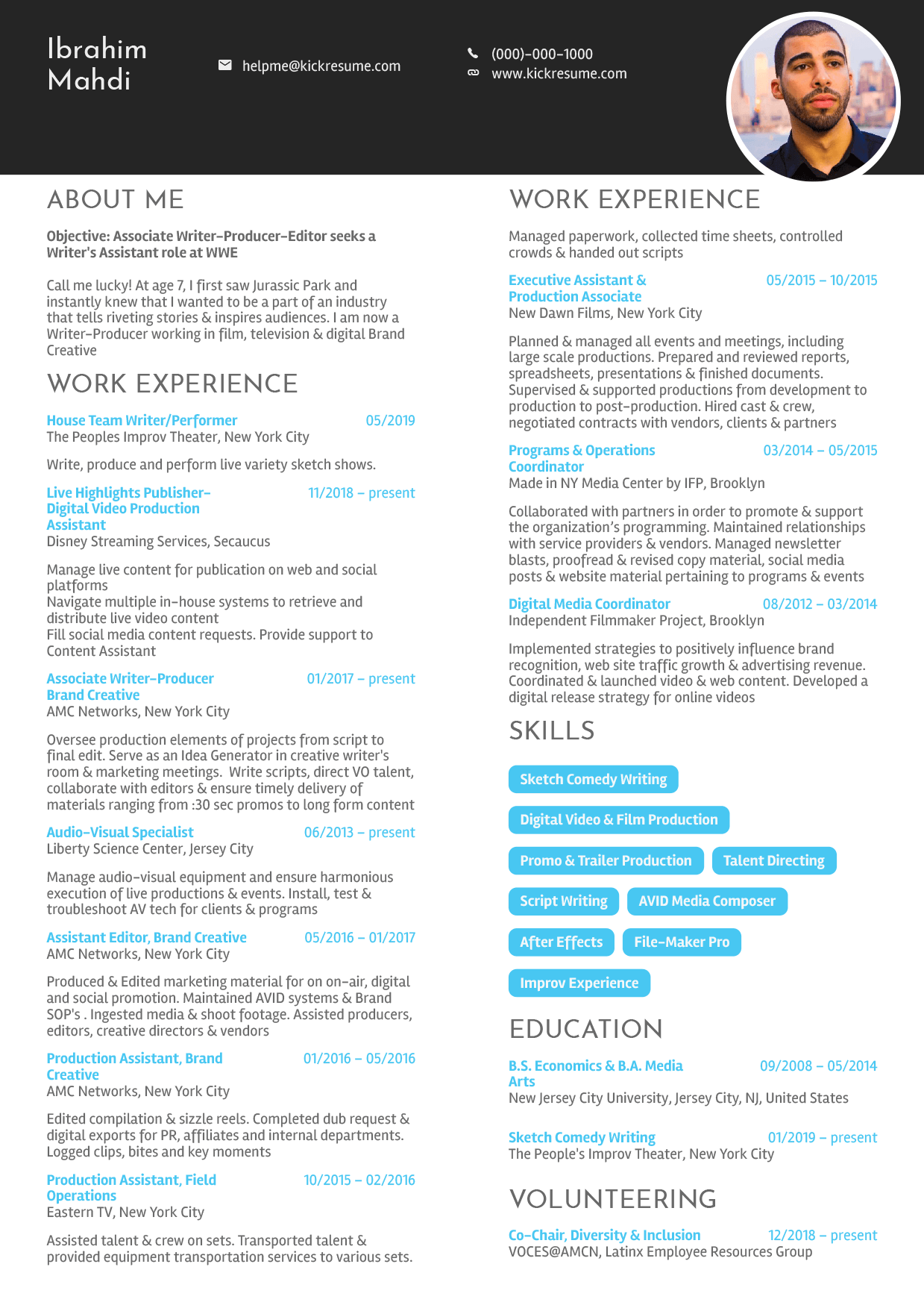 And for these two reasons, we won't just skim the surface. We'll dig much deeper and read between the lines.
A close reading of literally anything, let alone career documents, is a helpful tool to a deeper understanding of its structure and function. In other words, everything's there for a reason.
So let's put Brendan's Disney resume under the microscope and bring its secrets to light.
1. Contact information

First things first. Whichever resume template you choose to use, don't forget to put your contact information in a clearly visible place.
If you want recruiters to get back to you, include your email address, phone number and address (though getting a letter seems unlikely, but you never know). And the link to your personal website or to your digital portfolio. If you have one, of course.
2. About me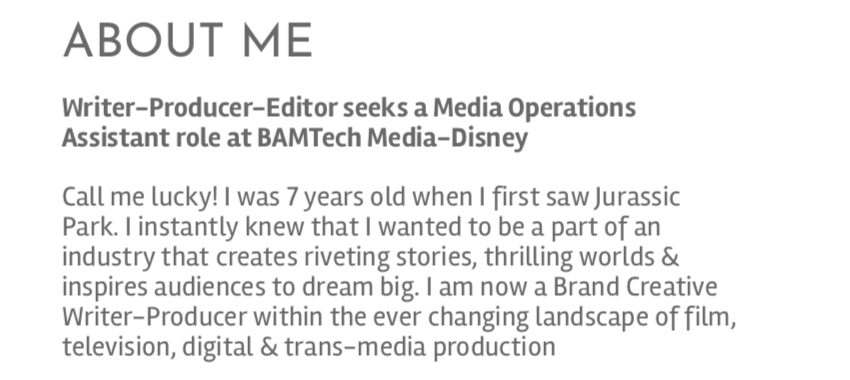 The introductory section is absolutely stellar. The first sentence answers two fundamental questions that every single hiring manager wants to know:
Who are you?

Writer-Producer-Editor

What do you want?

Media Operations Assistant role at BAMTech Media-Disney
With so many job seekers to handle every single day, recruiters simply love effective communication. And Brendan's introductory hyphen-flooded sentence shows his cards right off the bat.
On the other hand, the following paragraph introduces another effective resume technique: the art of storytelling. A simple and very readable narrative that's sure to capture anyone's attention.
What you see here is an information-packed, ambition-driven and humor-fueled paragraph that has a lot to offer. It's personal, brief, relevant. A concise and digestible history of Brendan's life and career.
It exudes Brendan's fascination with the visual media, describes his intrinsic motivation and appealing dedication to his vision. Well, who could resist hiring such a film buff?
3. Skills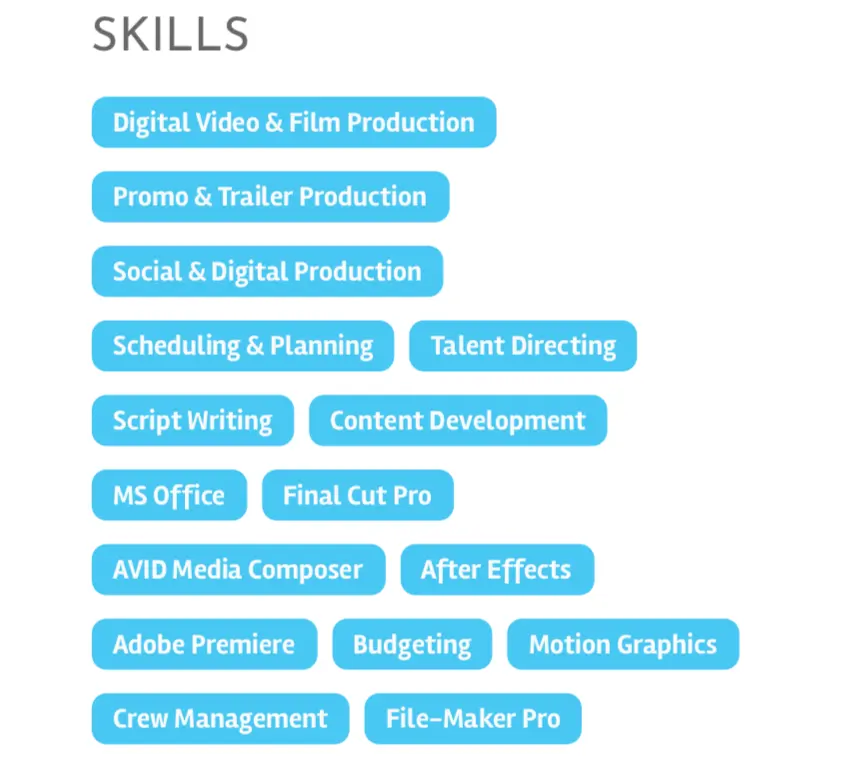 Having already sketched some of his personality in the introductory section, Brendan uses his Skills section to demonstrate his technical proficiency and hard skills. In this way, he effectively avoids using buzz words that would clutter his resume with fluffy nonsense — and discourage the HR manager from reading on.
Of course, there are a few softer business-related skills, too (like Scheduling, Planning or Budgeting). But these are still highly relevant to the position. The presence of adjectives like "motivated", "creative", "passionate" or "skilled", however, would tell recruiters nothing about the job seeker except the lack of real skills.
4. Work experience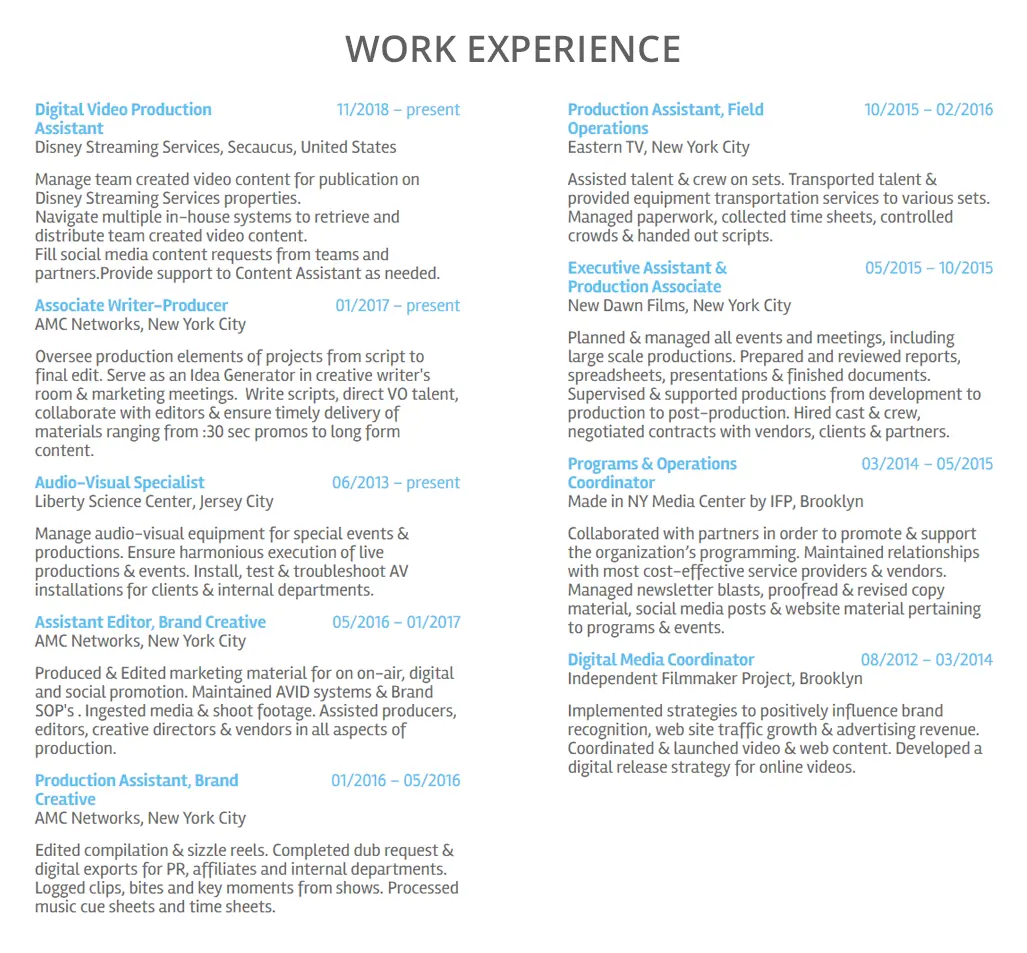 The well-structured resume puts focus on Brendan's prolific career. In fact, his impressive work experience comprises more than half of his resume.
Notice how every sentence starts in the Work experience section with an action verb. Each of them talks about the responsibilities Brendan had while on the job:
Manage. Navigate. Fill. Oversee. Serve. Write. Direct. Collaborate. Ensure. Install. Produce. Edit. Implement. Coordinate. Launch. Ingest. Maintain. Edit. Complete. Process…
These words sound very fresh. Yes, they do occasionally repeat. But the rich variety of action verbs provides a great picture of Brendan's dexterity and versatility.
So next time you go about updating your resume, have a look at how you present your work experience to your potential employer. Try to infuse the descriptions with some interesting verbs — and adjectives, too — that will propel your resume to another galaxy
5. Education

With three ongoing gigs going on at the same time and 5+ years of experience in the industry, Brendan's got a handful of aces up his sleeve.
And this is the reason why Education gets so little attention.
He knows that no one will be interested in what was his major or whether he graduated with straight A's. All the recruiters are after is hard skills that you can demonstrate in your real work experience.
All in all, Brendan's resume shows that it's all about what's relevant at the moment. Are you a fresh graduate? Talk about your college courses and internships. Are you a seasoned professional? Describe your career trajectory instead.
Get hired with a winning resume
You don't have to walk the path millions of others have travelled before you.
To pave your way to your dream job — and perhaps take a little shortcut, too — turn your attention to real resume samples that got real people hired at real companies.
Then apply the knowledge you gain from them to your own resume. Use engaging language to present your achievements and choose the resume format that's relevant to your current status. Get rid of marginal details and focus on the job you want to get.
It's simple as that: Learn from successful job seekers and follow in their footsteps.
Career & Resume Writer

Jakub Kapral is a former professional linguist and a career writer at Kickresume. He has written almost 100 diligently researched resume advice articles and his texts are visited by thousands of people every month. Jakub is a natural teacher who looks to help those who want to enhance their career prospects. He's also an avid drummer and a proud father of two.