What makes a good resume? How can you make sure yours stands out from the competition? And what are the latest trends among job seekers creating their CVs?
These are questions that worry job seekers. And that inspired us to do a huge resume analysis.
We've analyzed 176,220 resumes created on Kickresume in 2022. And we've got some pretty great insights into the latest resume statistics and trends!
In this article, we'll show you the top 7 findings of the analysis and discuss how you can use them to your advantage as you craft your own resume.
Here's what we found:
The majority of job seekers use one-page resumes.
The use of AI resume writer is on the rise.
Resume summary & objective are neglected.
Job seekers love action-oriented verbs.
Filler words still seem to be a problem.
Our most popular resume template is Ladder.
Nearly half of job seekers don't accompany their resumes with a cover letter.
The data was collected and analyzed by our internal data science team, allowing us to provide an in-depth look into the resume-writing process. The data were collected anonymously, excluding users' personal information.
#1 Job seekers try to limit their resumes to a single page
How long should a resume be? Should you fit your resume into one page? Or is a two-page resume acceptable?
These are some of the fundamental questions every job seeker asks. So, let's have a look at the resume length statistics for more insight.
Our analysis shows that the majority of resumes are between 200 and 400 words long — 69% of them, in fact. At Kickresume, 200 to 400 words usually fit on a single-page resume.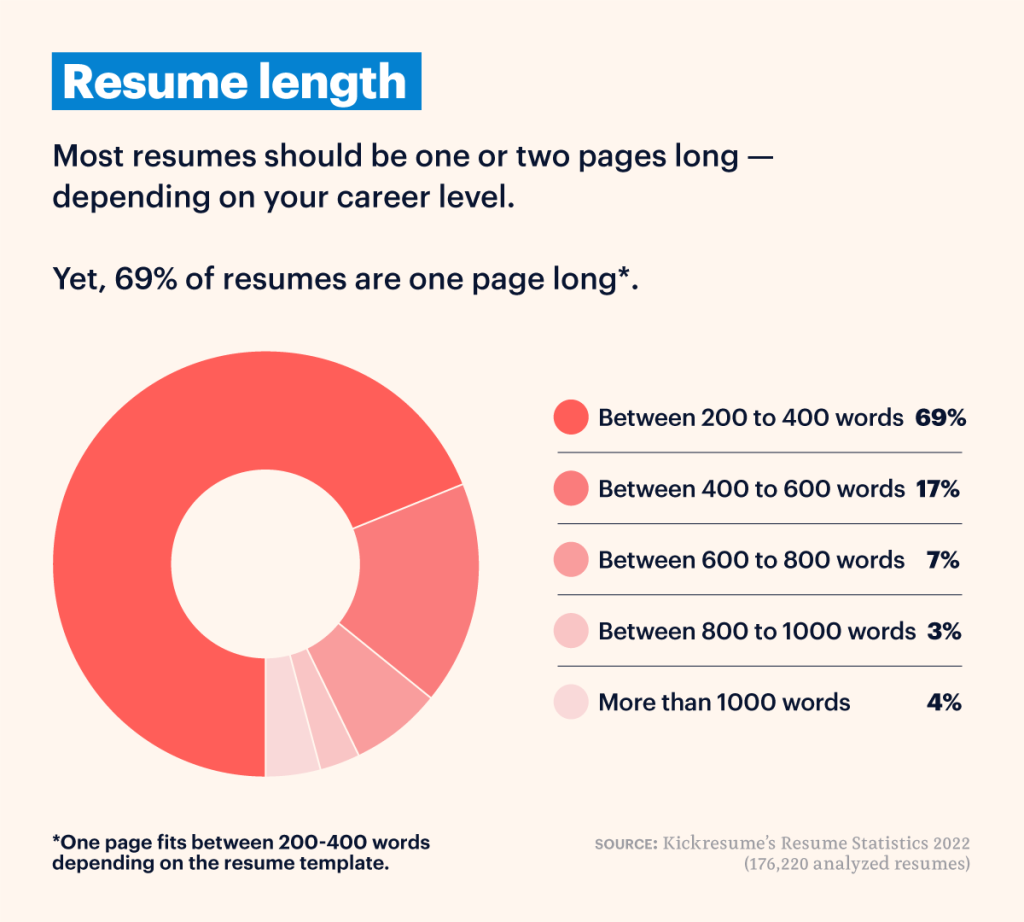 17% of resumes were slightly longer, containing between 400 and 600 words.
7% of resumes contained between 600 and 800 words.
The rest of the resumes (7%) were longer than 800 words.
We even found 29 resumes longer than 10,000 words. That's a bit of an overkill.
This data tells us that the majority of job seekers try to limit their resumes to a single page.
That's usually a good strategy, especially for entry-level workers, college graduates, and people looking to make a career change, since these job seekers usually don't have that much work experience in the field yet.
However, this may not be the best approach for those with more work experience. If you're a seasoned professional with 10+ years of experience, you don't need to shy away from using a two-page resume.
#2 Use of AI resume writer is on the rise
AI resume builders are becoming more popular among job seekers.
Kickresume's AI resume builder was used by 70,831 unique users in 2022, which constitutes 13% of our users. In other words, every eighth job seeker utilized our AI tool. And this number is still growing.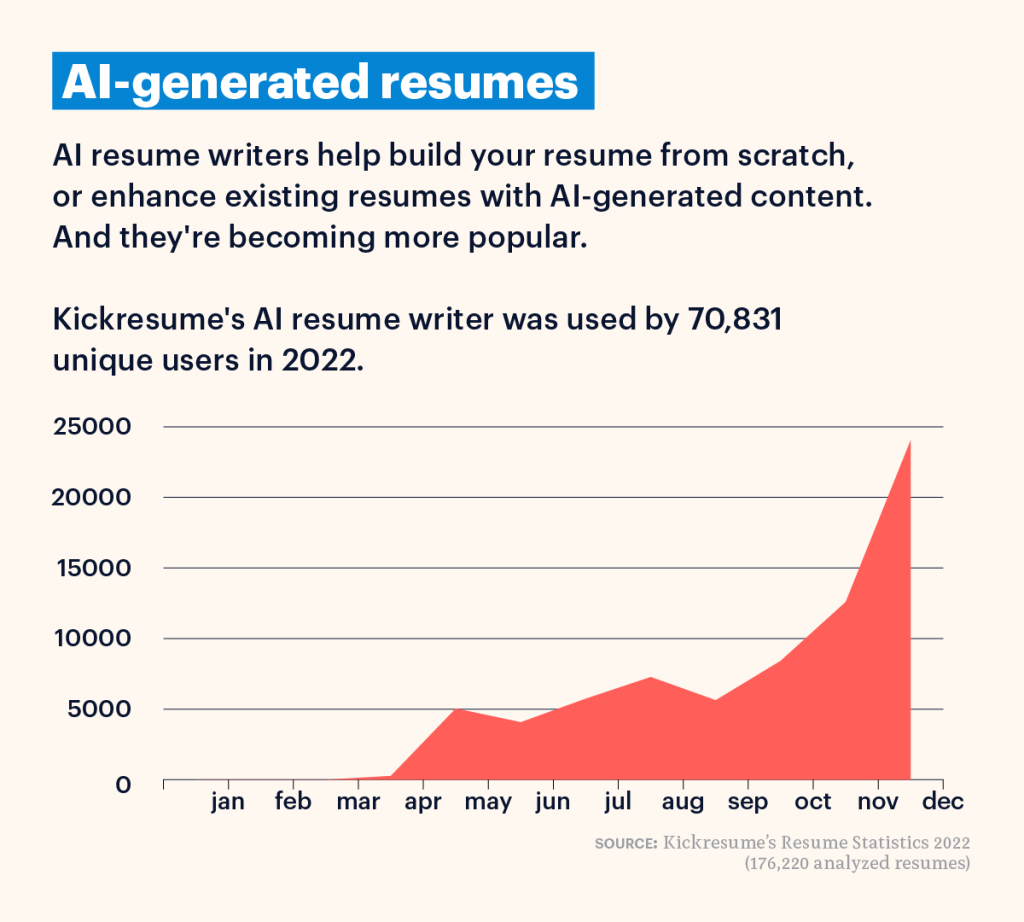 No wonder — there are many benefits to using AI. These tools can build your resume from scratch, enhance existing resumes with AI-generated content, or optimize them for specific job postings — invaluable if you struggle with writer's block and want to make life a bit easier.
To make sure you don't fall behind other job seekers, try out our AI resume writing tool in your next job search.
After all, writing is always easier when you already have a draft at hand.
How to use Kickresume's AI resume writer?
#3 Resume summary & objective — important yet neglected
Even though a resume summary (also known as a career summary or resume statement) and a resume objective are two slightly different things, they do share a common denominator. They're the few-sentences-long paragraphs that sit at the top of your resume and provide a snapshot of you as a candidate.
Yet, our analysis of over 170K resumes shows that only 37% of resumes included a resume summary or objective.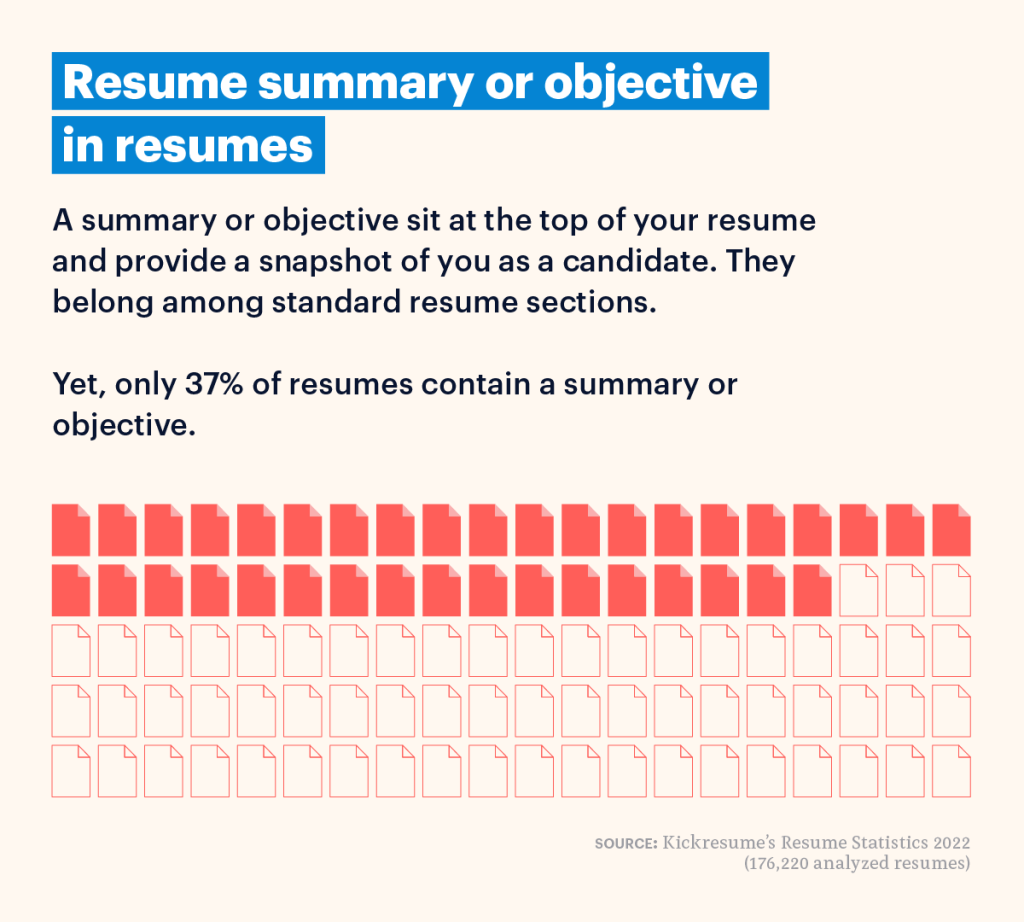 That's not very good news.
Why?
In the modern world, a resume summary or objective belongs among the standard resume sections. It allows recruiters to quickly scan what you consider your top qualifications for the job.
In fact, recruiters agree that a well-written resume summary/objective will almost always catch the eye of a seasoned recruiter.
Hence, if you want to increase your chances of your resume being noticed by a hiring manager, don't be a part of the 63% of job seekers who didn't include this paragraph in their resume.
And, if you're not sure how to write a resume summary or resume objective, our guide will provide all the information you'll need to craft one.
#4 Job seekers love action-oriented verbs
The next resume statistics we looked at was the use of action-oriented verbs and phrases in the analyzed resumes.
We found that out of all resumes, 93% included 1 or more action-oriented phrases.
And, 33.5% of resumes actually included between 10 and 20 action verbs, which is the ideal amount per one document.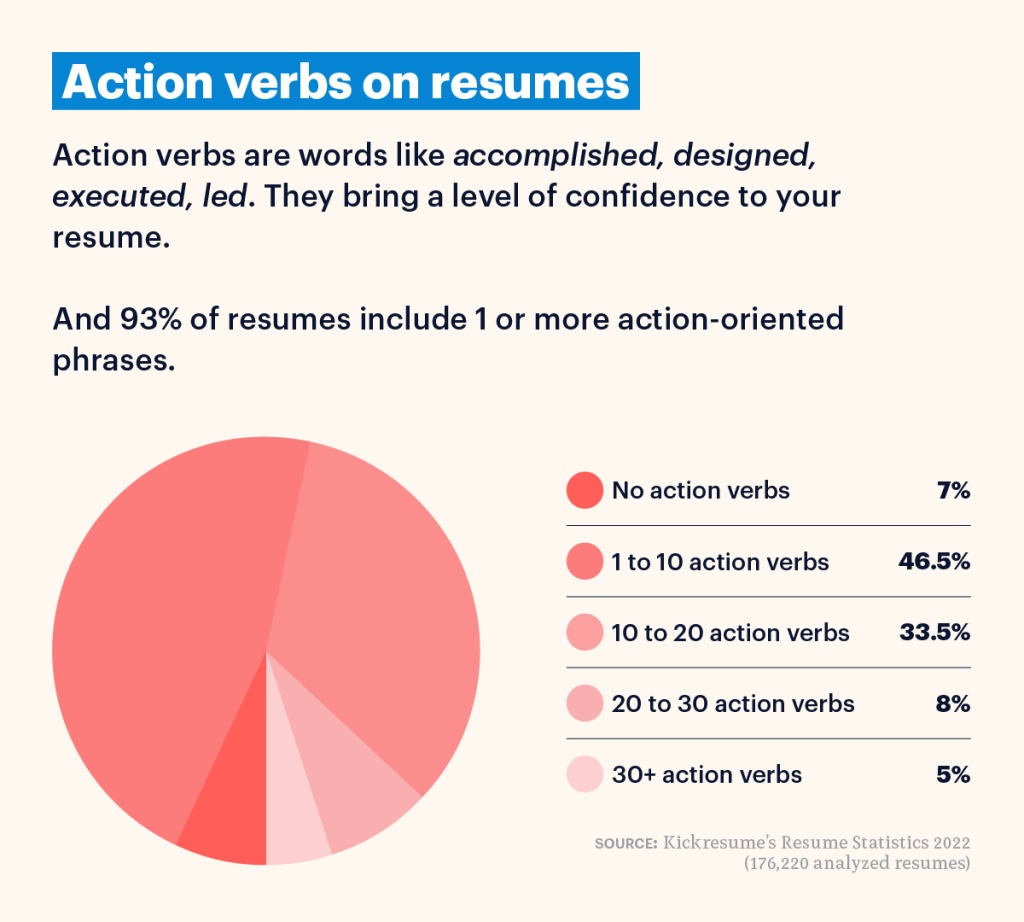 That's really good news!
Compared to noun-based verbs and passive voice, action verbs are shorter, clearer, and bring a level of confidence to your resume.
Hence, using action-oriented verbs can make your resume more engaging and easier to read, ultimately increasing your chances of capturing the hiring manager's attention.
Let's have a look at an example of action-oriented vs. non-action-oriented phrases:
Non-action phrase: I have been a part of the employee performance evaluation process.
Action-oriented phrase: Evaluated employee performance using available data.
As you can tell, the first example is wordier and contains unnecessary word fluff. The second phrase is clearer and more confident.
Our resume statistics show that a vast majority of people already use action verbs in their resumes.
However, if you're a part of the 7% who still isn't using them, here's some inspiration for your upcoming job search:
Examples of action-oriented verbs
#5 Filler words still seem to be a problem
With hiring managers spending as little as six seconds scanning your resume for important information, you don't want to crowd your resume with words that don't add any value.
Yet, this seems to be a bit of a problem for job seekers.
Our data shows that 44% of resumes contained 10 or more filler words.
What's more, almost 5,000 resumes contained 40+ filler words. That's a lot!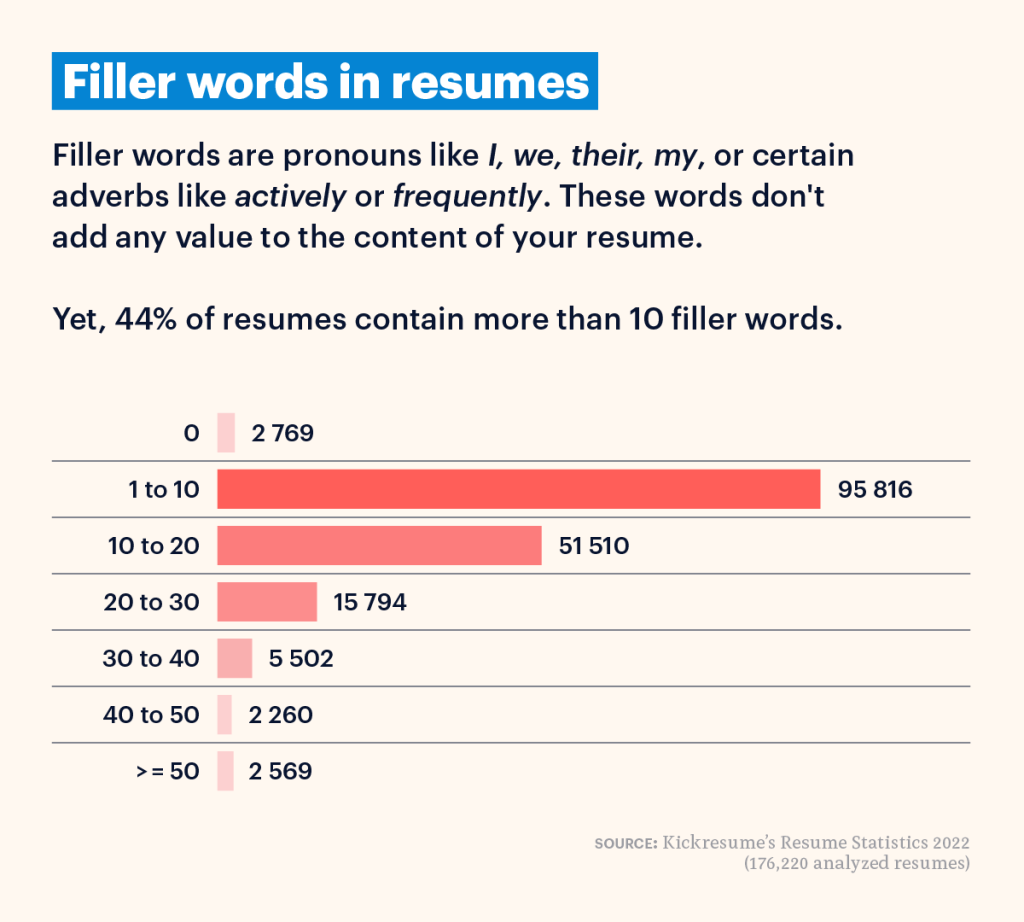 So, what exactly are filler words? In the context of resumes, filler words are pronouns like I, we, their, my, that, which, etc. Moreover, certain adverbs can also be considered filler words. These are words like always, frequently, actively, thoroughly, etc.
And why are they the pest of resumes? These words don't add any value to the content of your resume and create unnecessary fluff that only takes away attention from the important information you need to convey in a limited time (and space).
In a way, it's kind of like using words so, like, uhm, well when speaking.
Here's how to eliminate filler words in your resume:
Exclude any pronouns, like: I, my, they, their, that, our, we.
Use action-oriented verbs and phrases instead of passive voice and noun-based verbs.
Exclude any overused adverbs, such as: efficiently, diligently, proficiently, significantly, quickly, and thoroughly.
#6 The most popular resume template is Ladder
At Kickresume, we also specialize in resume design. We offer 35+ resume templates designed by a team of professional typographers, graphic designers, and recruiters.
In 2022, Ladder became the most popular template among our users. It was used by every tenth user, adding up to over 51,000 resumes with this design.
Here it is in all its glory:
Ladder Resume Template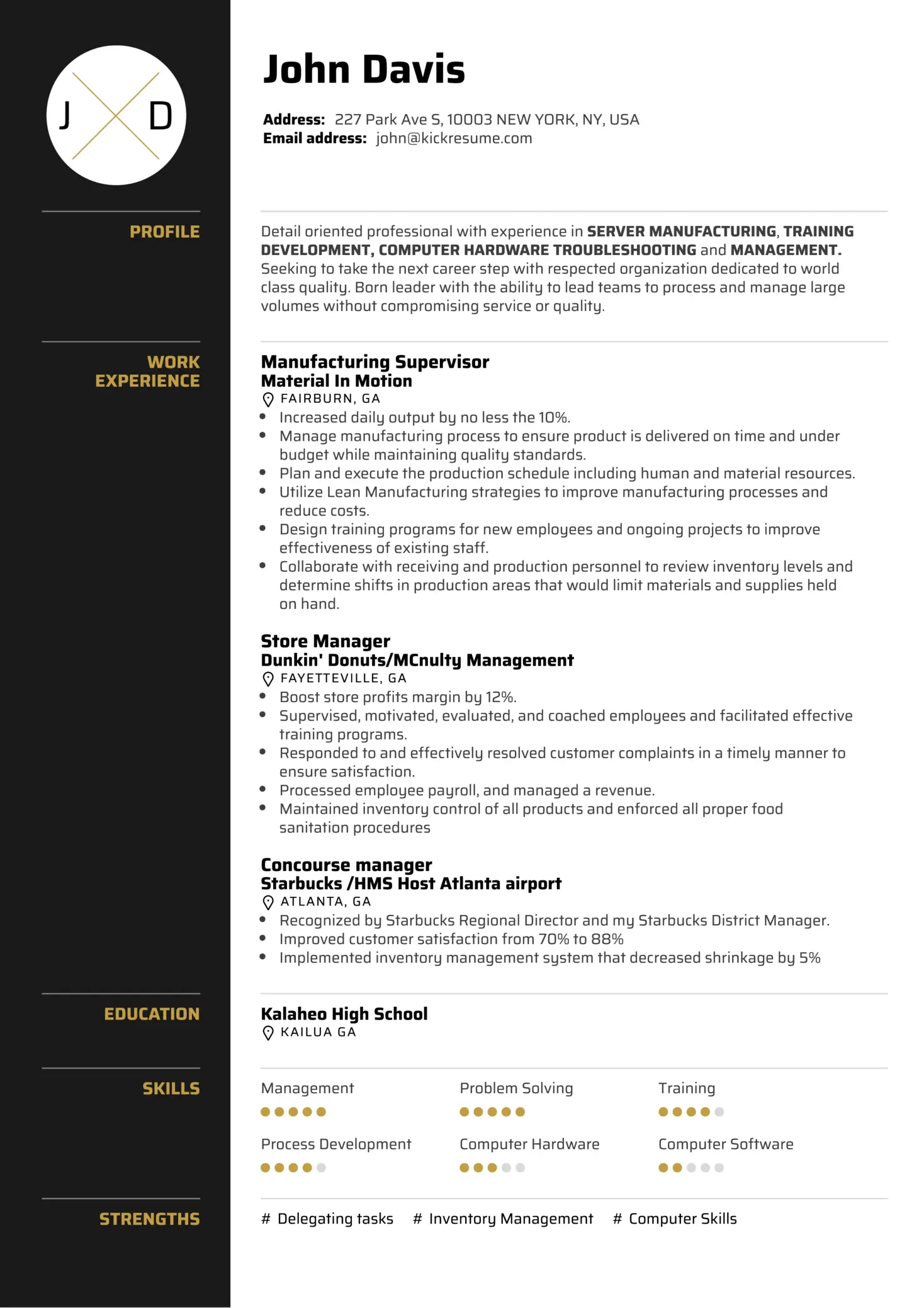 There are a few reasons why this particular template gets so much attention.
Uses the classic black-and-white combination to visually divide the sections and headings.
It's not too "creative", yet not boring. There are no extra elements apart from those that are necessary. However, you can change the color of the section headings and the experience level dots in the skills section to add an extra zing.
It's a single-column template. The traditional single-column template allows more space to elaborate on your experience and qualifications. Plus, it's more ATS-friendly.
Some of the other popular templates include Midday, Rhubarb, or Stanford. Have a look at all 35+ resume templates.
#7 Nearly half of job seekers don't accompany their resume with a cover letter
Well, they either forget about them or just hate them enough not to write one at all.
Our analysis found that 45% of job seekers didn't create a cover letter along with their resumes.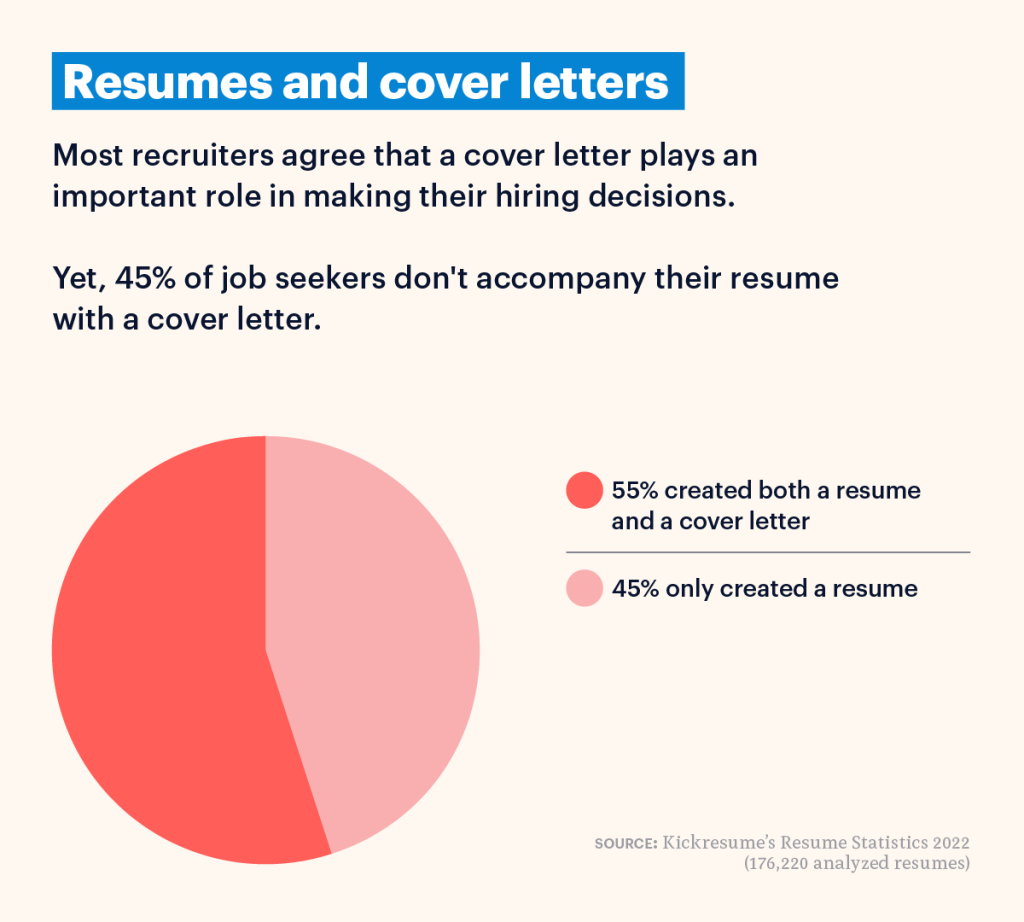 However, not writing one at all may be a big mistake.
Compared to a resume, the cover letter allows you to provide details that didn't fit in on your resume, demonstrate your passion, and show a bit of your personality.
In fact, a survey revealed that 83% of recruiters agree that a cover letter plays an important part in making their hiring decisions.
Therefore, we strongly recommend you create a cover letter along with your resume.
Here are 3 ways to write a cover letter without having to pull your hair out:
Let an AI cover letter writer make one for you. Kickresume's AI cover letter writer can generate role-specific cover letters that look and feel a lot like cover letters written by real people. You can use it as your first draft and edit it to make it more "you".
Draw inspiration from real cover letter examples. In our cover letter database, you'll find example letters from different industries belonging to real people who got hired.
Follow a step-by-step guide to writing a cover letter. In this ultimate cover letter guide, you'll learn what to include in the header, what greeting to use, what to write in each paragraph, how to sign off, and more.
Resume statistics: Concluding remarks
This analysis of over 170,000 resumes created on Kickresume in 2022 presents some valuable resume statistics and reveals interesting trends and common mistakes in resume writing:
The majority of job seekers try to fit their resumes into a single page. However, this may not always be appropriate.
The use of AI to craft resumes is increasing, and it's no surprise, given the speed and efficiency it provides.
Two-thirds of resumes didn't include a resume summary or objective, even though these are considered standard resume sections.
Job seekers love action-oriented verbs and can't get enough of them (hiring managers, too).
Filler words continue to infest resumes even though it's fairly simple to get rid of them.
The most popular resume template is an ideal balance of standard but not boring, according to resume statistics.
Nearly half of the job seekers ignore cover letters in spite of the fact that hiring managers value them.
Career Writer

Klara recently graduated from the University of St Andrews in Scotland. After having written resumes for many of her fellow students, she got an opportunity to write full-time for Kickresume. Klara is our go-to person for all things related to student or 'no experience resumes'. At the same time, she has written some of the most popular resume advice articles on this blog. When she's not writing, you'll probably find her chasing dogs or people-watching while sipping on a cup of coffee.