When it comes to resumes, there's probably no greater dispute than whether to include a picture on a resume or not.
Some say, if it's a professional photo which goes well with the resume itself then sure, why not.
What's more, most recruiters will google you anyway and check your social media profiles. Which means they'll see what you look like eventually.
It also depends on the country.
In many parts of the world, everybody's expected to include a photo on their resume.
In others, hiring managers would say it's unacceptable. They rightly think it only increases the possibility of discrimination and unconscious bias against the applicant.
Let's take a look at some of the most frequent arguments regarding pictures on resumes.
1. Argument: Hiring managers will google you anyway so they'll eventually see what you look like
Most recruiters today google every job candidate and check their social media profiles.
This presents you with two kinds of approaches.
First, you might as well add the photo to your resume because they'll google you anyway.
Either that, or you can opt NOT to include your photo on the resume. The same reason—they'll google you anyway.
Your resume should be, after all, about your skills, education, experience and not about looks.
Strictly speaking, your appearance is not relevant for the job position, unless you're applying for a modelling or acting job.
2. Argument: It steers the recruiters' attention away from the important stuff
On average hiring managers only spend 6 seconds on each resume. You have a very limited amount of time to sell your skills and competences.
Examining your photo, no matter how good-looking you are, might take their attention away from the important details about your work experience, skills and knowledge.
Use that precious time better than giving the hiring manager a chance to concentrate on your photo.
Or would you like to get hired mostly for your good looks?
3. Argument: Pictures on a resume might cause discrimination
The majority of HR experts agree that a picture on a resume can lead to discrimination, bias and favoritism.
It's not always the recruiter's fault, they might discriminate unconsciously. Humans are visual beings and we instinctively make judgments about people based on their looks.
We often make judgments subconsciously, without a clear intention to do so. But in the job market, where people should stand out based on their accomplishments and abilities alone, why allow for a chance of being judged based on one's race or looks?
Apart from one's appearance, name, age, gender or even a home address could also trigger subconscious biases.
In some countries, HR departments will discard all resumes with photos in order to avoid any possible accusations of discrimination or bias.
On the other side, in some other countries, having a photo on the resume is a must. In the end, do whatever is customary to your local job market.

4. Argument: One's looks are not relevant to the job position
Okay, you might be hot. Why not gain some extra points by showing off your picture then?
Despite what we've just said about unconscious biases, you should consider one more thing:
Does your appearance bring any value to the job you're applying for?
You have to consider for what job positions it's relevant and for which it is not. There are plenty of positions where looks matter, such as modeling or acting jobs, brand ambassador/representative jobs, etc.
When there's no legitimate reason why looking hot might be an asset to the job, we advise you not to include it.
5. Argument: A picture on a resume might potentially work against you
If you decide to include a photo on your resume, make sure it's one that does you justice.
It should be a professional, passport-style headshot.
Also, photos on resumes can confuse the ATS (Applicant Tracking Systems) that some companies use to filter resumes.
This software automatically scans and pans your resume for keywords and a photo could potentially hinder this process.
This might cause your resume not to be accepted. You don't want that. Be aware of this when applying for a job in large corporations—they get hundreds of resumes daily and employ the ATS in order to speed up the process of hiring new people.
Christy's word of advice

In many English-speaking countries, photos should NOT be included on your resume (e.g. USA, UK, Canada, Australia, NZ). This is to avoid potential bias or discrimination, and ATS will remove it anyway from your candidate profile. However, things are done very differently in other countries, where a photo IS expected (e.g. Scandinavia, much of Europe and Asia). While recruiters can of course check out your image on LinkedIn or social media, I advise you to follow the conventions of the country you're applying to, to show that you understand local application practices.

Christy Morgan, Resident HR Expert
Countries to include or exclude a resume picture
Also, you should keep in mind that in some countries it's normal to add photos to resumes while in others it's unacceptable.
In continental Europe, for instance, it's a common practice to put photos on CVs, but in other parts of the world such as Australia, the US or the UK, the same practice is seen as highly inappropriate. So, even with the best of intentions, a photo can eventually work against you.
Here's a list of countries/continents of where you should and shouldn't include a photo in your resume:
Africa: yes (except South Africa)
Americas:
Canada: no

United States: no

Latin America : yes (except Mexico)
Australia and New Zealand: no
Asia: yes
Europe:
Austria: yes

Belgium: no

Croatia: depends

Czech Republic: no

Denmark: no

Estonia: no

Finland: yes

France: yes

Germany: yes

Hungary: depends

Ireland: no

Italy: yes

Netherlands: no

Poland: yes

Portugal: yes

Romania: yes

Russia: no

Spain: depends

Sweden: no

Switzerland: yes

UK: no

Resume photo tips from a professional photographer
If you're already familiar with how to write a resume and you know you're going to opt-in for a picture in your resume. Our in-house professional photographer Noel Rojo has six tips that will help guide you in taking the perfect resume picture.
Wear the proper attire

: You want to make sure you wear clothes with solid and contrasting colors, especially because your resume might be converted to black and white and colors such as pastels might look washed out. Avoid anything with logos or distracting patterns.

Choose the right background

: When taking a resume head shot, a plain neutral background is usually the way to go. You want to choose a place that is devoid of clutter and that will not distract from the main subject matter — you.

Avoid candid and or low quality images

: Like your resume, your picture should be properly curated.

Take the photo from the right angle and height

: Your photo should be taken at eye level and it's recommended to position your face with a slight shift to the side, as taking the picture straight forward can make your image look like a mug shot. However, nothing wrong with a straight forward picture if you can pull it off.

Get the lighting right:

If you have the option, the best way to take the photo is under natural light. Artificial lighting can work as well, just make sure you get the lighting even throughout your face to avoid hard contrasts. As for flash, unless you really know what you're doing, I would suggest to refrain from using it, as it's easy to get an unnatural look.

Go for a natural look

: Abstain from using too much makeup as it can be distracting. Instead, go for makeup that gives you a natural and neutral look. Your picture shouldn't be the main focus of your resume.

Crop your image

: You want to crop your photo just below your shoulders and slightly above the head. If you don't know how far you should be from the camera when taking the resume head shot, a good rule of thumb is for your face to take around 60% of the frame.
Another thing to keep in mind is that depending on where you're applying, what to wear for a resume photo will differ. For example, if your job is strictly professional then a suit is advised. However, if the company is more relaxed, then wearing something more casual is usually the norm.
In the end, like these resume picture examples – just keep it simple, neutral, and natural: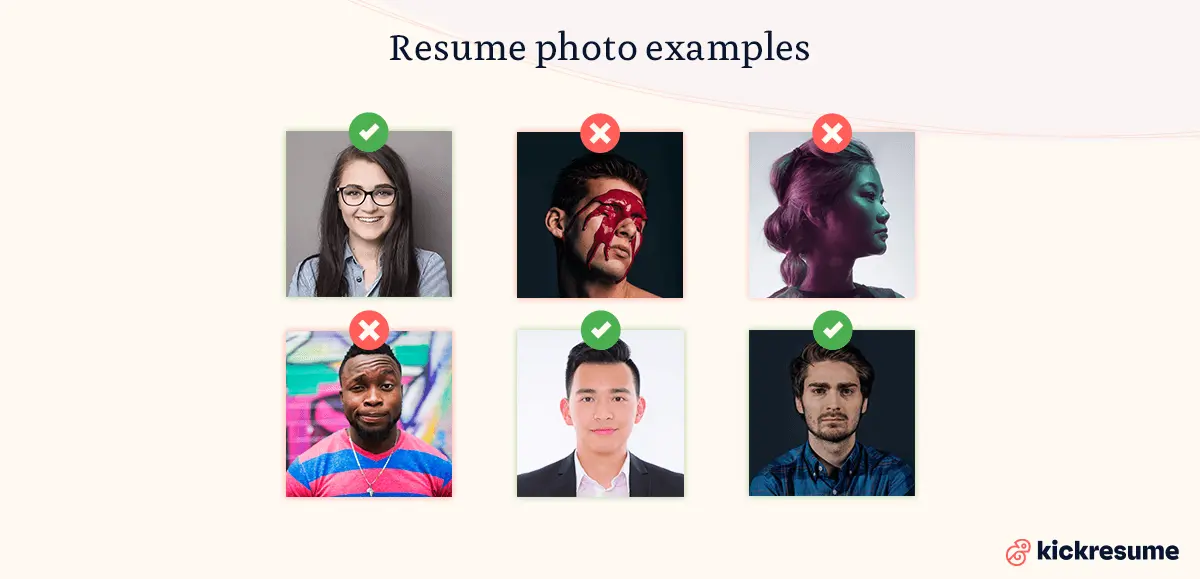 How to paste your picture on a resume
A resume photo is usually a 2x2 inch square or passport size (4.5cm by 3.5cm) and is pasted on the top part of your resume.
It's customary to place it in the upper corners, as it leaves plenty of room to include your contact information and profile.
However, these suggestions are not set in stone and in some modern resumes the picture can go center top and can be circular or other shapes instead of a square.
When choosing where to place your resume head shot, just keep in mind that it should be placed in the top third of your resume. Including it anywhere else might get your resume rejected by the ATS.
Also, resumes with pictures are usually submitted in color. Because of this, it's a good idea to print a copy of your resume in order to verify that it will look good as a hard-copy version.
Download our free ebook for more clever shortcuts to "hack" your job search journey.
Resume templates with pictures
Not all resume templates are created equal, some look good with a resume picture and others not so much.
Here are three stunning resume samples with pictures that can help you get noticed:
ATT Value Transformation Services Resume Sample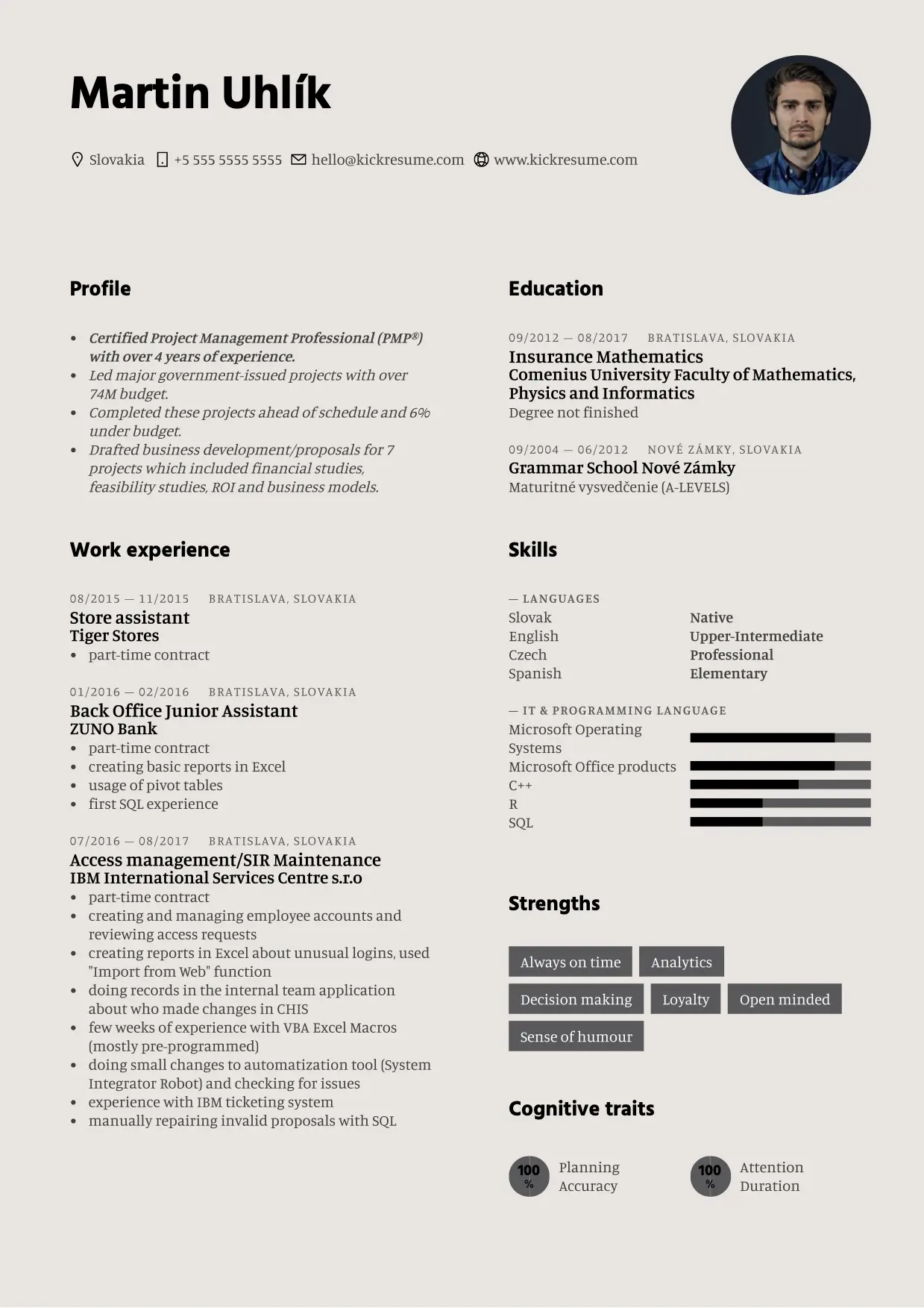 Accenture Software Engineering Team Lead Resume Sample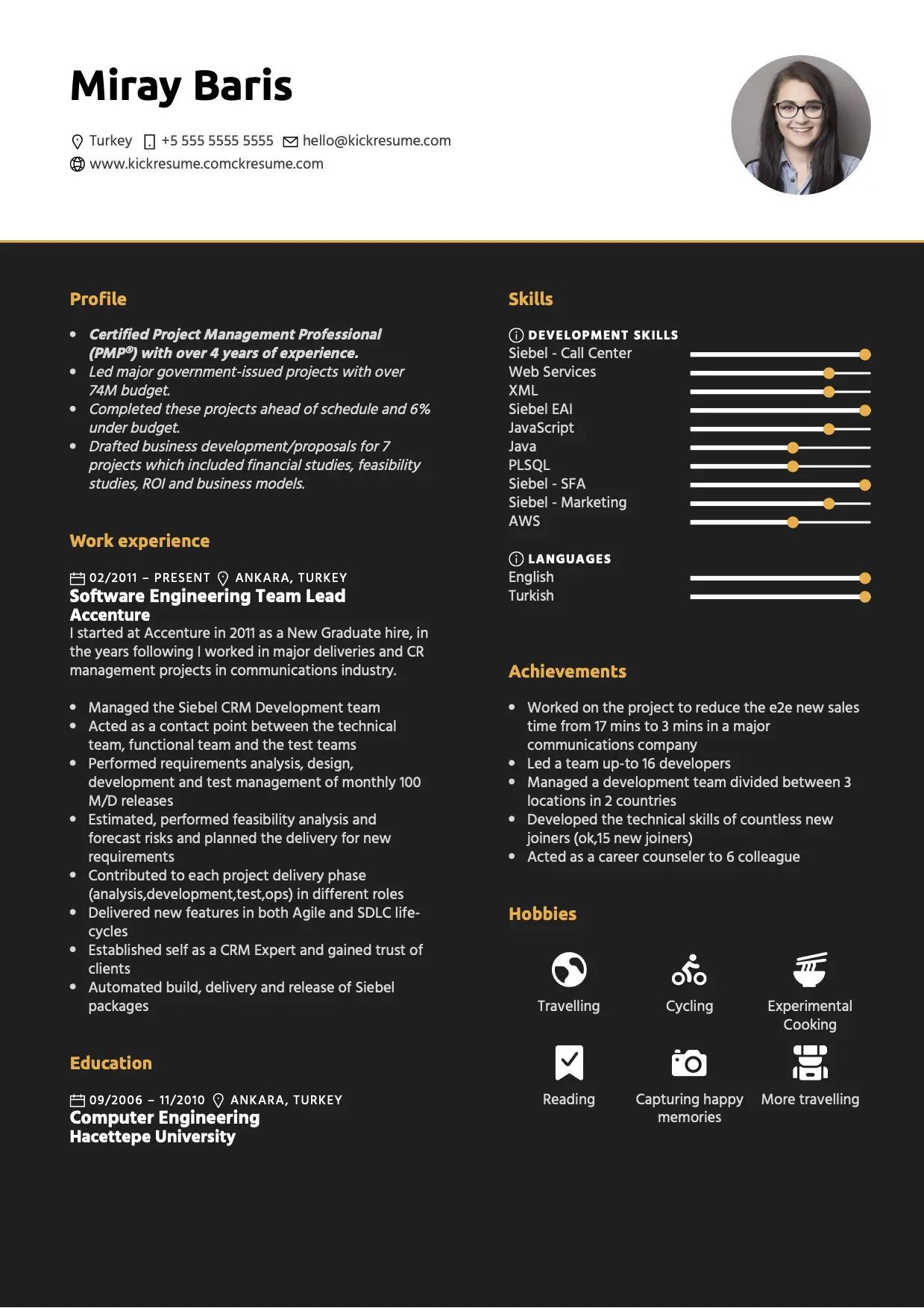 Office Assistant Resume Example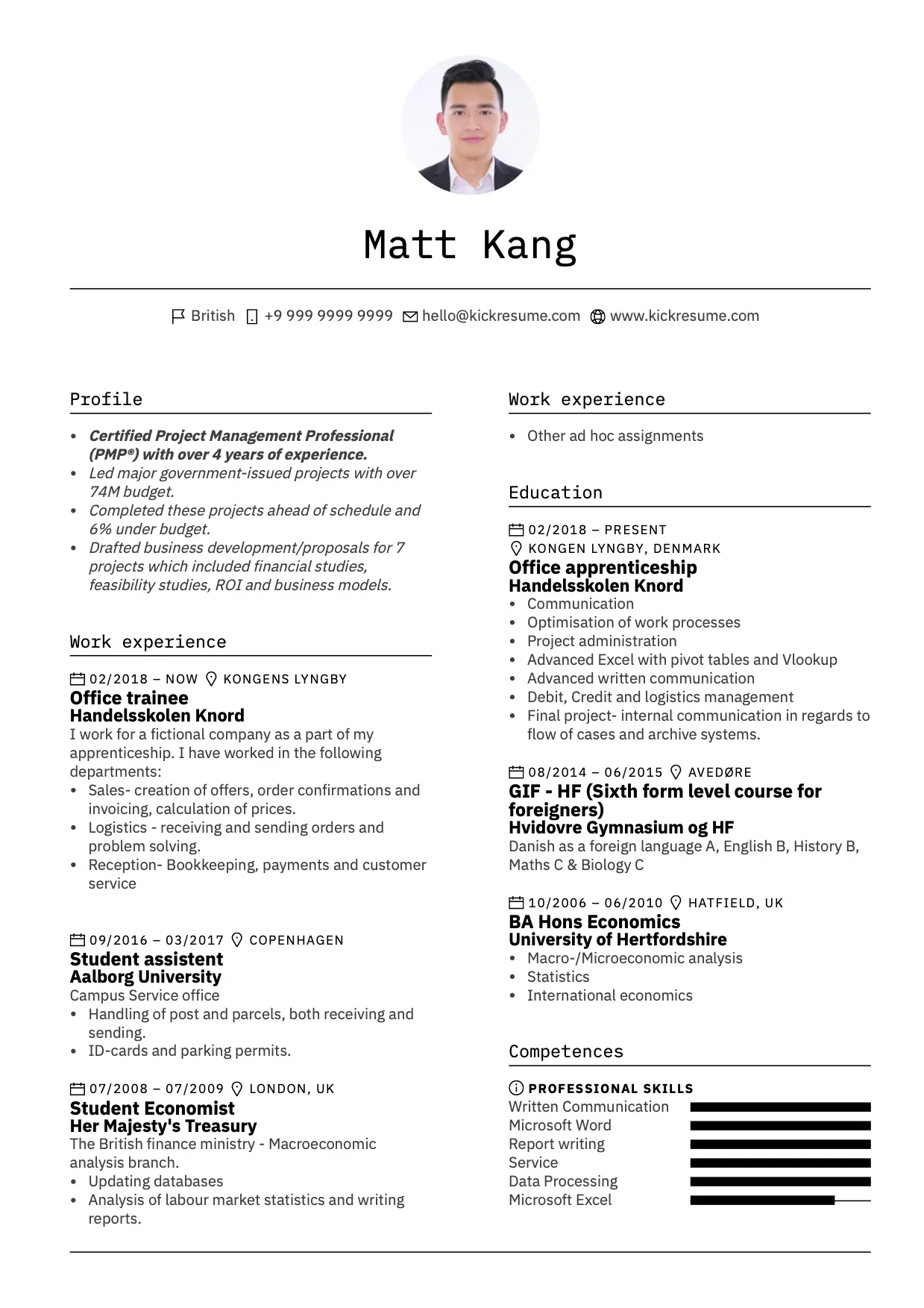 Or browse another 1500+ resume examples by your profession.
Our conclusion
All in all, experts agree it's better NOT to include a photo unless it's a position that in any way requires you to look good or unless you're applying for a job in a country where it is specifically advised to do so.
If you want to include it, then just do it. But the global job market is inclined to a non-discrimination policy so the habit of including photos on resumes is slowly becoming outdated.
Most importantly, your knowledge, skills and competence are there to speak for you, not your looks. The most reputable and professional recruiters know this and will consider you only on the basis of your skills and value you could bring to the company.
In a nutshell, we think including a photo on resume is useless because:
The hiring managers

will google you anyway

.

The purpose of a resume is to get you an interview.

Get noticed for your skills

and qualities, not looks.
There are all sorts of designs in Kickresume's Online Resume Builder, with or without a photograph. You can choose one that suits your position and country the best. The perfect resume and cover letter are just a click away.
Resident Writer

A documentary photographer and writer. Noel has worked for International publications like Deutsche Welle in Germany to News Deeply in New York. He also co-founded the global multimedia project Women Who Stay and collaborated as a journalist fellow with the University of Southern California. He went from traveling around the world to sitting on a couch thanks to the pandemic, but he got a nice job working for Kickresume thanks to that, so he won't complain.