Should you put a picture on your resume? The age-old question. In English-speaking countries, which also happen to be some of the biggest job markets in the world, including a photo on your resume isn't a good idea.
However, whether you include a photo on your resume or not has a lot to do with your location and industry.
A resume photo is still a must in many parts of the world. Plus, there are also industries in which including a picture on a resume is desirable.
So, to help you make an informed decision about YOUR resume picture, we clarify when exactly you should and shouldn't add a resume photo and include advice from a professional photographer and our resident HR expert.
We'll also show you examples of resumes with a photo and professional templates to use.
Why you shouldn't put a picture on your resume
In English-speaking countries, including the USA, UK, Canada, Australia, New Zealand, or South Africa, adding a picture to your resume isn't a good move.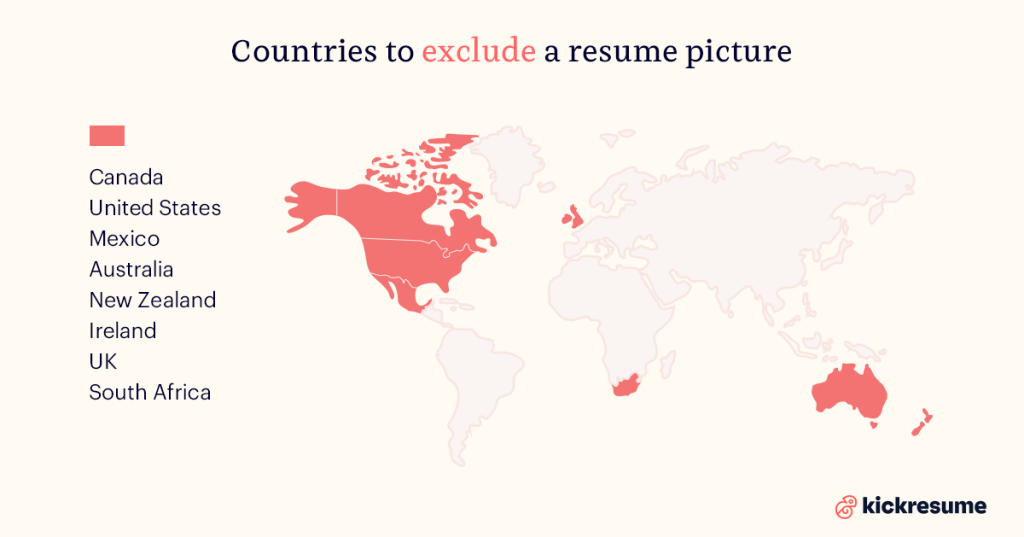 Why?
Here are the 3 key reasons:
1. Picture on a resume might cause discrimination
The clear anti-discrimination laws in these countries are the main grounds for the decision not to include pictures on resumes.
Employers must be able to prove that there's no profiling based on factors like ethnicity, gender, age, attractiveness, home address, etc. during the recruitment of employees.
So, they prefer to receive resumes without photos as a precautionary measure to ensure no applicant is subject to prejudice.
It's not always the recruiter's fault, though. They might discriminate unconsciously. Humans are visual beings and we instinctively make judgments about people based on their looks. Even if we're not aware of it.
Hence, in the job market where people should stand out based on their accomplishments and abilities alone, why allow for a chance of being judged based on one's race or looks?
By not including your photo on a resume, you ensure no injustice is happening.
2. Picture on a resume can come across as unprofessional
Normally, job seekers in North America, the UK, Ireland, Australia, or New Zealand don't include a photo of themselves on their resumes.
Hence, some hiring managers can consider it odd or unprofessional when they encounter a rare resume with a photo at the top and it may be perceived as a diversion from what's really important: your work experience, education, and skills.
We get that you want to do something that makes you stand out amongst other job applicants, but this could make you stand out in a completely wrong way.
3. Resume picture steers the recruiters' attention away
Drawing from the previous point, on average hiring managers only spend about 6 seconds scanning your resume for important information.
Therefore, you have a very limited amount of time to sell your skills and competencies.
Examining your photo, no matter how good-looking you are, might take their attention away from the important details about your work experience, skills, and achievements.
4. Bonus: Hiring managers will google you anyway
Most recruiters today google every job candidate and check their online presence.
That means they stumble upon your social media profiles, LinkedIn, or other websites that already include pictures of you.
This presents you with two kinds of approaches:
First, you might as well add the photo to your resume because they'll google you anyway.
Or you can opt NOT to include your photo on the resume. The same reason — they'll google you anyway.
Your resume should be, after all, about your skills, education, and experience and not about looks.
Pro tip

Here's how to clean your online presence:

Google yourself, first.
Remove any controversial content.
Including: drunk party photos, intimate photos, or offensive pictures.
Make your social media accounts private.
When you should put a picture on your resume
On the other hand, there are cases when a resume picture is expected or even required.
These are mostly related to the country where you're applying for a job or the specific occupation.
Let's talk about that in some more detail.
Disclaimer: When you do decide to include a photo on your resume, please follow the tips from a professional photographer. These are listed in a separate section below.

1. Some countries prefer a picture on a resume
Including a photo on a resume is actually very common in some parts of the world, such as a big part of continental Europe, Asia, Africa, and Latin America.
For instance, Chinese employers see a photograph as the norm since first impressions are vital in Chinese culture.
In Japan, a resume without a photo can even be discarded altogether.
South Korea also used to be a strong advocate for a resume with photo, although in recent years it's been steering away from this practice.
In Denmark (similarly to a big chunk of continental Europe), a photo is usually added to a CV and the majority of employers consider it as a way to 'meet' the candidates.
In other countries, such as India, Germany, or Sweden, a picture on resume is a bit of a grey area with advocates on both sides:
For instance, India Daily claims that "your photo on a resume should be strictly avoided", while a guide to the Indian resume format says it "often adds a much-needed layer of authenticity." Therefore, we advise you to research the company thoroughly or make a direct inquiry regarding whether you should or shouldn't include one.
In Germany, even though it's common practice to add a picture to a CV, many companies will actually advise you not to add photos. All in all, it again depends on the specific company and its practices. Plus, The Berlin Life concludes that not including one isn't going to prevent you from getting a job in Germany.
Similar thing is true for Sweden and Netherlands where no clear-cut practices are in place for resume pictures and you won't be treated unfairly either way.
However, there are exceptions within these parts of the world as well, such as South Africa in the African continent and Mexico in Latin America.
In a separate section below we include a list of countries and whether or not should you include your picture in your resume there.
2. Some jobs prefer a picture on a resume
Does your appearance bring any value to the job you're applying for? Because whether we like it or not, looks are important for some occupations.
There are plenty of positions and industries where looks matter, including:
Modeling
Acting
Entertainment industry in general
Brand ambassador/representative
Real estate
Sales
Spokesperson
You have to consider for which job positions it's relevant and for which it's not.
Pro tip

When there's no legitimate reason why looking good might be an asset to the job, you don't need to include it.
3. Bonus: It can help you stand out
While resume photos aren't common in many predominantly anglophone countries, they're usually not forbidden.
This means that in a pile of text-only resumes, a resume with a photo will stand out and draw attention to itself.
For instance, Tobi — a job seeker in Canada — decided to change his approach after 7 rejections from his dream job at Shopify. Among the things he changed was including a photo on his resume even though it isn't advised in Canada. After being rejected so many times, he then finally got the job.
In the end, it's up to the HR manager whether it's the right or wrong kind of attention when they see a resume picture. It can, at times, turn out to be a win.
Here's what our resident HR expert Christy has to say:
Resume picture: Expert advice

In many English-speaking countries, photos should NOT be included on your resume (e.g. USA, UK, Canada, Australia, NZ). This is to avoid potential bias or discrimination, and ATS will remove it anyway from your candidate profile. However, things are done very differently in other countries, where a photo IS expected (e.g. Scandinavia, much of Europe and Asia). While recruiters can of course check out your image on LinkedIn or social media, I advise you to follow the conventions of the country you're applying to, to show that you understand local application practices.

Christy Morgan, Resident HR Expert
Countries to include or exclude a resume picture
As mentioned before, in continental Europe, for instance, it's a common practice to put photos on CVs.
However, in other parts of the world such as Australia, the US, or the UK, the hiring managers can view the same practice as inappropriate.
So, even with the best of intentions, a photo can eventually work against you.
Here's a list of countries and continents where you should and shouldn't include a photo in your resume:
Africa: yes (except South Africa)
Americas:
Canada: no
United States: no
Latin America: yes (except Mexico)
Australia and New Zealand: no
Asia: yes (except Russia)
Europe:
Austria: yes
Belgium: no
Croatia: depends
Czech Republic: no
Denmark: yes
Estonia: no
Finland: yes
France: yes
Germany: depends
Hungary: depends
Ireland: no
Italy: yes
Netherlands: depends
Poland: yes
Portugal: yes
Romania: yes
Slovakia: depends
Spain: depends
Sweden: depends
Switzerland: yes
UK: no
When you stumble upon "depends", we advise you to research the specific company or ask directly what are their preferences are for resume photos.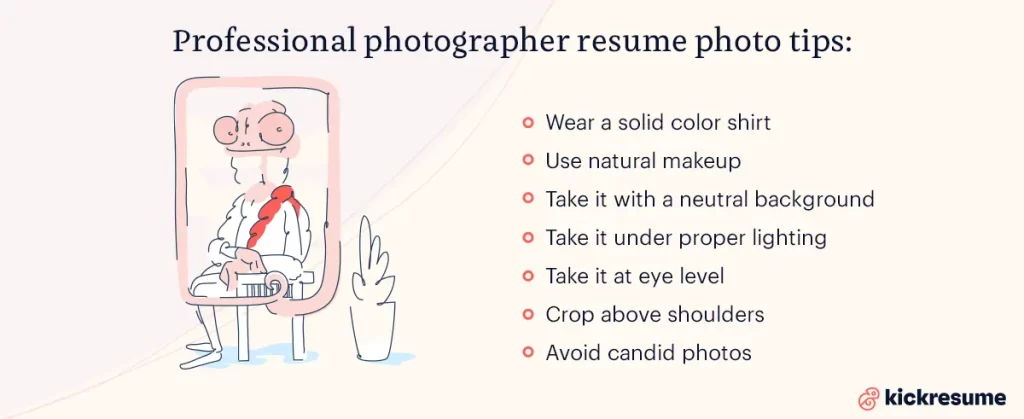 Resume photo tips from a professional photographer
If you're already familiar with how to write a resume and you know you're going to add a picture in your resume, our in-house professional photographer Noel Rojo has seven tips that will help guide you in taking the perfect resume picture.
7 resume photo tips from a professional photographer:
Wear a professional outfit. You want to make sure you wear clothes with solid and contrasting colors, especially because your resume might be converted to B&W. Avoid anything with logos or distracting patterns.
Choose the right background. When taking a resume head shot, a plain neutral and uncluttered background is usually the way to go. You want to choose a place that won't distract from the main subject matter — you.
Avoid candid and low-quality images. Like your resume, your picture should be properly curated.
Take the photo from the right angle and height. Your photo should be taken at eye level and it's recommended to position your face with a slight shift to the side, as taking the picture straight forward can make your image look like a mug shot. However, nothing wrong with a straightforward picture if you can pull it off.
Get the lighting right. If you have the option, the best way to take the photo is under natural light. Artificial lighting can work as well, just make sure you get the lighting even throughout your face to avoid hard contrasts.
Go for a natural look. Abstain from using too much makeup as it can be distracting. Instead, go for makeup that gives you a natural and neutral look. Your picture shouldn't be the main focus of your resume.
Crop your image. You want to crop your photo just below your shoulders and slightly above the head. If you don't know how far you should be from the camera when taking the resume head shot, a good rule of thumb is for your face to take around 60% of the frame. 
You can even use an online photo editor to edit your photo so it's simple and doesn't distract recruiters from the rest of your resume and most relevant qualifications and accomplishments.
Another thing to keep in mind is that depending on where you're applying, what to wear for a resume photo will differ.
For example, if your job is strictly professional then a suit is advised. However, if the company is more relaxed, then wearing something more casual is usually the norm.
Here are examples of good and bad resume pictures: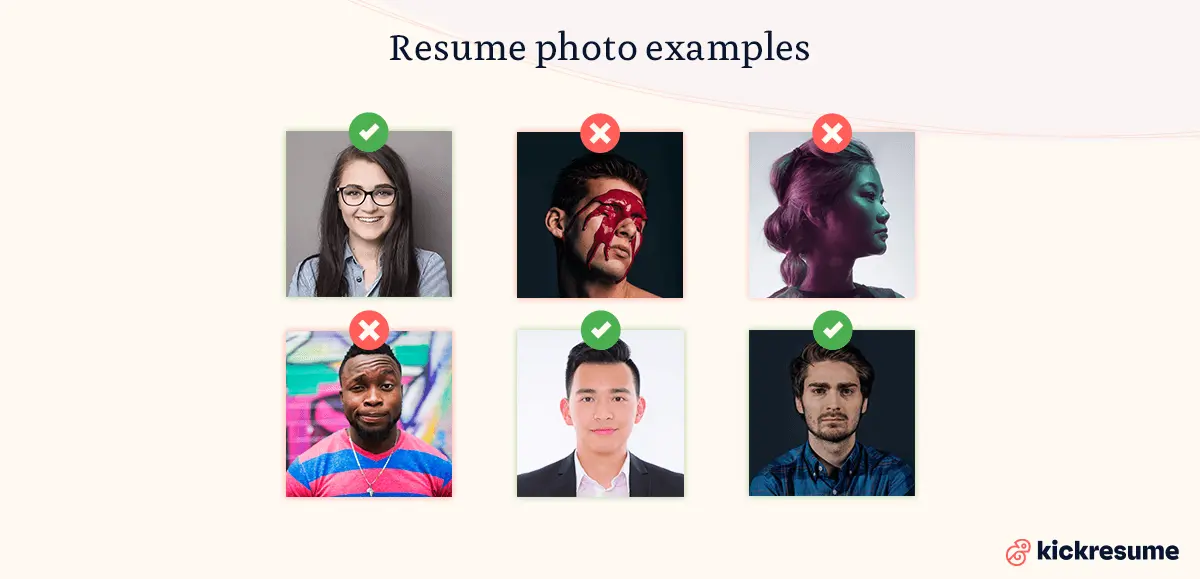 How and where to add photo in resume
Have you decided that adding a picture in your resume is what you want to do but aren't sure how or you're scared it'll mess up the formatting?
Kickresume's resume builder offers already pre-formatted templates for your resume which makes it easy to add a picture without messing up the layout. No offense, MS Word.
Here's how to add a photo in resume: 
Regarding how to paste your picture on a resume, it's ideal to place it in the upper left or right corner, as it leaves plenty of room to include your contact information and profile. Some modern resumes also place the picture in the center.
When choosing where to place your resume picture, just keep in mind that you should place it in the top third of your resume. That's what our eyes prefer and what feels the most natural.
The resume photo can be rectangular, squared, or a circle. Stay away from other shapes.
Also, resumes with pictures are usually submitted in color. Because of this, it's a good idea to print a copy of your resume in order to verify that it will look good as a hard-copy version.
Here's an example of a resume with a photo: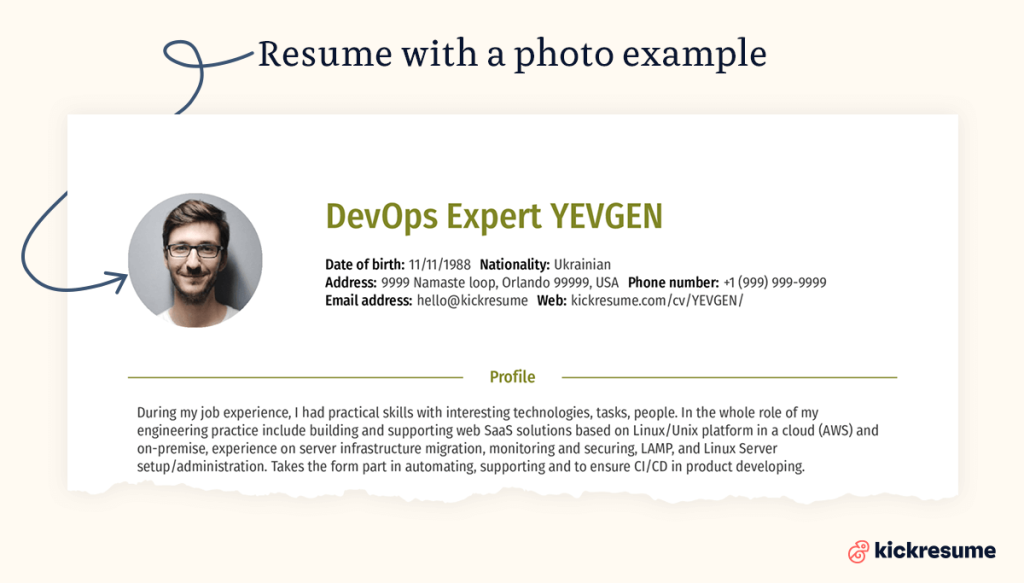 Resume templates with pictures
Not all resume templates are created equal, some look good with a resume picture, and others not so much.
Here are three stunning resume samples with pictures that got the layout just right:
Mobile Developer Resume Example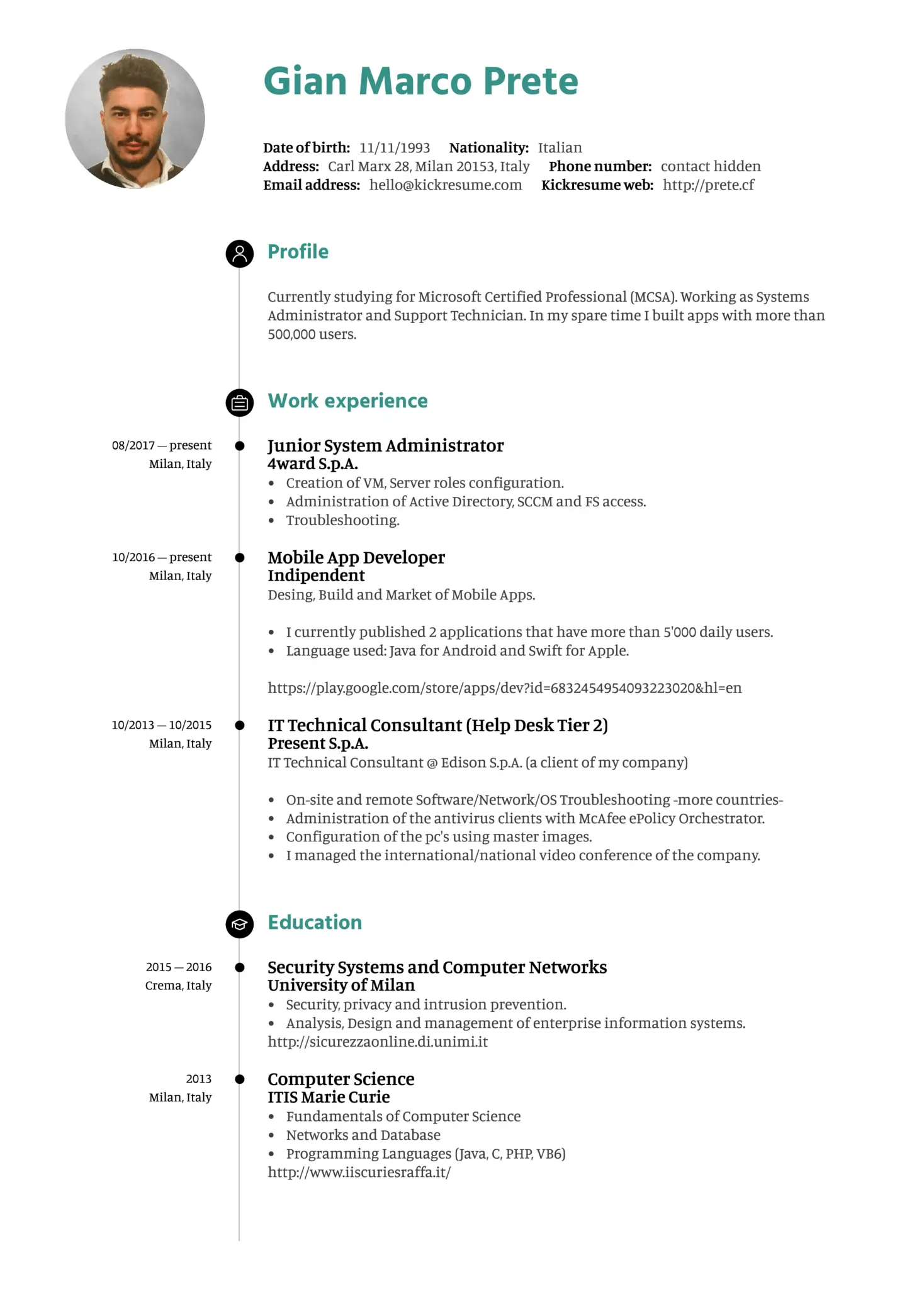 Accenture Software Engineering Team Lead Resume Sample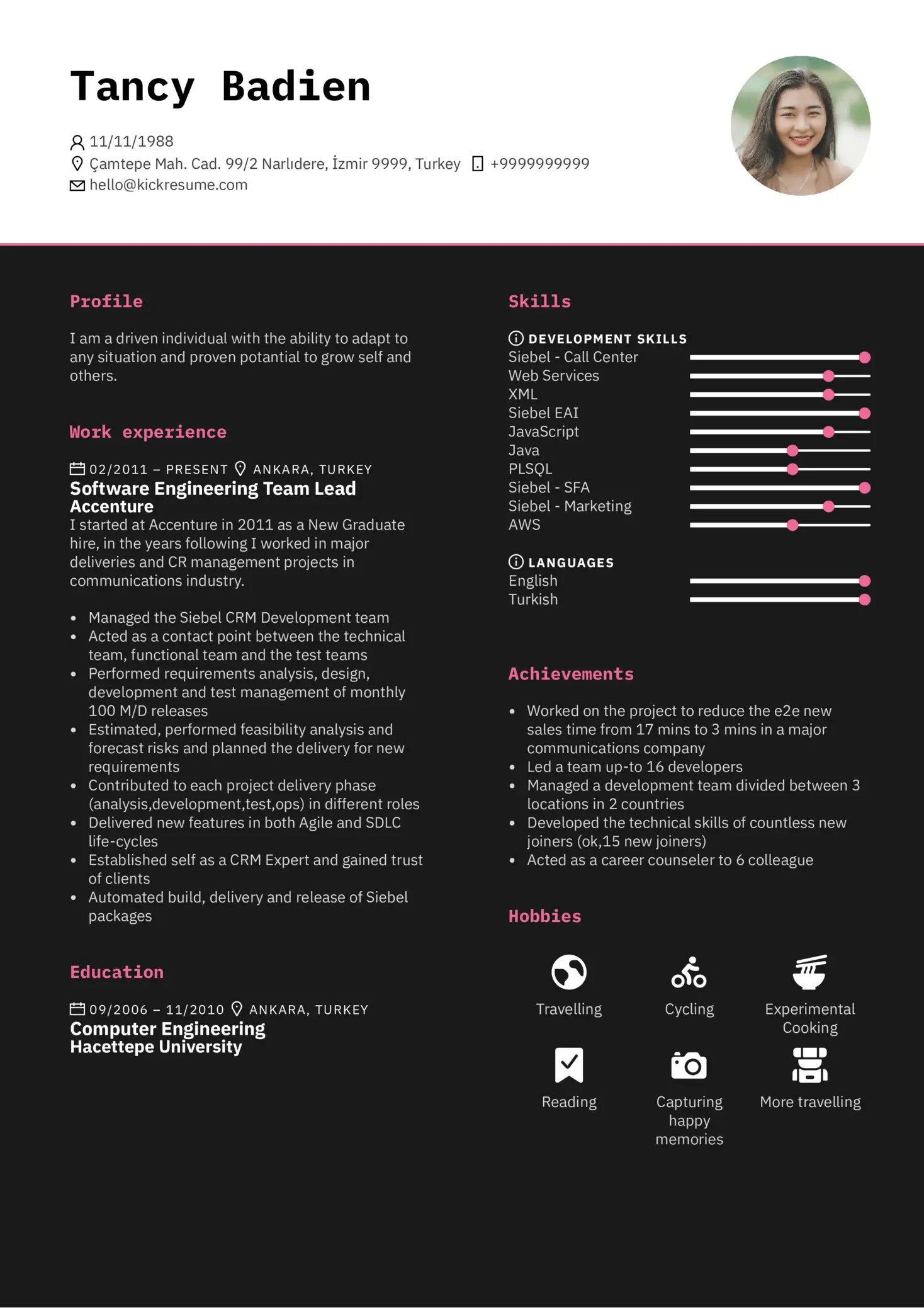 Provisioning Specialist Resume Example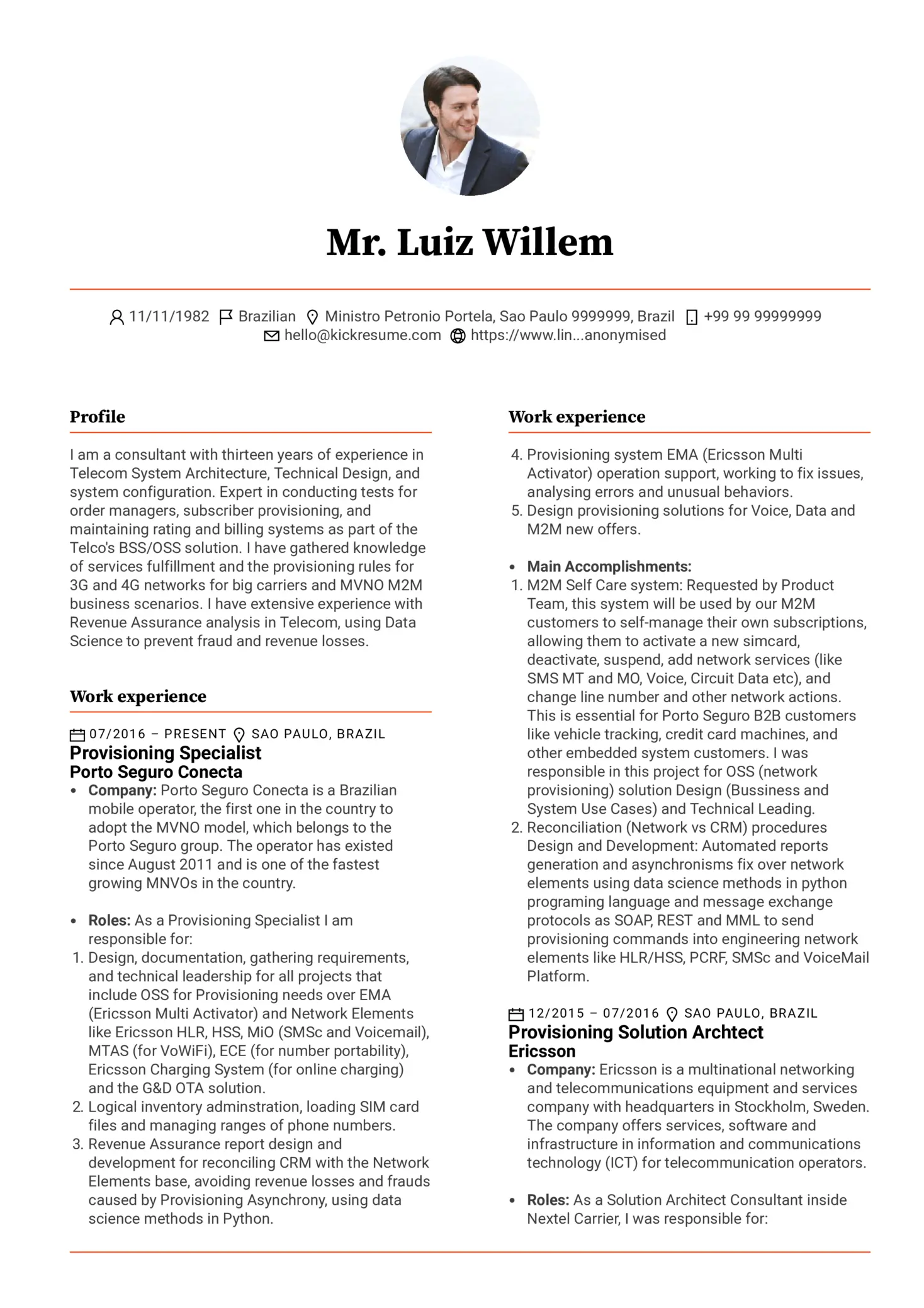 Or browse another 1,600+ resume examples by your profession.
Key takeaways: Resume picture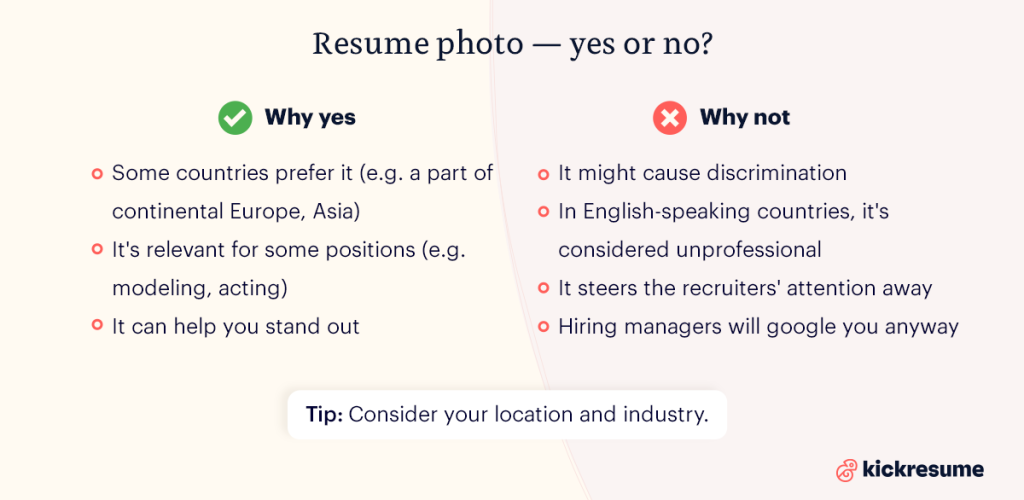 All in all, whether or not should you put your picture on your resume depends hugely on the country where you're applying for a job and the industry or occupation.
In general, applicants in English-speaking countries shouldn't include a resume picture, unless the job is in an industry that puts emphasis on appearance.
On the other hand, applicants in other parts of the world (in Asia, Africa, Latin America, and big parts of Europe) should include a photo on a resume as it's a common practice here. However, there are exceptions within these parts of the world as well.
If you do decide to include a picture on your resume, rather follow the tips from a photographer to ensure your headshot is professional.
Lastly, there are all sorts of designs in Kickresume's Resume Builder, both with or without a photograph. You can choose one that suits your position and country the best.
Career Writer

Klara recently graduated from the University of St Andrews in Scotland. After having written resumes for many of her fellow students, she got an opportunity to write full-time for Kickresume. Klara is our go-to person for all things related to student or 'no experience resumes'. At the same time, she has written some of the most popular resume advice articles on this blog. When she's not writing, you'll probably find her chasing dogs or people-watching while sipping on a cup of coffee.