The majority of employers use social media to screen candidates before hiring. Of course, that's hardly big news.
The question is, have you prepared your online presence for that? And can your social media posts hurt your chances of getting the job?
The answer is yes. In fact, 57% of employers admitted to having disqualified a job candidate after a social media screening, according to CareerBuilder survey. Ouch!
The big question is: What are the red flags? And better yet, what can you do with your social media profiles to present yourself as a more attractive hire?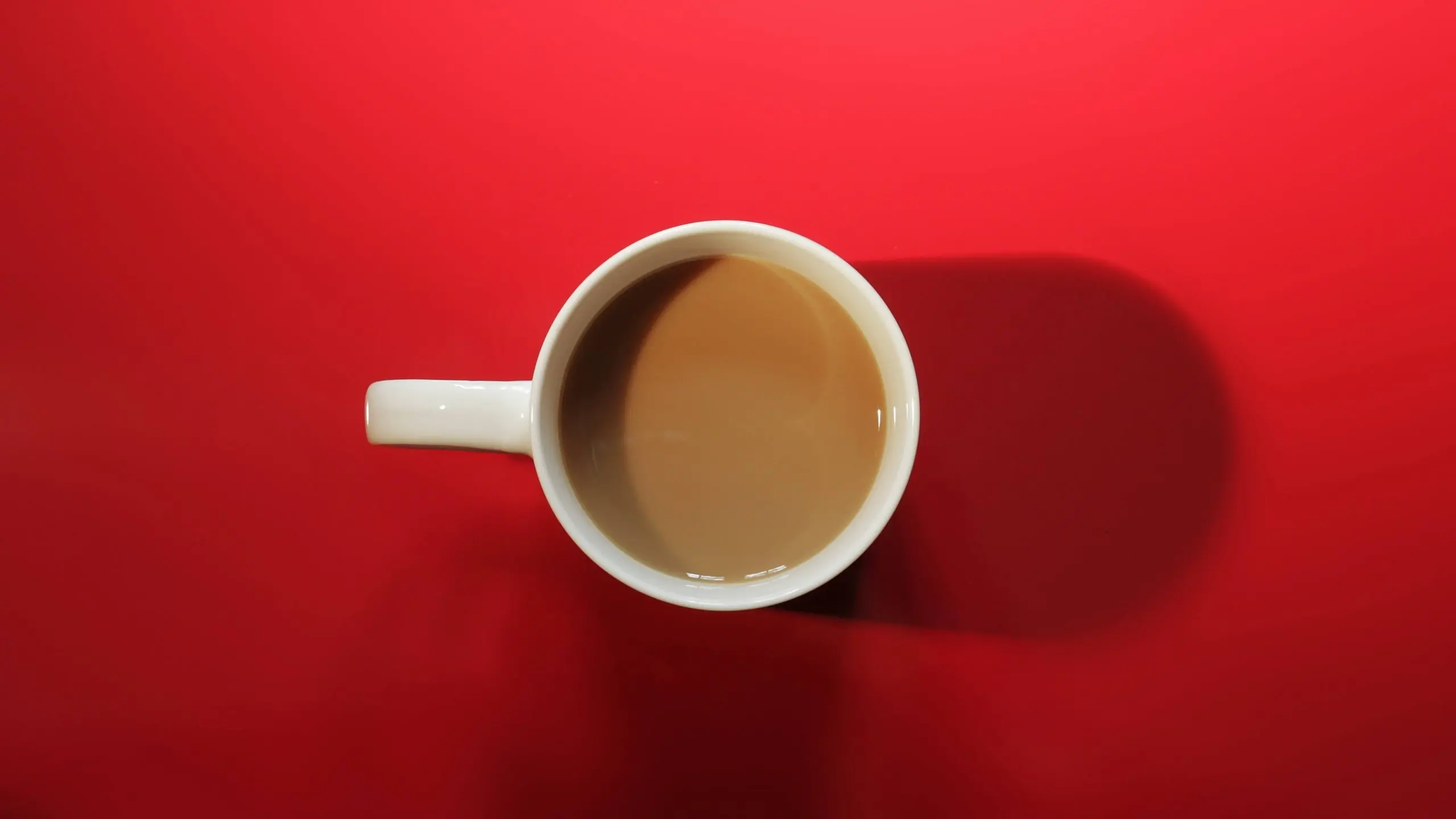 Red flags — what content to avoid?
Let's go back to the survey I've mentioned earlier. More than a half of the employers did not hire a candidate because of what they had found on their social media profile.
But what did they actually find there?
Provocative or inappropriate photos, videos, or information — 40%

Images of heavy partying or drug use — 36%

Discriminatory comments related to age, gender, religion, etc. — 31%

Job candidate was linked to criminal behavior — 30%

Job candidate lied about their qualifications — 27%

Poor communication skills and grammar — 27%

Negative comments about their previous company or fellow co-worker — 25%

Unprofessional screen name — 22%
The obvious first step is to inspect your social media profiles for all the misdeeds mentioned above. But the options don't end here. How can you turn your social media into a powerful ally it can be?
Polish your online presence
The second step is to google yourself. What do you see? Spend some time digging through the results and see what employers will find when they google you up.
Then analyze what you can improve. Keep in mind the following:
Present yourself well. If you want your profile to be public, make sure that you present yourself in the best possible light.
Or make your profiles private. Unless you're absolutely certain that your social media profiles on Instagram and Facebook will leave a good impression, set your profiles to private. At least during your job search. But in this case, remember to stay publicly visible at least on LinkedIn.
Delete unwanted results. Are there any old blogs, comments, or pictures that are embarrassing or negative? If so, take them down.
Watch your content. Whether your profile is public or private, you should always watch what you post online. Be selective — avoid inappropriate posts, job complaints, or bad-mouthing fellow colleagues or your (ex)employers.
Watch your language. Avoid foul language and insults, even in comments. Check your grammar, too. It doesn't have to be perfect but it shouldn't embarrass you when somebody reads it.
No plagiarism. Whenever you post something that is from someone else, give credit to the owner or the original source.
Don't share your job offers. Job offers are often confidential and if employer sees you boasting about it, he may revoke the job offer. (Yes, this really happened.)
Keep your LinkedIn professional. LinkedIn is a professional network and should be reserved for career-related posts. Keep your personal posts to Facebook or Instagram.
Be careful once on the job. Employers continue to monitor employees' online presence even after they're hired.

Some organisations

even may have social media policies and guidelines.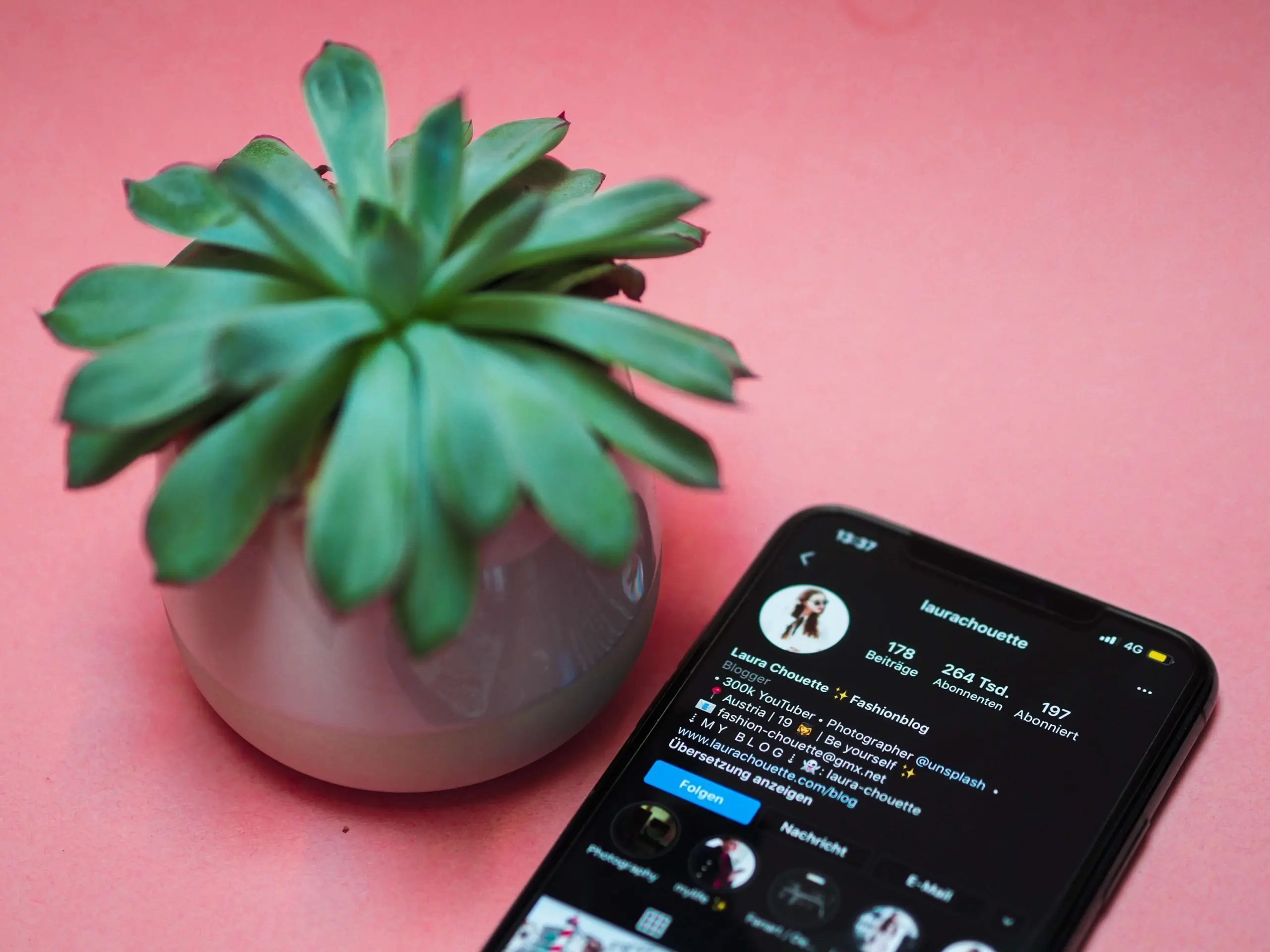 Use social media to your advantage
By maintaining your online brand, not only you meet the social media screening requirements, you also impress hiring managers more easily.
You can always have an Instagram account where you present yourself publicly as a professional.
Also, social networks like LinkedIn and Twitter provide you with great ways to promote your skills and show yourself as a great potential hire. How?
Post content that impresses recruiters
Yes, bad content can hurt your chances of getting a job. But at the same time, a strong profile can help your job hunt.
In the end, that's the main idea of the social media screening — to find information that supports your qualifications for the job. Let recruiters find them!
In the survey from the beginning of this article, hiring manages also mentioned they hired a candidate based on the content they found on their sites.
What kind of content does impress them?
Background information that supports your professional qualifications

Creative content

Professional image

Content that shows your personality and proves that you're a good cultural fit for the company

Content that demonstrates great communication skills

Interaction with company's social media accounts

Compelling videos
You can do this on your Instagram, for instance. It's also a great place to share samples of your work, pictures of you volunteering, places you've visited, or show your interest and hobbies.
Here are a few examples of well-established Instagram profiles:
#1 Elizabeth Gray, Lettering Artist
#2 Danyelle Chambers, Digital Marketer
#3 Martin Soft, iOS Developer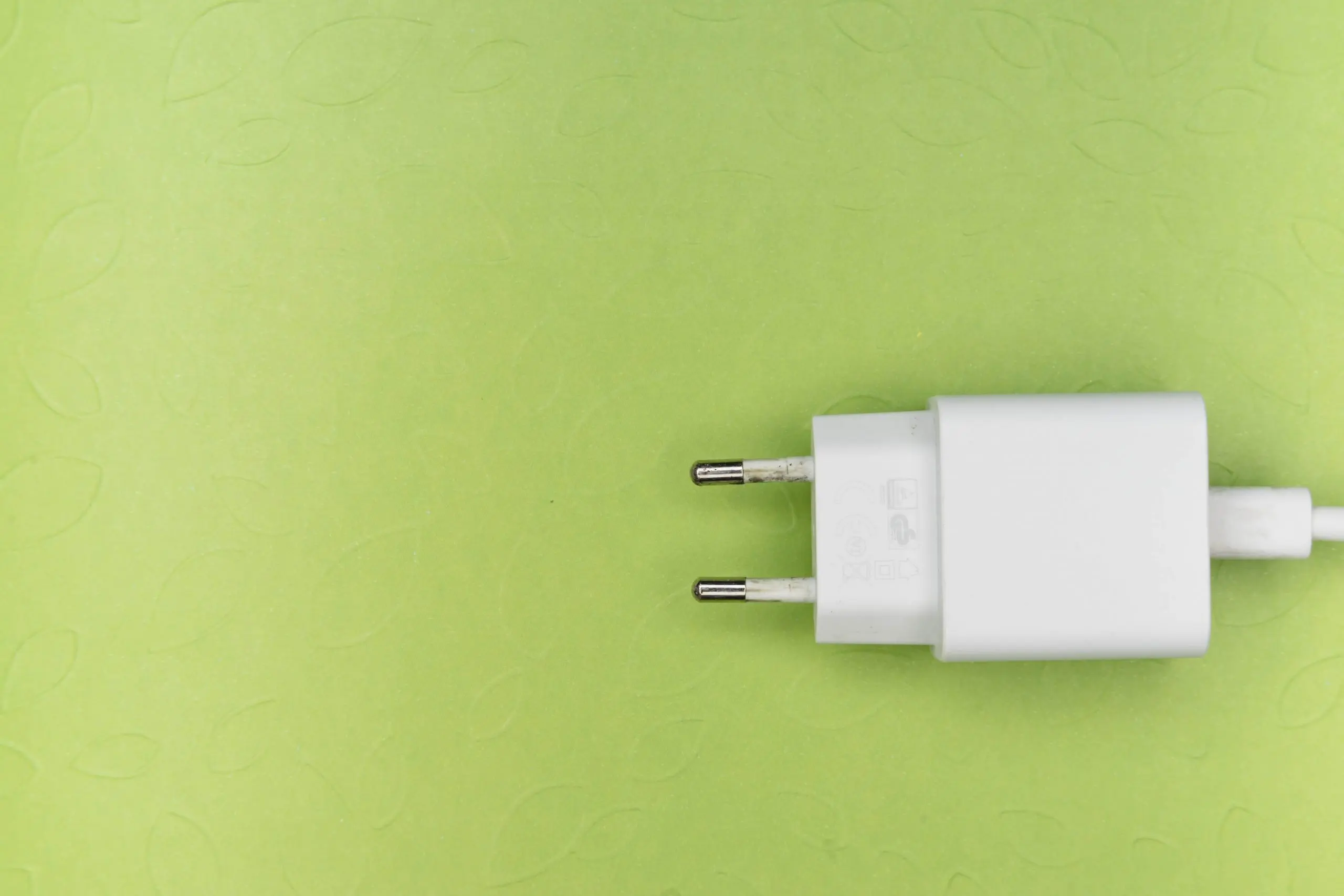 LinkedIn — you really need it
Fun fact: I got my job at Kickresume without any resume, just with my LinkedIn profile.
In other words, if you're still asking yourself whether you need a LinkedIn profile or not, the answer is yes.
If hiring managers can't find you on LinkedIn, they see it as a red flag. It either looks like you have something to hide or that you're not even capable of creating one.
"Why is LinkedIn such a big deal?", you may ask.
Your resume is supposed to be concise and more often than not it doesn't give you enough space to fit all your career information. Hiring managers expect to find full details on your LinkedIn profile. Think of it as an online extension of your resume.
Besides having an online career profile, you can use also LinkedIn to write industry-related articles and present yourself as a subject-matter expert. Moreover, you can connect with other professionals in your field.
Here are a few examples of excellent LinkedIn profiles:
#1 Aliza Edelstein, Product Marketer
#2 Bryan Kratz, Digital Media Strategist
#3 Katie Clancy, Director of Business Development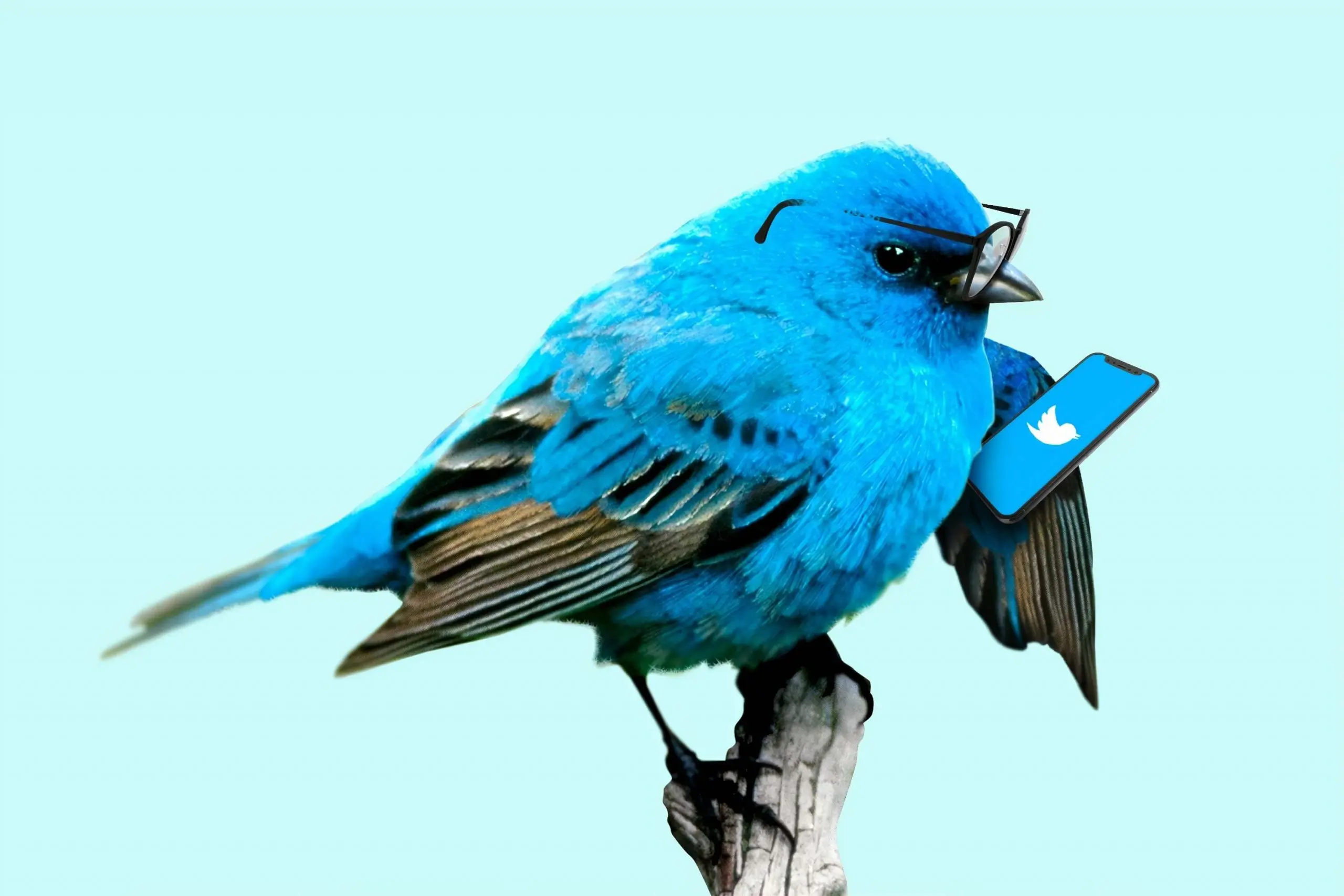 A tweet can get you hired
Much like LinkedIn, Twitter gives you an awesome opportunity to actively post about your industry and connect with industry leaders.
Use it to tweet mainly about items, stories, or trends that are relevant to your industry. Or to engage with companies where you'd like to get hired.
A simple tweet or a comment can help you stand out: I'm more active on Facebook and Twitter than I am on LinkedIn, so if a candidate can recognize that, and even further, see that I answer questions via these forums and ask me something engaging, they've just bypassed that 'black hole' so many resumes get lost in. — Will Stanley, Director of Recruiting at SuccessFactors
Besides LinkedIn and Twitter, you can also leverage platforms like Quora, Reddit, or Yahoo Answers. Whatever channel you choose, just remember what to post and what not to post.
Should you include social media on your resume?
The answer is — why not? In the end, hiring managers will google you anyway, so you may as well be proactive by listing the links.
However, there are two basic rules to follow:
Make sure that profiles you share are presentable. If you follow previous steps, you're good to go.
Know what social media you can include:
LinkedIn — remember to personalize the URL that takes to your LinkedIn profile page. Make it short and professional.

Online portfolios, personal websites, GitHub repositories, or even your Instagram or YouTube (if you're a creative person or it's work-related).

Twitter — only if you regularly tweet about relevant trends in your industry. If it's mostly for personal use, skip it.

Facebook and Snapchat are officially a no-no.
Then you can add them as hyperlinks to your resume (for instance, Kickresume lets you to do that in a rather elegant way).
If you only want to include 1–2 social media profiles (e.g. LinkedIn and Twitter), you can fit them inside your contact information section at the top of your resume. Either that or…
Create a separate resume section for your social media profiles. Or do both! Here's an example what it can look like on your resume: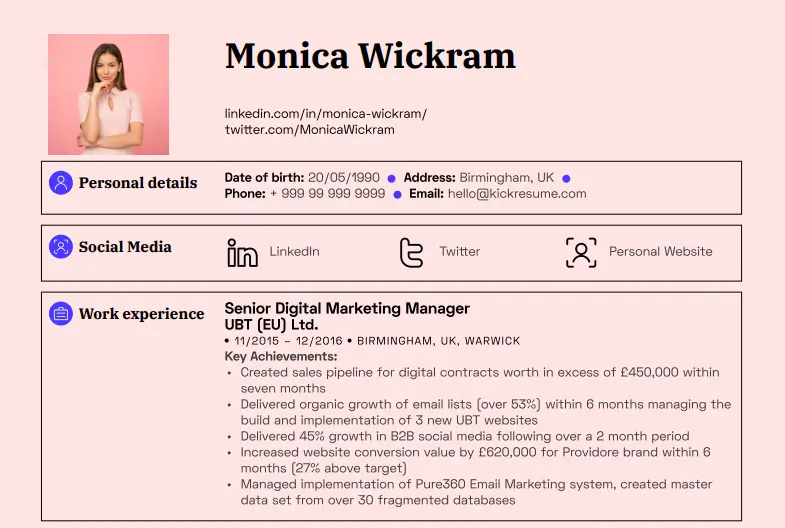 Now that you're aware of how your social media activity can influence job odds, let's ensure your resume shines bright. Use our AI resume builder to craft a compelling resume that highlights your best assets.
Content Manager & Resume Expert

A journalist by trade, a writer by fate. Nikoleta went from writing for media outlets to exploring the world of content creation with Kickresume and helping people get closer to the job of their dreams. Her insights and career guides have been published by The Female Lead, College Recruiter, and ISIC, among others. Nikoleta holds a Master's degree in Journalism from the Comenius University in Bratislava. When she's not writing or (enthusiastically) pestering people with questions, you can find her traveling or sipping on a cup of coffee.