In the last decade alone, the solar energy industry has experienced an average annual growth rate of 33% in the US. The industry's boom means that solar jobs are on the rise.
In fact, it's on a trajectory to reach 400,000 solar jobs by 2030, according to the 2020 National Solar Jobs Census.
That's double the jobs there are currently in the American solar industry.
At this point, it's becoming increasingly clear that the transition towards cleaner energy is inevitable. The solar industry is already helping lead the transition to a carbon-free future showing no signs of slowing down.
And as the awareness surrounding solar energy continues to grow, it's also becoming an increasingly desirable field to work in. And, will continue to be in the future.
The good news is that the opportunities for solar careers are many — from science, engineering, and installation, to marketing, HR, or sales.
So, if you're interested in making a shift toward a career in sustainable energy, or simply want a new job in solar, keep reading to find out everything you need to know.
What do solar jobs look like?
First, let's have a look at what solar jobs there are.
Despite the slightly misleading name, there isn't just one particular kind of job, but rather a variety of occupations working towards a single goal: to utilize solar energy to contribute towards a low carbon future.
Furthermore, there's a common misconception that all the jobs in the renewable energy industry are technical or engineering jobs. This isn't completely true.
The wide range of jobs in the solar industry includes experts and workers from fields like administration, marketing, law, and technology. Just to name a few.
In other words, the solar energy market has a lot to offer in terms of work opportunities.
Most common solar jobs
To give you an idea of what solar jobs can look like, these are the most common ones in the industry:
Solar installers. Solar photovoltaic (PV) installers assemble, set up, and maintain rooftop or other systems that convert sunlight into energy. While there are no specific qualifications a PV installer should have, a principal technical and electrical know-how is expected. Plus, training in solar energy technology is required.
Technicians & electricians. In essence, technicians and solar electricians run the whole solar energy system. They also give instructions to installers on what needs to be fixed. These workers usually have higher qualifications than PV installers.
Engineers. They design and monitor solar panel production and power plants. For this kind of position, you need to be highly qualified. That includes having a Bachelor's and Master's degree in the field of electrical (or mechanical/industrial) engineering. You'll also need computer programming skills as well as 3-5 years of practical experience in the field of electricity generation.
Financial analysts. They focus on financial modeling to assist in designing new solar energy investment structures and assess the economics of potential projects. They also oversee the budgets and prepare financial reports.
Lawyers. The renewable energy industry is still something of an uncharted territory, especially in terms of legislature and government policies. Hence, a lawyer needs to be able to navigate the bureaucracy.
Marketing experts. The solar industry is booming. That means a lot of competition in the field. The marketing team needs to convince the customers that their company's products are the best on the market.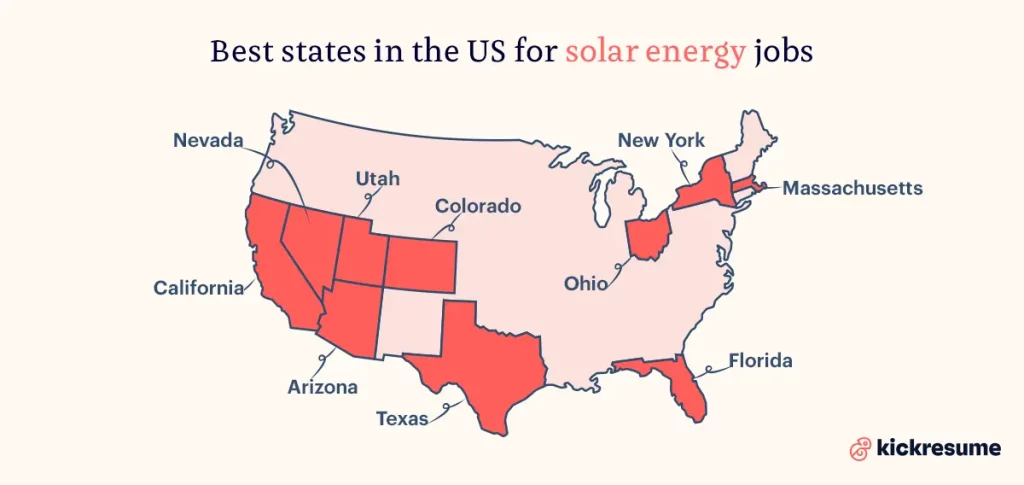 Best states for solar energy jobs
The US is currently among the top 3 producers of solar energy in the world. The other two countries are, perhaps unsurprisingly, China and Japan.
However, when it comes to the sun as an energy source, not all locations within the US are equal in terms of solar energy potential.
Also, some US states have policies and tax incentives that are more favorable for solar energy than others, regardless of their climatic potential.
So, where should you look for a solar job?
These are the top 10 states in the US for solar energy jobs, according to SEIA:
Oh, and if you'd like to see what specific solar jobs are being offered at any of the locations mentioned above, just click on it.
Best solar companies to work for
In case you'd like to find a job based on a company's reputation rather than the location, we did the research for you and found the best solar companies hiring.
But man, was it tough!
The number of businesses in the solar power industry in the US has grown by an average of 18.3% every year over the five years between 2017 and 2022.
And currently, there are more than 10,000 companies in every US state. That's a lot!
Still, our list will help you find the best of the best. Some are small local solar companies, and some are huge international businesses exporting their products all over the world.
These are top solar companies to work for in 2022 (including links to each company's career page):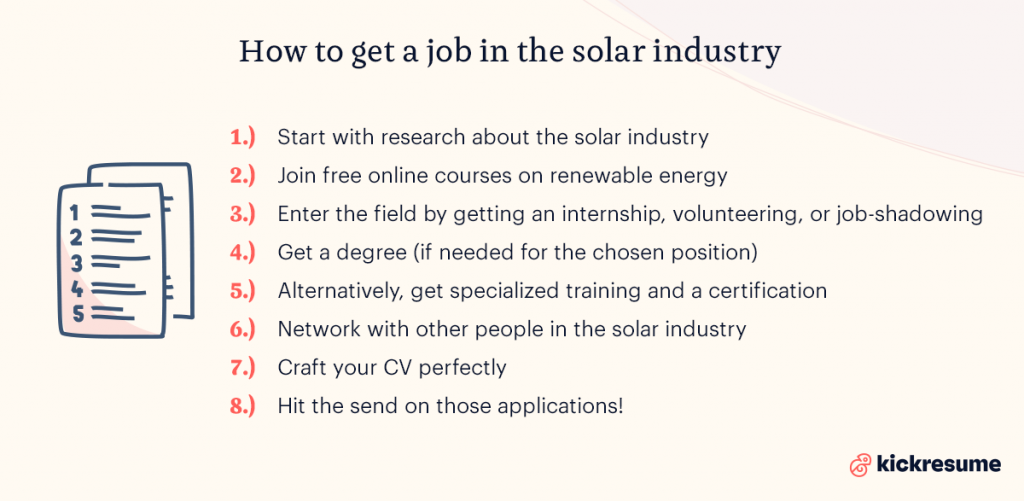 How to get a solar job: a step-by-step guide
Now that you know there are plenty of solar job opportunities, the question is: how to get started in the solar industry?
While there are many solar jobs you can involve yourself in even if you don't have much prior experience in the sector, you should definitely do some research on the industry before applying for specific jobs.
On the other hand, even if you already have some experience in the solar industry and are simply looking for a new job, you might find the guide below helpful.
Here's a step-by-step guide on how to get a solar job:
Do some basic online research.

You want to get a broad understanding of the mechanisms, technology, and jargon of the solar industry. There are plenty of online resources providing information. If you're new to the field, you might want to start slowly. Watch YouTube videos explaining the technical and mechanical basics. Continue by researching the latest reports, articles, and news.

Join free online courses.

Once you're familiar with the basics of the solar energy industry, it's time to expand your knowledge. Try joining an online course that covers the basics of renewable, energy, the different technologies, and trends. Not sure where to start? Have a go at this one offered by Solar Energy International — RE100 Introduction to Renewable Energy. Completing an online course will also increase the credibility of your resume.

Try volunteering or job-shadowing.

If you're new to the industry, getting experience is virtually impossible. Yet, it's necessary for almost all solar jobs. So, what you want to do first, is volunteering or job-shadowing. It's a good way to gain some relevant experience in the field and to add something to the experience section on your resume. Plus, you might find your niche in the solar industry, allowing you to focus on getting a specific solar job.

Get that degree (if applicable).

As mentioned before, there are specific solar jobs that do require you to have a university degree. If you aren't sure whether a university degree is required, check the US Bureau of Labor's website, which summarizes the requirements for most solar occupations.

Sign up for a course and get a certification.

Most of the solar jobs that don't require a university degree still require some sort of certification, training, or an indication of a completed course. This is especially relevant for entry-level solar jobs. The North American Board of Certified Energy Practitioners (NABCEP) offers online certifications and training for solar energy jobs. It's the most recognized and esteemed certification the solar industry has to offer.

Start networking.

It's 2022 and networking has never been easier thanks to LinkedIn. Search for a "solar company near me", and get in touch with an employee or a solar recruiter. Ask them if you could ask a few questions about the job. This way you get valuable insights, as well as a potential reference for your resume.

Craft the perfect solar job resume.

As an experienced professional, describe your work experience focusing on quantifiable achievements and mention any relevant hard/soft skills necessary for the role. As a newbie, don't forget to include the courses and training you completed.

Apply for jobs.

Search job boards by solar jobs and filter them by location or company name. For example, the top 5 states in the US for solar jobs are California, Florida, Texas, New York, and Massachusetts. Alternatively, the best solar companies to work for are SunPower or Trinity Solar.
Solar job resume tips
Regardless of the position, you're guaranteed to be asked to provide a resume when applying for a solar job.
Knowing what information to include, in what order, and how to format a resume will help you improve your chances of a hiring manager noticing you.
Here's how to create a bulletproof solar resume:
Tailor it to the specific job description. Include the keywords and specific skills mentioned in the posting (if you have them, of course). It'll help you stand out and get through the ATS software.
Focus on quantifiable achievements. For example, as a solar installer, you could say how many megawatts of solar power you've installed. As a solar sales expert, mention how many clients you successfully brought in.
Add relevant education. Especially if it's required for your role. Describe also any relevant courses and parts of the curriculum. And of course, if you did any projects or a thesis on the topic of solar power, don't forget to mention that too.
List solar courses, certifications, and projects. They'll add more credibility to your resume. It's also a good idea to provide an overview of the course/project.
List 6-12 relevant skills. Different solar jobs require different skills. Hence, you should include only those that are relevant. Technical occupations should focus on hard skills, while others, like solar marketing, should opt for soft skills. For instance, as a solar installer you should list:

Ability to read building plans and equipment manuals
Extensive experience with using hand and power tools
Extensive knowledge of electrical wiring and equipment
Final tip: Put your resume sections in the right order. Consider this:
John studied mechanical engineering. After college, he worked at his father's accounting company. Now he wants to switch careers and work as a mechanical engineer for a solar company.
Lea, on the other hand, studied astrophysics and landed a job as a marketing specialist in a local solar company. Lea wants to move to California and work in marketing for a different solar company.
What does it mean for their resumes? John should list his education section first, while Lea should list her work experience section first.
Solar resume examples
The following solar resume samples are from people who got hired by SolarWorld and Sunrun as Business Developer Engineers and Portfolio Managers.
There are several things worth mentioning:
Notice how both focus on relevant work experience and relevant education, only including suitable information.
Courses, certifications, and past projects are all included and well described.
Skills are mentioned within the work experience section, amplifying the person's competence.
Business Development Engineer at SolarWorld (Resume Example)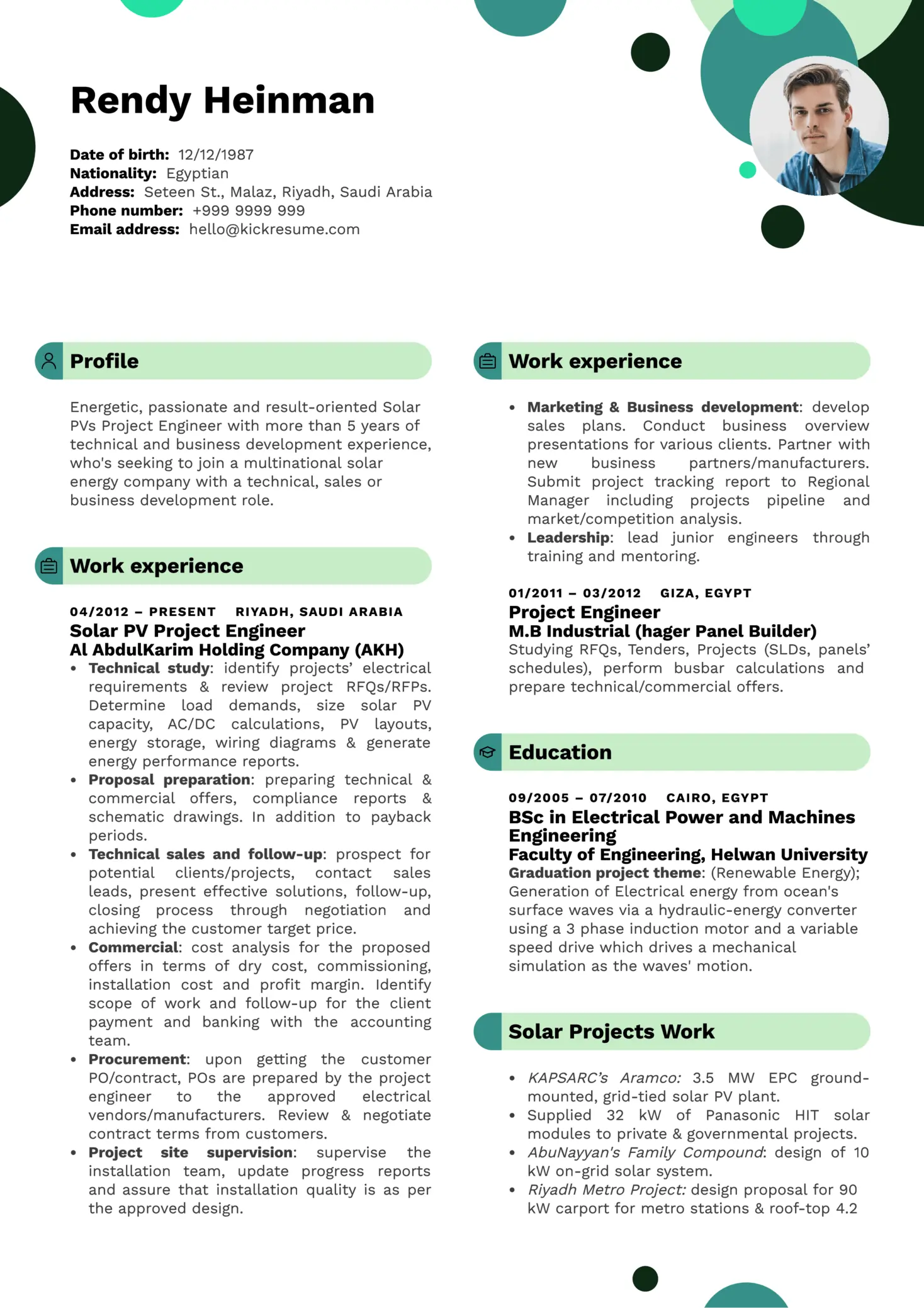 Portfolio Manager at Sunrun (Resume Example)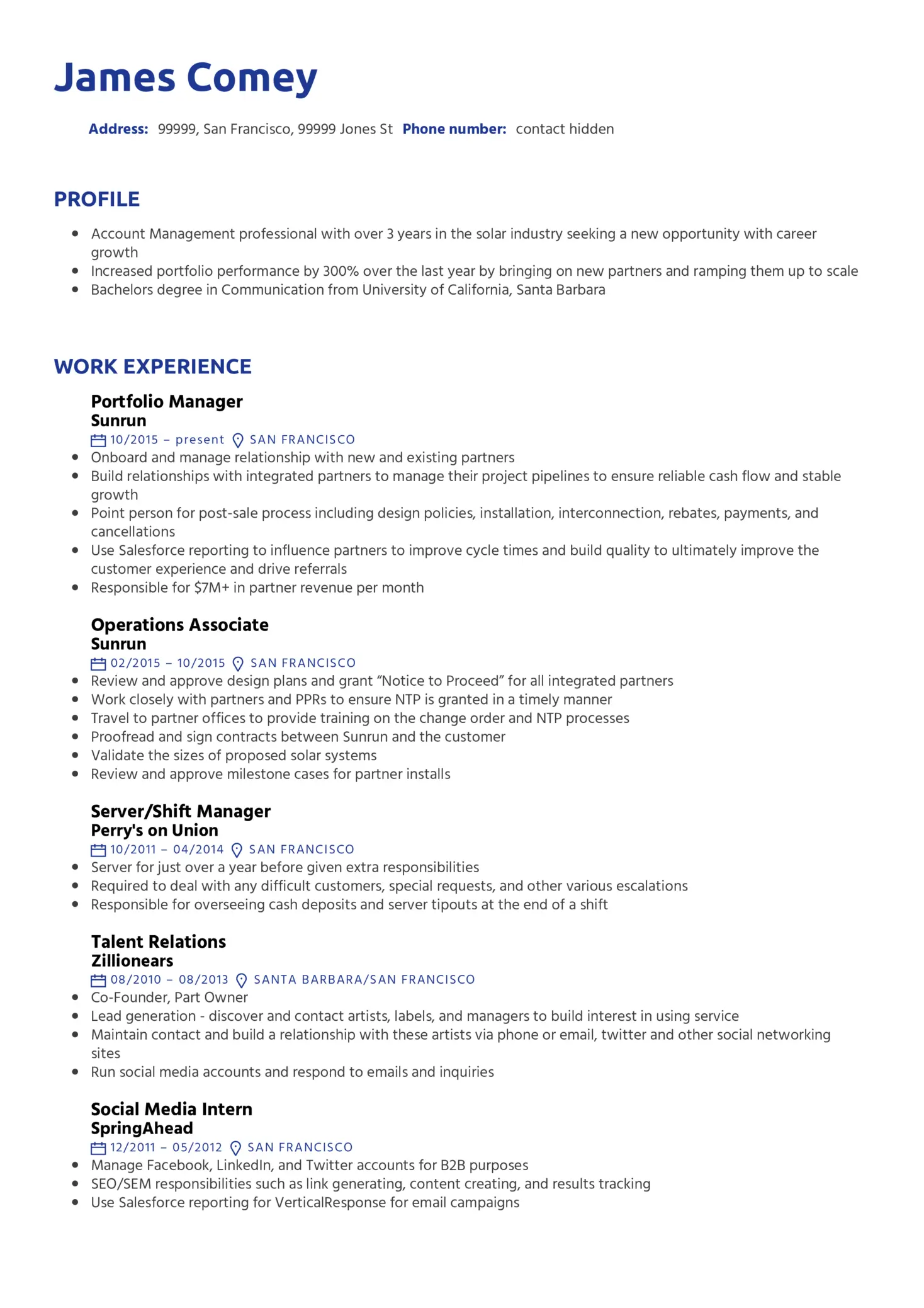 Alternatively, get inspired by the following Solar Engineer resume sample written by our expert resume writer.
This sample features a profile section packed with keywords.
The work experience and education sections contain relevant information and a description of daily tasks.
Finally, it includes all the relevant hard skills.
Solar Engineer Resume Example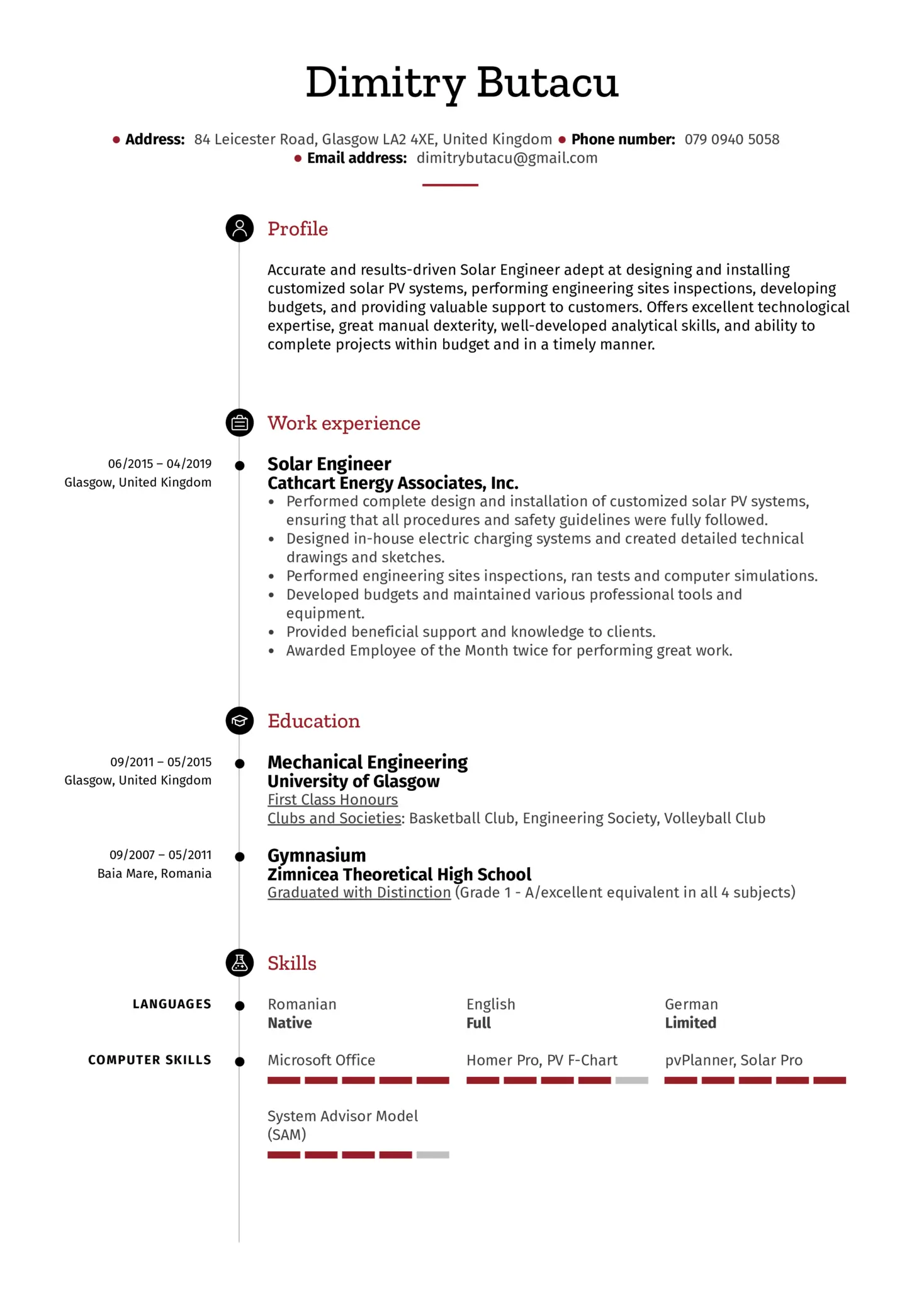 Solar job cover letter
For many solar job positions, you probably won't be asked to send a cover letter.
However, you can still provide one if you want to.
Cover letters describe your background and explain why you'd be a great fit.
And for newcomers, a good cover letter can even make up for the lack of previous experience.
On the other hand, experienced professionals have the room to brag a little about their achievements in the field.
Just follow these 3 steps to craft your solar cover letter:
Explain why you're interested in renewable energy. Introduce yourself and touch upon the fact you are conscious of the changing climate and the need for a low-carbon alternative. In an industry like this, a passion for clean energy is expected.
Mention relevant experience and achievements in solar. If you're a professional, highlight the achievements and skills you obtained by working in the industry. As a person only starting in the industry, you should focus on the training and courses you completed, any volunteering experience, or hard and soft skills that make you a perfect candidate.
"I am a good candidate, since...". Towards the end of the cover letter, you should convince them that you're the perfect candidate because of all the things mentioned above. Reiterate your interest in the industry and the role in question, and why you're a good fit. Make a strong closing argument, such as "I am excited to be applying for this position, and I believe that I have the skills and qualifications necessary to be successful."
Solar cover letter example
To get a better idea, you can check out the Business Development Engineer cover letter sample below, provided by a person hired by SolarWorld.
Rendy highlights his passion for renewable energy in the first few sentences and continues to express why he's interested in the position.
In the rest of the letter, he's very convincing about why he's qualified for the role, by mentioning his past experience and highlighting the relevant skills.
Business Development Engineer hired by SolarWorld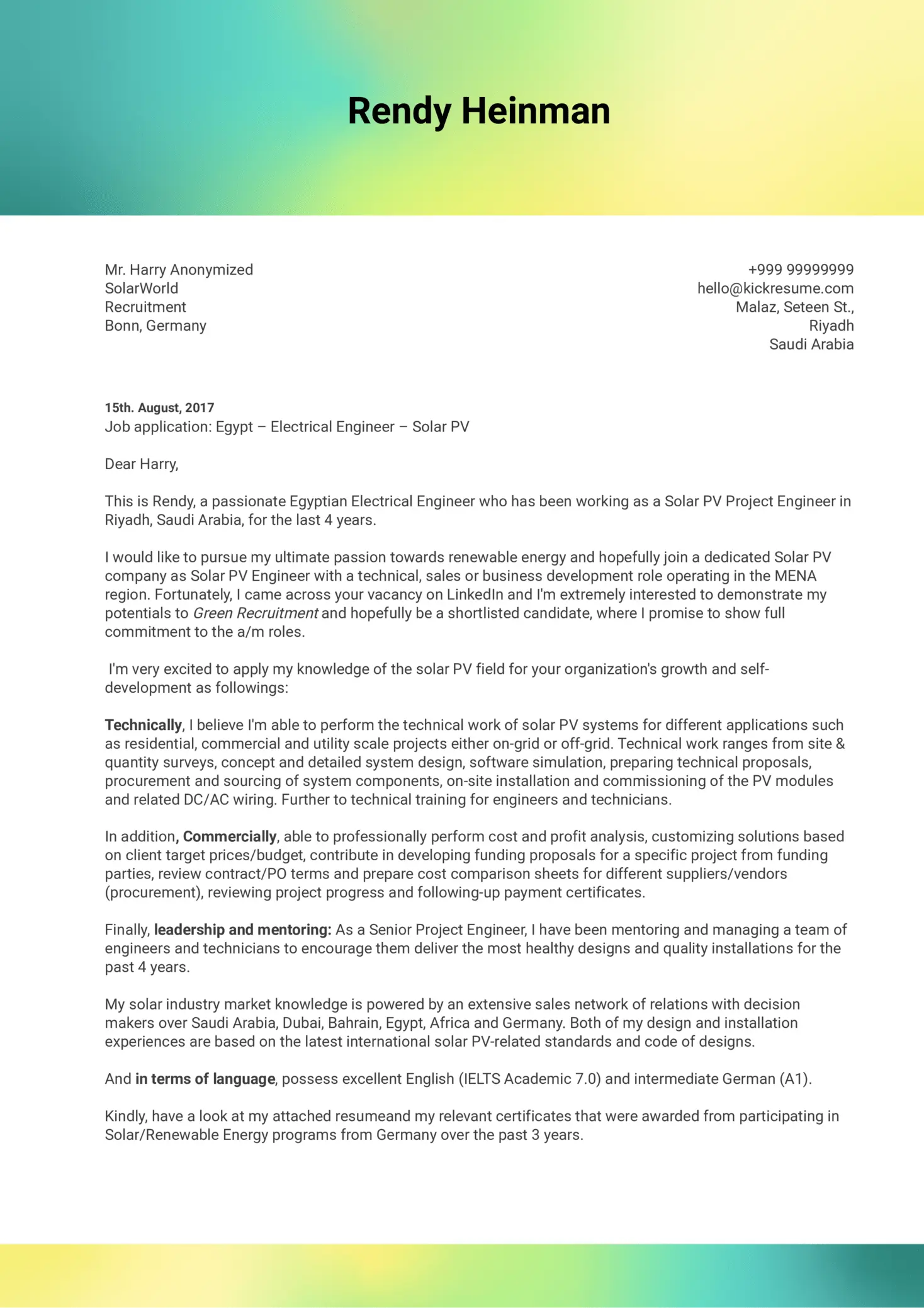 Solar internships
If you're still a student, before you finish your studies and apply for an entry-level solar job, consider doing an internship in the solar industry.
It's an effective way to gain relevant work experience, earn some extra cash, and gain valuable insight into how a solar company works.
Almost all major solar companies offer internships.
You can apply to intern in engineering, research, marketing, or sales teams depending on what interests you the most.
There are even plenty of remote solar jobs and internships on offer, too.
Generally, you'll be required to provide an application via email or the company's website, clearly stating your interest area and why you'd like to intern at the company.
However, the requirements can vary among the companies, so make sure to read the description carefully.
The best way to look for solar internships is to have a look at Indeed or LinkedIn, and filter the location. Alternatively, search for a "solar energy internship near me".
Solar volunteer projects
Unlike internships, volunteering in solar projects is suited for anyone, regardless of if you're a student, a fresh graduate, or an experienced professional.
Volunteering in renewable energy gives you the opportunity to gain hands-on experience working with environmentalists and make a direct impact in the field of sustainability.
Many countries lack the infrastructure for electricity. Helping to spread the adoption of solar energy generators in such countries directly affects communities for the better.
Have a look at the selected 3 solar volunteer projects you can get involved in:
Solar Energy Workshop in Rural Communities in Costa Rica. The goal is to provide power to small rural elementary schools that are off-grid and without power around the Osa Peninsula, Costa Rica. The project also aims to educate the local community about solar power.
Renewable Energy Internship in Lobitos, Peru. You'll work on designing and implementing sustainable renewable energy initiatives, including installing solar panels, to improve the lives of people in Peruvian vulnerable communities.
Bring solar power to rural communities in Nicaragua, Mexico and Nepal. This international program addresses a critical energy access gap in rural communities in Nicaragua, Nepal, and Mexico by bringing solar power to schools, health clinics, homes, farms, orphanages, and small businesses.
Salaries in the solar industry
Salaries in the solar industry heavily depend on location and differ between occupations.
Generally speaking, salaries increase with higher levels of education and training required for the given job.
Similarly, some states, such as California or New York, pay better than others.
Here are 5 highest-paying solar jobs:
Lawyer With Solar Expertise: median annual salary of $114,970
Solar Project Developer: median annual salary of $105,060
Software Engineer: median annual salary of $99,195
Solar Energy Systems Designer: median annual salary of $94,240
Materials Scientist: median annual salary of $91,980
A certified solar PV installer has a median annual salary of more than $40,000.
The lowest-paying of the solar jobs is solar assembler or basic installer, with a median salary of $28,640 a year.
Career Writer

Klara recently graduated from the University of St Andrews in Scotland. After having written resumes for many of her fellow students, she got an opportunity to write full-time for Kickresume. Klara is our go-to person for all things related to student or 'no experience resumes'. At the same time, she has written some of the most popular resume advice articles on this blog. When she's not writing, you'll probably find her chasing dogs or people-watching while sipping on a cup of coffee.