You know the feeling — you get a notification that someone just viewed your LinkedIn profile. And you start wondering — Why did they view my profile? Was it by accident? Or should I reach out to them? What to do when someone's just viewed your LinkedIn profile?
While it might as well have been just an accident, most people often have a reason to check you out.
It might be a hiring manager who's interested in your profile or someone who works at your dream company and happens to be an alumnus of the same university as you. Or it can be a random stranger from Portland.
Do you see what I'm getting at?
To know what to do next, it's essential to determine which LinkedIn views are worth your effort and which ones you should ignore.
This guide will show you how to do just that — and will help you transform this treasure trove of complete strangers into a bunch of full-blown connections that'll give you a leg up in your career.
How did they find me on LinkedIn?
If someone's viewed your LinkedIn profile, they either googled your name or must have used one of these LinkedIn tools to land on your page:
LinkedIn News Feed
Stay In Touch sidebar
Regular search (or searching for keywords, company, location, industry, etc.)
Recruiters Tool (with this tool, recruiters are invisible to you)
But why would someone click on my LinkedIn profile?
Regardless of how they got to you, it's always a good sign when someone out there is interested in what you do.
It means that there's a chance they might want to learn more about you!
On the other hand, it also may have been a complete accident.
The best way to know if it was an intentional search is if they work in the same field as you do or if you have multiple connections in common.
You know that them looking at your profile was probably intentional if:
they're a recruiter; 
you went to the same university;
you share connections;
they work in a company for which you have applied in the past.

Will LinkedIn let me see people who visited my profile?
You're probably eager to know who's been checking out your profile on LinkedIn. And you can find this out. 
However, the amount of information regarding the people who have visited your LinkedIn profile differs depending on whether you're using a basic free membership account or a premium subscription.
Naturally, premium membership comes with extra features that make it worth considering (LinkedIn's offering a free 1-month trial).
Let's sum up the differences.
With a basic free LinkedIn account, you can see:
up to 5 results of who has viewed your profile;
the number of visits to your profile;
the number of times you've appeared in search results.
With a premium LinkedIn account, you get:
everything from Free;
to see an unlimited number of people who have visited your profile;
to see other information like trends in viewership and industry representation.
However, note that the information you can see concerning people who've viewed your profile depends on their privacy settings, not on your membership.
Having a premium account doesn't let you see any additional information about viewers if they choose to provide restricted access to their profile via their own privacy settings.
There are 3 levels of privacy settings on LinkedIn that can prevent you from seeing the identity of other people checking out your profile:
Name and headline. You'll see their name, job title, and employer.
Partially anonymous. You can see limited information like title and industry or company.
Totally anonymous. You'll see only "LinkedIn Member" or "Someone from Poland."
Where can I see my profile views?
There are two ways to see the information about who has viewed your profile:
In your profile. The first way is to click the Me icon at the top of your LinkedIn homepage. Then proceed to click on the View profile, go to Analytics and then click on Discover who's viewed your profile. Easy peasy. 
On your homepage. The second way is even easier. Just click on the Who's viewed your profile button placed beneath your profile photo (on the left rail of your LinkedIn homepage). The "Who's viewed your profile" feature displays your profile visitors in the last 90 days.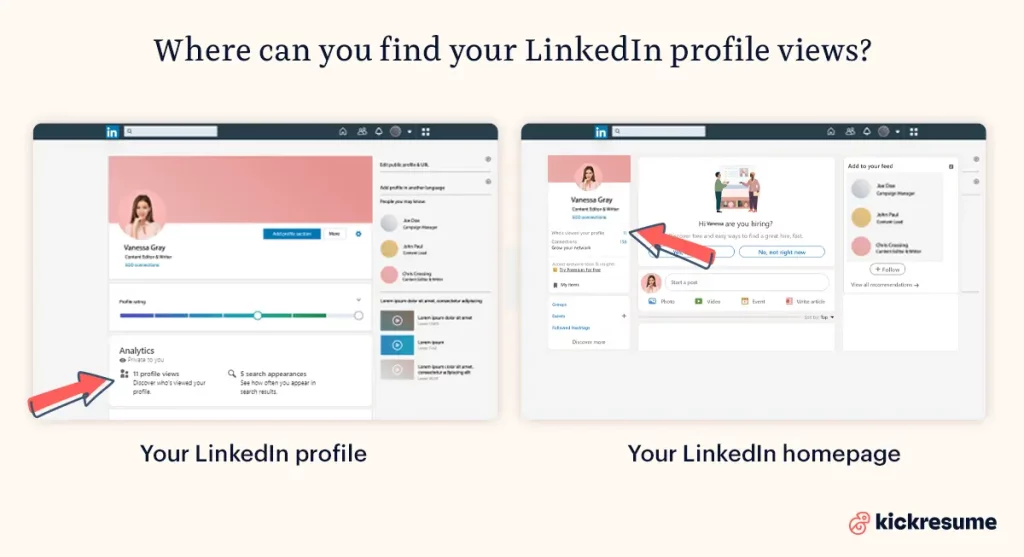 Should I contact someone who views my LinkedIn profile? (4 scenarios)
So there's a bunch of people that seem to be — for some reason — interested in you. Now what?
Should you message them right away or just connect with them? Or should you remain silent and just wait for them to reach out?
It all depends on who's the one looking at your profile.
Now it's time for you to become a Sherlock Holmes of sorts. Understanding why the person viewed your profile or how they found it will help you decide if or how to respond.
Was it an old colleague you'd love to get back in touch with who looked you up on LinkedIn? Or a hiring manager you'd be thrilled to hear from?
Or was it someone who could potentially help you network your way to a new job at your dream company?
Let's crack this. Scroll down and see four possible scenarios of why someone would visit your LinkedIn profile, together with examples of messages that'll help you start the conversation.
1. When a hiring manager for the job you applied for views your profile
The hiring manager for that job that you recently applied for checked out your profile.
Is it a good sign?
Well, yes, definitely!
The employer's interested enough in you to dig in a little deeper.
When it comes to how you should react, choose patience. Don't let your excitement cloud your judgment.
First, you should realize this is just another step in the hiring process.
In the age of social media, checking out applicants' online blueprints by recruiters is an easy way to find out more about prospective employees before inviting them for an interview.
And what if the HR manager never gets back to you after they viewed your LinkedIn profile?
Don't be too disappointed. Instead, use having the contact to your advantage.
You can always connect with them and reach out to them after some time passes, knowing that you're already on their radar.
Sending them a nice, professional LinkedIn message is always a better way of staying in touch than through a generic email communication via something like jobs@company.com.
2. When a random hiring manager views your profile
What to do in the case a hiring manager sees your profile but you haven't applied for any jobs recently?
In this scenario, you can absolutely reach out to them, even if you're currently not looking for a job.
Such connections can turn out to be handy once you decide to start looking for one.
However, there's no need to say that you noticed them peeking at your profile.
Just write a nice, short and polite message. In it, you should introduce yourself, offer them help and wait for the response.
Hopefully, they liked you already, and this may have just been the encouragement they needed.
Here's an example:
For more message examples, check out our guide "How to reach out to a recruiter on LinkedIn".
3. When the person who visited your LinkedIn profile is working for an awesome company
If you notice that the viewer of your LinkedIn profile works for a company that's been on your radar for years (or if you see some sort of other connection), failing to message them could as well result in a missed career opportunity.
LinkedIn is not the place to be shy and wait for a miracle to happen.
If you want something, you need to ask for it. The worst thing that can happen is that they won't reply.
Start by clarifying why you'd like to connect and including how you might be helpful to them.
You can either reference that they've viewed your profile or simply your reason for reaching out based on their background.
Here's a LinkedIn message example if there's an open position you know about:
And here's a LinkedIn message to send when the company's not hiring at the moment:
#3 LinkedIn message sample
4. When you're not sure who and why they were looking
Let's say you have no idea who the viewer is. First, check out their profile in return and see if there's anything you share with that person.
For example, you might have graduated from the same school or have the same major. Or maybe you were both working for the same company (but at different times or locations), live in the same city, or have many mutual connections.
Any of these topics is a great conversation starting point.
However, make sure that you always construct your own original message. LinkedIn's default connection message is autopilot which can do more harm than good.
Tailor it to make it more personal and motivate the person to engage with your profile.
It doesn't necessarily need to be a page-long essay, but make sure to include all connections, interests, or experiences you share.
Focus on a common bond between the two of you and make it clear why you're making the connection, like this example:
#4 LinkedIn message sample
On the other hand, if you and this person who looked at your LinkedIn profile have truly nothing in common, chances are that the viewer viewers may have accidentally clicked on your profile.
That's because sometimes, during the search, one may click on someone else's profile with an identical name, for example.
So, if you decide to reach out, you don't necessarily need to remind them that they viewed your profile. Often they may not even remember doing so.
This is what you can say instead:
#5 LinkedIn message sample
For more LinkedIn message examples, check out our guide "How to reach out to a recruiter on LinkedIn".
After how long should you reach out?
Sure, you don't want to miss out on a good opportunity.
On the other hand, you also don't want to come off as a LinkedIn weirdo that's impatiently waiting till someone pays a visit to their profile and then bombards the viewer with questions like "How did you find me?" or "Why were you checking me out?"
The worst thing you could do is convey the impression that you're desperate and immediately prey on everyone who views your profile. Especially if it's a hiring manager that visited your profile.
So, take your time and don't shoot a message at people immediately after they view your profile.
Instead, wait for a day or two before sending a message.
Make the most out of LinkedIn
Finally, while LinkedIn may seem like an extremely weird platform with its own odd little rules, try to look past it.
LinkedIn has become one of the most powerful online platforms for career networking. It's popular among employers and employees alike, making it a lively place where these two worlds keep interacting.
And regardless of your current employment status, LinkedIn can take your career prospects to the next level.
The first step towards making a good impression is updating your LinkedIn profile and crafting a superb LinkedIn summary.
Other things that you can do that will improve traffic on your LinkedIn profile are:
Include desired keywords. Recruiters may search for specific keywords and if you include them on your LinkedIn profile, they'll be able to find you.
Pick a nice profile picture. Your picture may as well be the reason why you stand out from the crowd and someone clicks on your profile.
Endorse your connections for their skills. They'll do so in return. And skills are something that recruiters search for very often.
Once you're done with it, you can sit back and wait for your connections and strangers to have a look.
And that's really a part of LinkedIn's charm — that sneaky feature that will tell you when somebody looks at your LinkedIn profile — and that eventually help you get a new job.
FAQ: What to do when someone just viewed your LinkedIn profile?
This article was recently updated. The original article was written by Jakub Kaprál in 2019.
Junior Writer

Kaja Jurcisinova is a junior copywriter at Kickresume. Kaja completed her undergraduate degree in Art History at the University of St Andrews in 2018 and graduated with a Master's in Arts and Culture from the University of Groningen in 2021. She was an intern at multiple cultural institutions across Europe, including the Dutch Museum Association in Amsterdam, the Matter of Art Biennale in Prague, and the European Cultural Centre in Venice. At the moment, she resides in Visby on the Swedish island of Gotland.