In today's fast-paced job market, first impressions are crucial, and it often starts with an email. With numerous applicants trying for the same position, crafting the perfect subject line for your resume email is the key to grabbing a hiring manager's attention.
Your email's subject line is more than just a few words – it's an opportunity to showcase your professionalism, attention to detail, and ability to follow instructions. Plus, it can be the gateway to getting your email opened and your resume read.
Yet, many job seekers underestimate the importance of the subject line when sending their resumes via email, leading to their applications being rejected without their resumes ever being seen.
The following emails are predestined to be immediately deleted:
To help you avoid making similar mistakes, we're bringing you 5 subject line examples and tips that will help you to craft the perfect subject line.
Different types of subject lines for resume email
Before you start writing your email subject line, take a while to think about what kind of an introduction your resume email needs.
Are you applying for a specific position? Is it a spontaneous application, or are you reacting to an open call?
Based on the situation and tone of the company where you're applying, choose one of the following email subject lines that's the most appropriate: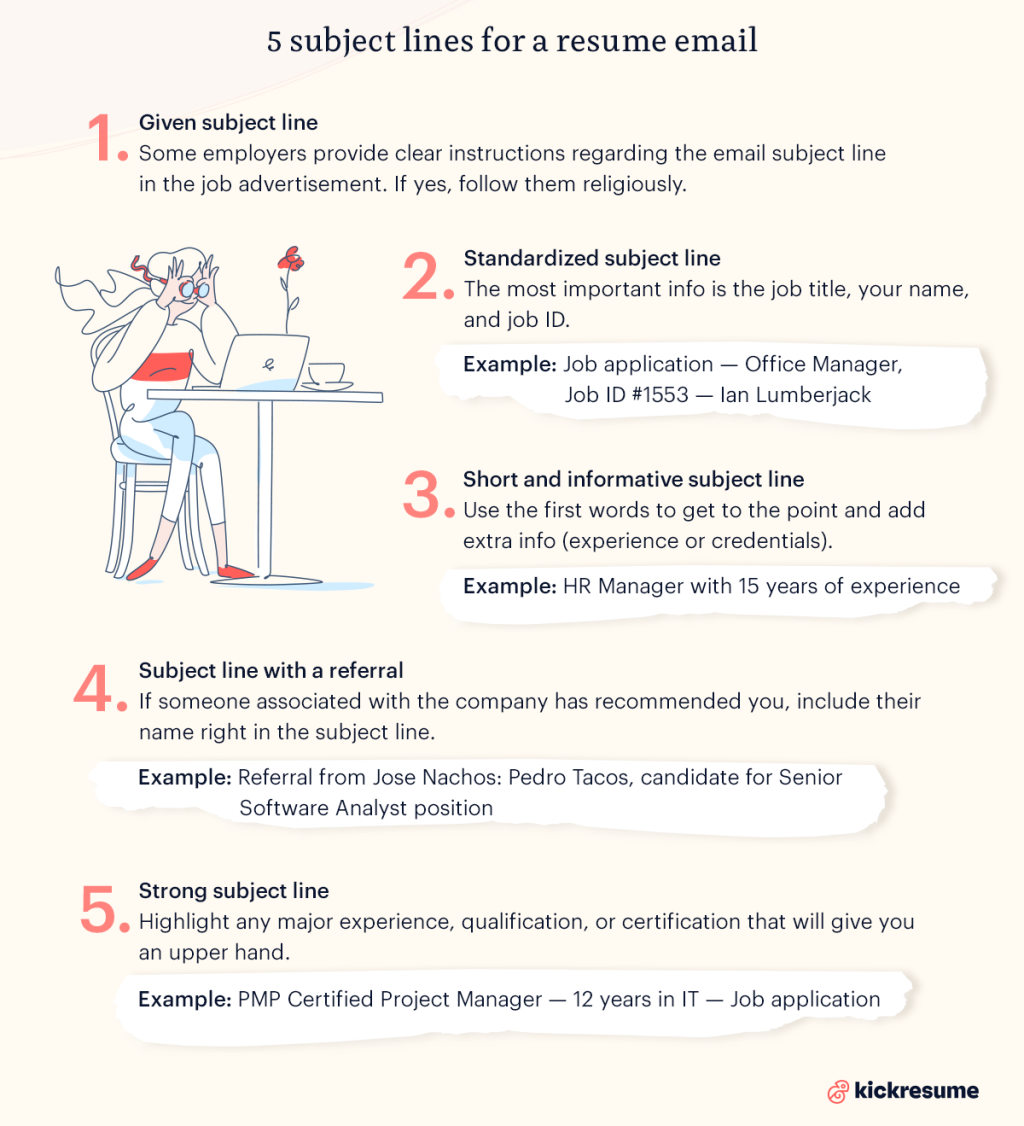 1. Given subject line
Oftentimes, you don't have to think about what to write in the subject line at all, as some employers provide clear orders regarding the email subject line in the job advertisement.
So make sure that you always check the job post for any specific instructions on how to submit your application, particularly regarding the email subject line.
Most commonly, the recruiter will want you to include your name and the title of the position that you're applying for.
If the subject line instructions are included in the vacancy, this is what you should do:
Follow the instructions religiously and stick to the given format.
Don't remove (or add) anything. While adding only your name and the job position may seem a little boring, going overboard with the subject line once you were given clear instructions could be a perfect recipe for disaster. You'll have a chance to provide specific details or explain some missing parts of your application once the hiring managers decide they need them.
Keep in mind that this is your first chance to show your potential employer that you are attentive and capable of following directions. Make the most out of it.
2. Standardized subject line
If the job posting doesn't include any instructions, you can also just stick to the basics. Using a standard subject line for your resume email won't do any harm.
The most important information to include in the standard subject line is:
the job title
your name
job's ID (if applicable)
The hiring managers need to see at first glance what position you're applying for. This way, they'll be able to easily find your application and filter through the sea of emails by simply looking up the job title.
In the end, it should look like this:
3. Short and informative subject line
If you're unsure about the offered position (maybe because you're sending a spontaneous application), briefness can be the key to success.
Why? Lengthy email subject lines may be automatically moved to spam. You want to make sure this won't happen to the email with your resume attached.
Also, more people read their emails on their smartphones than on their computers. And mobile devices display only 25-30 characters of subject email lines.
If you want to cut down on the word count of your subject line and make it more impactful, use this formula:
Use the first few words to get straight to the point. The extra information, such as your credentials and experience, can be placed towards the end.
Then, a short and informative subject line may end up looking like this:
4. Subject line with a referral
If you're lucky enough and someone who already works for (or is associated) with the company has recommended you for the position, don't hesitate and include their name right in the subject line. Here's why:
It will grab the attention of hiring managers and make them want to know more about you.
It will also establish a sense of trust and dependability.
Just take a look at the sample below:
5. Strong subject line
The whole point of the subject line is to inform and catch the attention. So, do you possess any major experience, qualification, or certification that you think will give you an upper hand?
If the answer is yes, seriously consider mentioning it already in the email subject line — especially if the job position directly requires the specific skillset.
The sample below shows you how to nail this by including relevant certification and years of experience in the subject line:
8 tips on what to write in the subject line for resume email
Now that you know what kind of subject line you should choose, learn what you should and shouldn't do when crafting it.
These 8 tips will make you stand out from the crowd of applicants: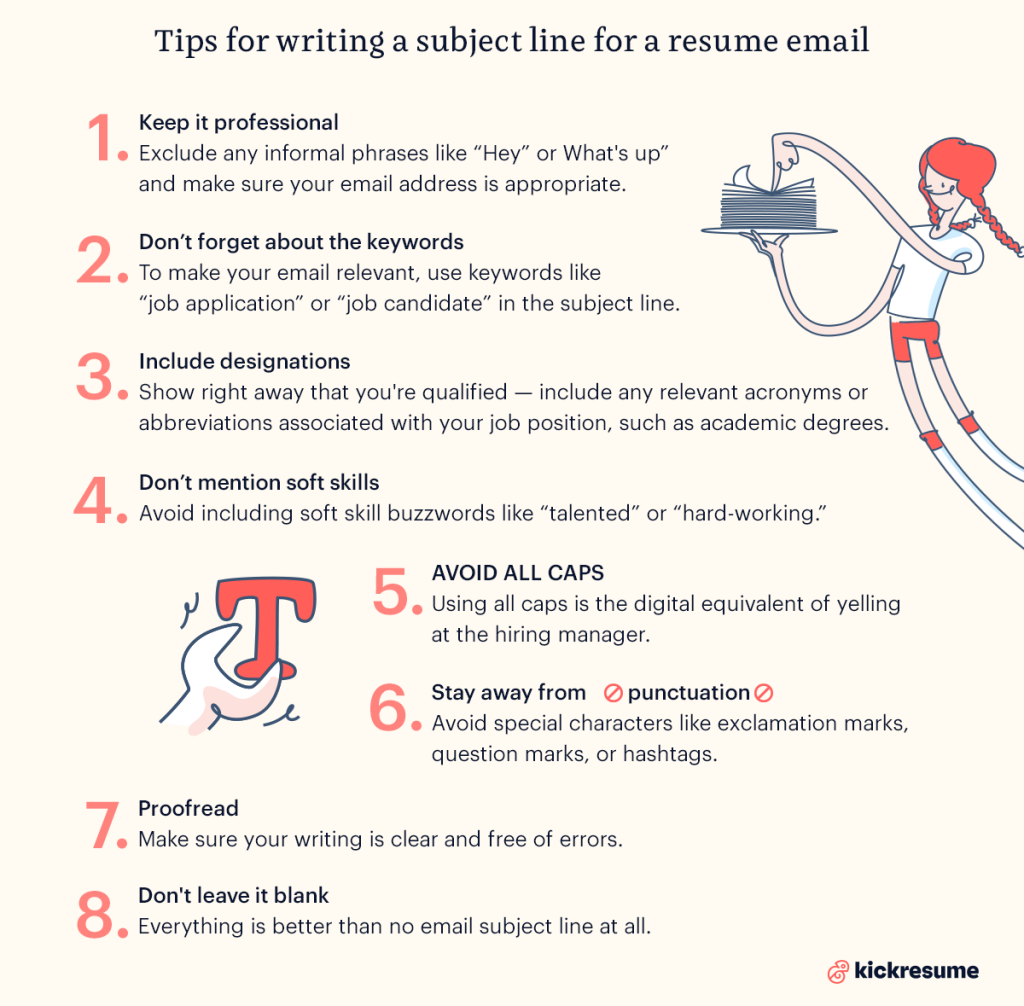 1. Keep it professional
Keep both your subject line and email address polished and professional with polite, neutral language. To achieve this:
First, exclude any informal phrases or casual greetings like "Hey" or "What's up". The email subject line isn't the right place for making a joke or a pun, either.
Second, make sure your email address is appropriate — an email address such pete69@gmail.com as it may leave hiring managers questioning your seriousness and judgment.
2. Don't forget about the keywords
Hiring managers commonly use filters to manage the constant influx of emails.
To accommodate this practice as well as you can, it's crucial to make your subject line as relevant as possible by including keywords related to the job position that you're applying for.
These can be keywords like "job application" or "job candidate."
And, of course, the cherry on top: the name of the position that you're applying for, probably the most relevant keyword that you can use.
If you can't it into your subject line, make sure to include it at least in the body of the email. This will make your email searchable in the tons of emails from other candidates.
3. Include designations
You want to show right away that you're qualified and better suited for the role than your competition. And the subject line is your unique opportunity to distinguish yourself and immediately capture the recruiter's attention.
Incorporate any relevant acronyms or abbreviations associated with your job position, such as academic degrees like BA, MBA, or Ph.D. after your name.
This strategy is particularly useful if you're applying for an academic role or any position that requires specialized training.
4. Don't mention soft skills
Now that we've said what to include, it's also crucial to remember what to avoid.
While your subject line is here to sell you, it should also never sound like a marketing email.
Thus, avoid including soft skill buzzwords like "talented" or "hard-working" in it. Phrases like this make you sound vague and not skilled or professional enough.
It's a major turn-off for hiring managers, and it may eventually get your email dumped in the trash folder.
5. AVOID ALL CAPS
Using all caps is the digital equivalent of yelling at the hiring manager. It does indeed capture someone's attention but in the worst possible way.
So, stay away from them at all costs.
Generally speaking, you want to avoid all formatting or phrases that create an emotional reaction. Remember, you're in a professional setting, and your words should mirror that.
6. Stay away from punctuation
Ditch the punctuation clutter and non-verbal symbols that can make your subject line look messy or unprofessional.
Avoid special characters like:
exclamation marks
question marks
hashtags
&
* * *
etc.
They simply have no place in official communication, where your goal is to present yourself as a skilled professional.
Rather stick to standard formatting and embrace the "less is more" philosophy to make your subject line crisp and clean.
7. Proofread
Email subject lines often get forgotten amidst all the proofreading that needs to be done in your resume or in the body of the email. But this is one of the worst mistakes you can make.
Make sure your writing is clear and free of errors. Your subject line is your first impression, and any typo or grammar mistake will spoil it.
8. Don't leave it blank
Everything is better than no email subject line at all. Well, almost.
Either way, there's a high chance that if a busy hiring manager sees an email with a missing subject line, it will go directly into the bin without it even being opened. No matter how good of a resume or cover letter hides inside of it.
So, even if you struggle with finding the right words, it's better to take your time and think about it than not write any at all.
The subject line of your resume email is just the start
To make your job application stand out, you already know how to write an attention-grabbing subject line. There's more to it, though.
With preview panes revealing your email's opening paragraph, your first 2-3 sentences should also shine.
Try and give a concise summary of your reason for writing, your desired job position, and relevant background. You can elaborate on these points in detail later on once you've hooked the reader into reading the whole email.
To make sure your resume email is successful, also keep in mind the following:
address the hiring manager by name (preferably last name)
choose a font and font size that are easy to read and visually appealing
sign off your email with a courteous and appropriate closing
and more.
For answers and more advice, see our ultimate resume email guide, which will walk you through all the steps necessary before submitting your application.
Finally, don't forget to check out this video guide on emailing a resume:
FAQ: Subject line for resume email
This article was recently updated. The original article was written by Jakub Kaprál in 2018.
Junior Writer

Kaja Jurcisinova is a junior copywriter at Kickresume. Kaja completed her undergraduate degree in Art History at the University of St Andrews in 2018 and graduated with a Master's in Arts and Culture from the University of Groningen in 2021. She was an intern at multiple cultural institutions across Europe, including the Dutch Museum Association in Amsterdam, the Matter of Art Biennale in Prague, and the European Cultural Centre in Venice. At the moment, she resides in Visby on the Swedish island of Gotland.