Listing your skills on a resume is no rocket science. Still, despite its relative simplicity, you need to get the basics right first.
Many people simply list their skills and leave it at that. Is that enough? Definitely no!
Two key ingredients to writing a great skills section are:
knowing what skills to list
pairing these skills with specific examples
But no more spoilers! You'll find out more in this article. We'll show you how to present your skills on a resume like a champ, plus also provide a few skills section examples to help you make your own.
Two steps to list your skills on a resume
The premise sounds childishly uncomplicated — write a section where you list your skills on a resume.
As obvious as it sounds, things can get a bit tricky once you start writing. For instance, is "strong work ethic" a skill or a strength? You should know the difference.
Skills are things you learn through effort and experience, like being fluent in Spanish or being good at SEO marketing.
Strengths are your natural personality traits you acquire over time. These might include the aforementioned "strong work ethic" or "good communications skills." You probably know them under the label "soft skills."
Your skills section should mostly include hard skills. Once you've put your hard skills on a resume and did it well, it's no longer necessary to explicitly mention soft skills.
After all, if you show you're good at programming in C#, it becomes quite obvious your computer skills are excellent.
In any case, you can mention soft skills if they're specific to the position.
Step 1: Identify your skills and decide which of them you want to highlight
When it comes to showcasing your skills on a resume, it's crucial that you highlight the right ones. This is a crucial part of tailoring your resume to each job position you're applying for.
Make a list of keywords. Carefully reread the job description and look for skills that are required for the position. This will give you a list of keywords that will help you structure your skills section as well as let your resume pass through Applicant Tracking Software that recruiters use to weed out weak candidates.
Match your skills to the position you're applying for. Now take a look at your own skill set and see where it overlaps with the list you've just made. The closer your set of skills matches the skills necessary for the job, the better your chances are for getting the job.
If you don't have a skill that is absolutely essential for performing well at the given job, dig into your past experience. Try to come up with some examples that can demonstrate that you'd be able to perform the skill or acquire it very quickly.
At the same time, even if you don't have every skill in the job description, it's not critical. Simply craft your skills section to best reflect what the job requires.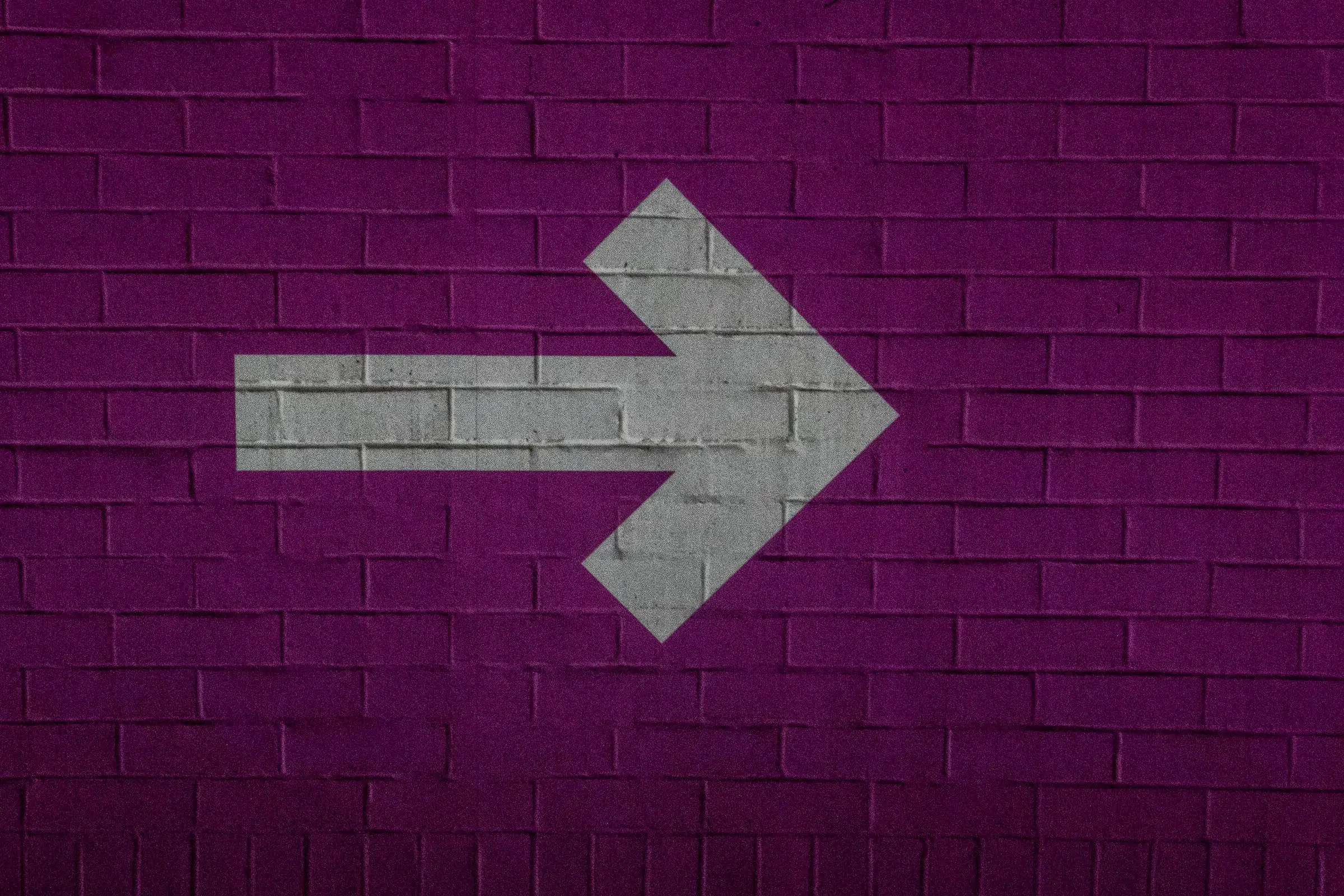 Step 2: Support each skill on a resume with examples and accomplishments
Employers don't respond well to arbitrary lists of nouns and adjectives without any proof.
Look at it this way: If someone told you about what a fantastic snowboarder he or she is, would you believe it? Probably not, as it sounds very much like bragging.
But what if they'd also tell you about a snowboarding competition they won or about how they go snowboarding every weekend? As Beyoncé says: "Don't bore me, show me!"
You can actually do so in two ways:
Provide a description for each skill with a specific example. For instance, don't simply say that you have excellent writing skills. Opt for something like "Writing skills: Experience with writing business and funding proposals, pitch documents and advertising copy."
Or complement your skills section with examples in other resume sections. If you only want to create a skills list, you can simply support your claims with specific examples in your work experience descriptions, profile, accomplishments, or any other suitable section. For instance, if you claim you have "customer service skills", you can support this claim in your work experience description with something like "Awarded Employee of the Month for increasing customer satisfaction with provided services from 87% to 95% within one year."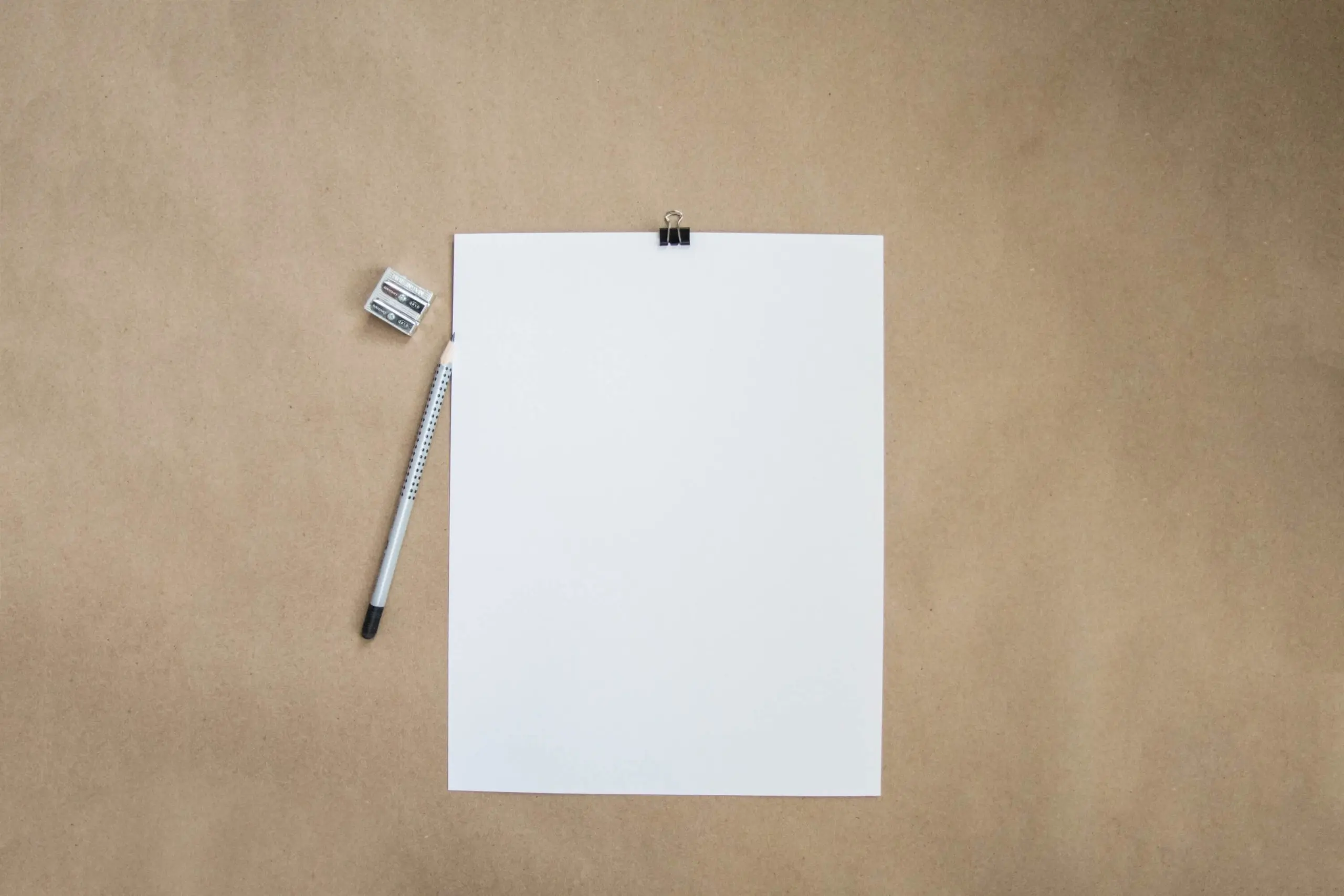 Skills section examples
There are many different ways how you can format your skills section. Here are a few examples:
Bullet list or keywords
Use bullet points to list your individual skills or simply include keywords. A simple-yet-effective method. However, be sure to add context for every skill elsewhere in your resume.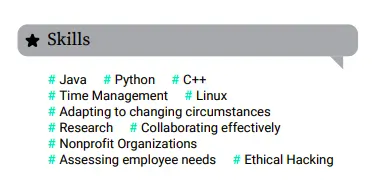 Expanded bullets or keywords
Expand your bullet points or keywords with specific accomplishments and examples. This approach is more impactful than only listing the skills.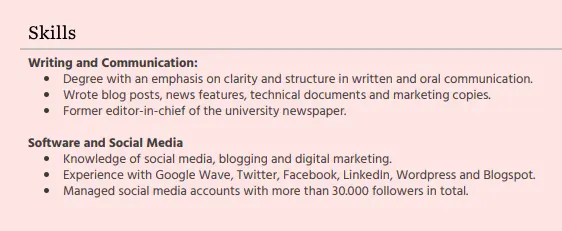 Categorized
Choose 3-4 major skill categories to serve as subheadings. This is to structure your skills section into something that will look sleek and organised. For instance, if you happen to speak multiple languages, group them under the subheading "Languages". You can also use subheadings like "Hard skills, Soft skills, Key skills, Tools and software."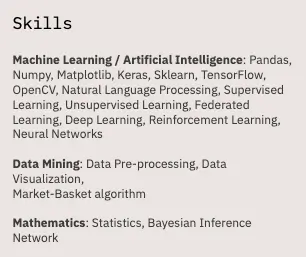 With proficiency levels
Show how advanced your abilities are using proficiency levels. This works if you opt for bullet points or categorized skills section.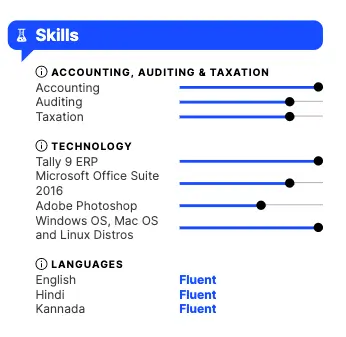 There are actually multiple ways how you can display your skills levels. More on that in the following section.
How to display skill levels on your resume?
Want to up your skills section game? There are various ways how you can display skills levels on your resume effectively when using our Kickresume online builder:
1. Graphs
Conveying certain skills through a visually attractive graph can be a great way to make both your resume and skills stand out.

2. Progress bars
Your main skills can be quickly highlighted using progress bars ranging from novice to expert. This is particularly useful for programming languages, softwares, tools, and other skills where time is required for mastery.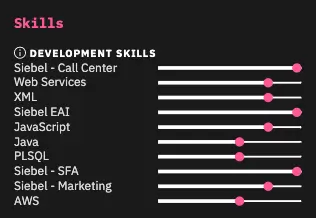 3. Word rating
This option is better if you want to display your skills in a clean and simple way, plus if you want your resume to be ATS-friendly. It's especially suitable for displaying your language skills. You can use word rating such as native, professional, limited, elementary, etc.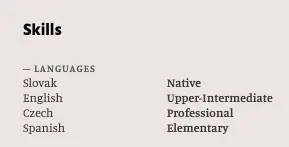 When should you emphasise your skills on a resume instead of experience?
If you've ever written a resume in your life, you're probably quite familiar with the chronological resume style. Although this format fits the needs of most people, there are cases when using it would be ill-advised.
Are you a fresh graduate with no experience to speak of? A chronological resume will make your lack of experience jarring — without letting you showcase the useful abilities you might already have.
Are you trying to switch careers? A chronological resume won't let you out of the box of your previous professional experiences. At the same time, it won't give yo space to highlight your transferrable skills.
Multiple roles at a single company? A chronological resume wouldn't make justice to the diversity of skills you've acquired.
Do you rely heavily on your portfolio? A chronological resume would probably end up looking like a complete mess, as your professional history is probably not structured around stable jobs.
Is there a gap in your employment? A chronological resume will bring attention to this fact instead of emphasising the wealth of skills you had acquired before.
In all of these cases, experts recommend using a functional resume instead, as it emphasises your skills and abilities over a chronological career progression. It highlights what you can offer to a company, regardless of your career history.
The main drawback of a functional resume is that some recruiters will automatically assume that you're hiding something by choosing to use this resume format.
In the end, however, it all comes down to how effective it is at convincing potential employers that you really have the skills necessary for getting the job done.
Editor in Chief

Martin Poduska is a resume expert and career advice writer at Kickresume. He leads Kickresume's team of writers and is the main person responsible for upholding the standards of expertise and quality on the blog.In addition to having written nearly 100 in-depth, painstakingly researched resume advice articles, as chief editor he has also edited and revised every single article on this blog. Tens of thousands of job seekers read Martin's resume advice every month.Martin holds a degree in English from the University of St Andrews and a degree in Comparative Literature from the University of Amsterdam.