Virtual job fairs are quickly becoming the new standard in recruiting.
Ever since the start of the pandemic, there's been a dramatic shift to the virtual space in all aspects of the professional world — with career fairs being no exception.
Actually, 81% of hiring professionals agree that virtual recruiting will continue in the post-pandemic world, according to a 2020 LinkedIn survey. Moreover, 70% believe that online recruiting and virtual job fairs are here to stay.
Attending a virtual career fair is a step into the unknown for many and can, therefore, seem a bit daunting.
But the truth is, they offer a really convenient way to help you connect with employers and find your next job.
With virtual hiring events becoming a staple in networking and job search in the near future — you should probably think about attending one.
This article will tell you everything you need to know about virtual hiring events, how to prepare for them, and which ones to attend in 2022.
What is a virtual job fair?
In a nutshell, virtual job fairs are an online alternative to traditional in-person hiring events.
They create an opportunity for recruiters to connect with prospective candidates to discuss employment opportunities — and all of it remotely. In other words, you can network and learn about job openings from the comfort of your own home.
Job fairs are typically targeted at students and soon-to-be graduates. Companies present their graduate schemes to students hoping to recruit them right after their graduation.
However, career fairs can be targeted towards anyone. Whether you're an experienced professional in your field or someone wanting to change their career completely, attending a career fair is a logical place to start.

Virtual vs. traditional job fair
Although for many people a virtual career fair can't completely replace a traditional face-to-face event, there are many advantages of hosting a career fair online.
So, why does a virtual job fair work better what are the key differences between the two?
It's ideal for remote work seekers. With the rising popularity of remote and asynchronous work modes, the process of recruiting work force is adjusting accordingly.
Allows to hire and be hired internationally. By not limiting job seekers based on who can travel to a career fair site, you open the door to an unlimited talent pool across the globe.
Time efficiency. Virtual job fairs unburden its attendees from aimlessly wondering around the fair hoping to find a company that interests them. At an online fair you know exactly who's presenting and can organise meetings without having to wait for other people to leave. And above all, no travelling is necessary.
A good option for introverts. At a traditional job fair, you need to stand out from the other participants in order for the recruiter to notice you. All while being outside of your comfort zone and in a large group of people — an introvert's nightmare. At a virtual one, you can speak to the recruiter privately and prepare beforehand.
Targets the upcoming generation of digital natives. A virtual job fair attracts people who are comfortable with technology, like the youngest generation of job seekers.
How does a virtual job fair typically work
At a typical job fair, you'd probably expect to find multiple stalls belonging to different companies, a stage for presentations, and huge crowds of people.
But, how exactly do virtual career fairs work and what to expect at a job fair like this?
Well, the process usually goes something like this:
Browse for virtual career fairs. If you wanted to attend a traditional career fair, you'd simply search for "job fairs near me". However, to find a virtual job fair, your best bet is to visit event websites, such as Meetup and Eventbrite. Alternatively, visit the National Career Fairs website, where you can view virtual job fairs by state.
Register and sign up for sessions. When you find a virtual job fair you find interesting, you should register for it, and then sign up for the type of sessions you prefer. There are different types of sessions, booths, and rooms, including:

One-on-one booths. Space to connect with the recruiter on a personal level and win them over.
Panel sessions. Multiple representatives from the same company are available to host presentations.
Group sessions. Designed especially when expecting a large audience.
Chat rooms. There are private chats as well as group chat rooms for people wanting to get quick information.
Webinars. Meant to introduce the agenda of the company and engage the audience.

Familiarize yourself with the platform. There are hundreds of different event platforms available, including Handshake, vFairs, and Talentspace. All with different features and modes of communication. Therefore, you should get to know the platform that's hosting the fair beforehand to avoid any technical difficulties.
Get ready and prepare. Just like at a regular fair, you can't expect recruiters to hire you without you taking initiative. Hence, do your homework, research the companies, read the job descriptions, prepare questions, and have your resume ready. More on this in a separate section below.
Just like at a regular fair, be prepared to start networking. An event like this is perfect for making connections. Not sure how to start networking? Try These 10+ Networking Pickup Lines and Tips.
Virtual job fairs to attend in 2022
As mentioned before, there's no need to search for "job fairs near me" or ones in your city. Virtual career fairs are available for anyone from anywhere.
Whether you're a student, or work in tech or engineering, there's an online hiring event for you.
We did the job for you and found the top virtual job fairs to attend in 2022:
Also, We Work Remotely, the largest remote work community in the world, hosted virtual job fair events for the past 2 years. However, their job fairs are usually in March-April, so stay on the lookout for the next year's date.
Alternatively, if you wish to find a virtual job fair in your city or on a different date, have a look at Meetup or Eventbrite, search for "virtual career fairs" and filter them by location and date.

How to prepare for a virtual career fair
Now that you know what happens at a job fair and are aware of its advantages, study up on the following advice on how to land a job at a virtual career fair.
Just like at a regular career fair, you can't expect the recruiters to hire you without taking initiative.
These are the things you'll want to do before, during, and after a virtual job fair:
Research attending companies.

In order to properly prepare for this event, you need to study the company you're interested in and the job descriptions of the available positions. Furthermore, you should also find out what the company culture is so that you can ensure the hiring manager you're a great fit. Also, have a look at any news or current affairs the company's been involved in.

Make sure your internet and technology is working.

Although probably a no-brainer, you should ensure everything is ready to go. There's nothing more frustrating than being cut off or freezing mid conversation. Check your Wi-Fi, your computer's battery life, make sure your camera and mic are working, and download any necessary software beforehand.

Choose a professional outfit.

If you're wondering what to wear to a virtual career fair, it's understandable. Even though you attend the event from your home, you definitely shouldn't forget to switch your pyjamas for a shirt or a blouse. Think of it as a virtual interview. You wouldn't sit through that one in a tank top either.

Update your resume and be prepared to share it.

Once you know which companies and jobs you want to target, tailor your resume to these roles. Apart from the traditional resume, you can also prepare an online version. In the end, the whole event is happening online. For example, Kickresume allows you to publish your resume online and share it with anyone using a unique link. This way, you don't need to worry about choosing the right file type, or how to attach it.

Engage and ask questions.

While you don't have to go out of your way to stand out like at a traditional job fair, it's good to be prepared to engage in a conversation. Wondering what to say at a career fair? Well, no need to ramble, but you should definitely at least introduce yourself and ask questions. Asking questions shows initiative and interest, while also showing your proactive side.

Don't forget to follow up.

It's essential to know how to follow up with a recruiter after a career fair. Whether that's a traditional or a virtual one. Remember, it's not an interview. You still need to go through a formal interview and a proper hiring process. So, a good way to follow up is to thank them and ask "What would be a great next step to take after meeting you here?" To do so, you can use email or LinkedIn, that's up to you.
Job fair follow up message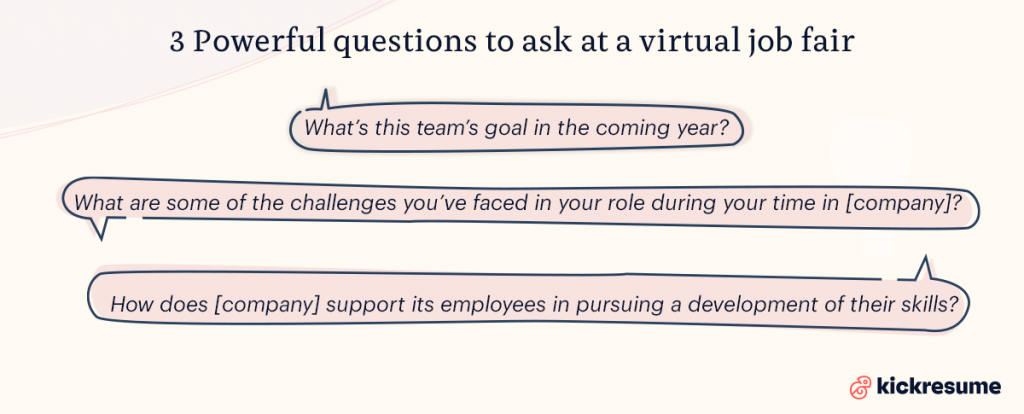 What to ask at a career fair
Asking questions at both career fairs and at interviews is a power move.
Why? Well, usually people focus on convincing a recruiter that they're the right fit for the company.
However, by asking questions about the company and the job position, you're essentially judging whether the company is a good fit for you. Hence, this little psychological trick will make you seem desirable as a job seeker.
Here are the 6 questions you should be asking at a (virtual) job fair:
On a typical day, what tasks does [open position] do?
What's this team's goal in the coming year?
Would you tell me something about the different stages in the hiring process for [open position]?
What are some of the challenges you've faced in your role during your time in [company]?
How does [company] support its employees in pursuing a development and advancement of their skills and competencies?
How does [company] go about giving and receiving feedback?
Above all, by asking these kinds of questions you're gaining a valuable insight into the company's culture and its inner workings. Additionally, it shows initiative.
On the other hand, be prepared to answer some questions yourself. Here's a little help: How to Answer 20 Most Common Interview Questions
Career Writer

Klara recently graduated from the University of St Andrews in Scotland. After having written resumes for many of her fellow students, she got an opportunity to write full-time for Kickresume. Klara is our go-to person for all things related to student or 'no experience resumes'. At the same time, she has written some of the most popular resume advice articles on this blog. When she's not writing, you'll probably find her chasing dogs or people-watching while sipping on a cup of coffee.