Knowing where to post your resume online can dramatically improve your chances of getting noticed by companies and recruiters. That is, of course, if you know the right portals to upload your resume to.
The job hunting process is gradually being moved into the online space. Recruiters search the internet for suitable candidates and companies look for information about you online before hiring you.
Hence, posting your resume online will not only help you establish a professional online presence but also help you get exposure in the right circles.
This article will show you the 5 best resume posting sites where to post your career documents as well as a short guide on how to upload your resume to each one.
Hint: It's not just LinkedIn.
Why post your resume online?
Having an online version of your resume posted on the right sites is an effective strategy to increase your chances of a recruiter or an employer finding you.
Think of it this way, if you're applying for a job you found online, your resume only reaches that one specific employer.
However, there may be other companies interested in your expertise and skills which just haven't posted their job opening to the site you checked. Or, they prefer to employ recruiters to find qualified candidates for them.
When you publish your resume online you allow yourself to be found and aren't limiting yourself to a single job opening.
Rather, recruiters and hiring managers can read your CV as they search for potential applicants and reach out to you directly.
Pro tip

You never know which skills, keywords or past experience can interest a potential employer.
5 best resume posting sites
We did our research and handpicked the 5 best resume posting sites in 2023. These are the best places to post a resume if you want to get hired faster.
Many of them are job posting sites. The thing is, it's now pretty common that job posting sites also allow job seekers to create a profile and upload their resumes.
This allows potential recruiters to find a person suitable for the position without having to do a formal job opening. In essence, it saves time.
Without further ado, here are the top 5 job sites to post a resume to.
Below this chapter you can also find an advanced step-by-step guide on how to post a resume to each of these sites.

1. Indeed
Indeed is the #1 job site in the world with over 250 million unique visitors every month. It provides job seekers with free access to search for jobs, post resumes, and research companies.
To post a resume on Indeed, simply create a free account and then either create your resume from scratch or upload it if you have it saved as a file.
2. Monster
Monster has been around for 25 years aiming to transform the recruiting industry by connecting job seekers and employers. The resume posting feature has been around for just as long.
To upload a resume on Monster, you need to sign up. Then, as part of creating your account, you'll have to fill out some personal information and then choose a file to upload your resume.
3. CareerBuilder
CareerBuilder is one of the premier job-hunting sites in the United States. It uses data-driven technology and personalized tools to help match employers with great candidates. So, if wondering where to post your resume, try CareerBuilder.
To post a resume on CareerBuilder, you need to sign up, and then it immediately prompts you to upload a resume. As simple as that.
4. Dice
Dice is the biggest tech-specialized job board out there. It strives to empower employers to find the best talent and propel tech professionals forward in their careers. Hence, if you have a background in tech, this is where you upload your resume!
Uploading a resume to Dice is simple, just create an account and in the profile menu select upload resume.
5. LinkedIn
LinkedIn needs no introduction at this point. This business-oriented online service has been ruling the networking world for a while now, with three people being hired every minute thanks to LinkedIn.
Chances are you already have a LinkedIn account, in which case adding a resume is relatively easy. Have a look at a simple step-by-step guide in the section below which explains how to post a resume on LinkedIn.
Shameless plug: Kickresume
Kickresume is an online resume builder that also allows you to post your resume online by generating a URL link. The unique URL link can be then shared with recruiters, without having to bother with attaching files.
We all know sometimes different file types can't be opened and it only creates an unnecessary hassle for everyone involved. Such digital version of your resume can also help you stand out when applying for positions in online.
Have a look below at the section that guides you through the process of how to share your resume online with Kickresume.
How to upload a resume to Indeed.com (advanced guide)
Indeed allows you to post your current resume as well as build one using their "resume maker" feature.
Here's how to post your existing resume on Indeed:
On Indeed's homepage, select the "upload your resume" button. It's located in the upper right corner.
Create a free account on Indeed. You'll need to do this to gain access to Indeed's resume editor and fit your resume into Indeed's template. Then you need to select the option to upload your existing resume again.
Choose the file you want to upload. Click "open" at the bottom of the file upload box. After you click "open", Indeed will prompt you to enter your email address so you can create a free account.
Format and edit your resume. You can now carefully edit and format your resume to make sure none of the sections were separated in the process. It's now also time to spellcheck and tailor your resume.
Select your desired privacy setting. Finally, you can choose from private and public setting. Setting to public will, of course, get you more views and exposure. But it's totally up to you.
Click upload to finish. Boom, done.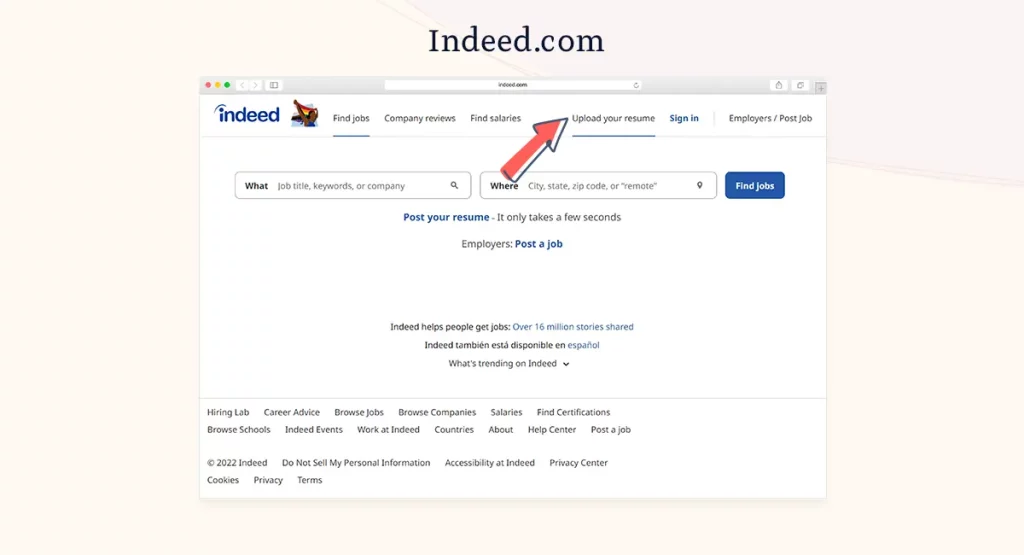 How to upload a resume to Monster.com (advanced guide)
Monster provides the resume posting feature in a few simple clicks. It's super easy and quick.
Here's how to post your existing resume on Monster:
Create a free account. Sign up to Monster if you don't have an account yet. You can sign up with your Facebook, Google, or Apple account. Or alternatively, using your email address. Worry not, it's free.
Log in and click on "upload resume". The button is located in the banner at the top, as seen in the screenshot below. Browse it from your computer and upload your existing file. Monster supports a variety of file types, including DOC and PDF.
Fill out the relevant information. These include your name, your email address, your phone number, location, etc.
Set your resume's searchability status. Select how would you like your profile/resume to be displayed to employers searching Monster's database. You can select it to be visible or not visible to employers, as well as make your resume visible but hide your contact info.
Click submit. Yay! It's all done.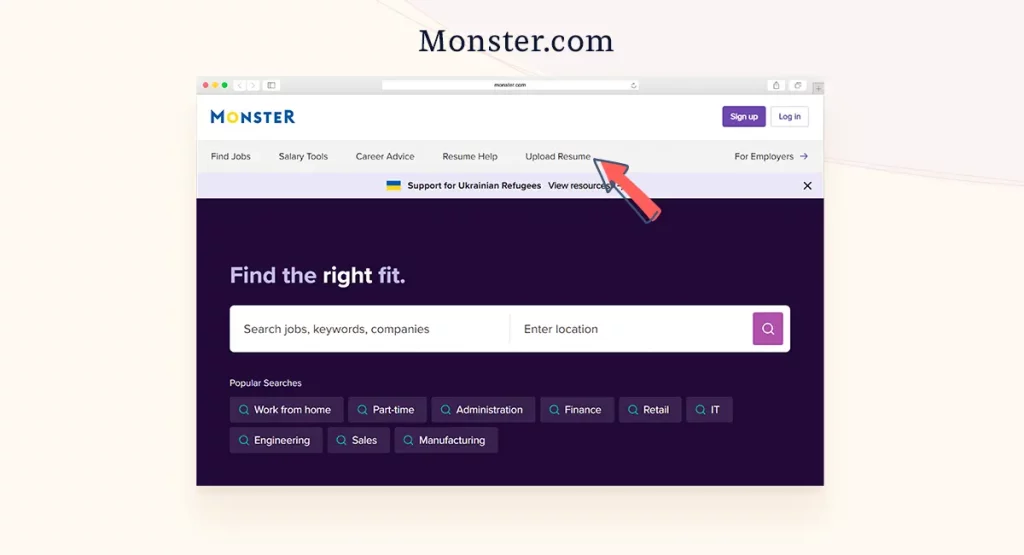 How to upload a resume to CareerBuilder (advanced guide)
Here's how to post your existing resume on CareerBuilder:
Sign up to CareerBuilder. Create a free account using your Google, Facebook, or Apple account. Or sign in using your email account.
Click on "Upload a resume". Immediately after you sign up, you're given a choice to either upload a resume or create a profile.
Upload your resume. Now you need to locate your file and upload it. You also need to check a box (or not) that allows your resume to be visible to recruiters.
Optional: fill in your profile. As a next step you can also fill in your profile information alongside having your resume posted. This helps the recruiters to find you and match with you.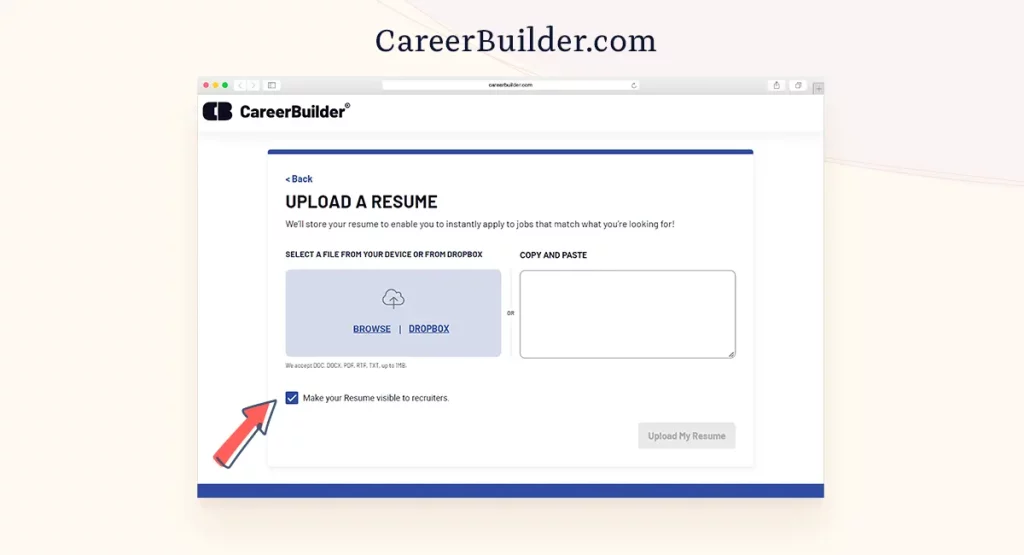 How to upload a resume to Dice (advanced guide)
This section shows you how to upload a resume on Dice to make your tech job dream come true.
Here's how to post your existing resume on Dice:
Register. First, you need to register by filling in your name, password, and email. When the registration is complete, log in to your account.
Click on profile. You need to first click on your name located in the banner on the right, and then select "Profile".
Select "Upload resume". This button is located in the Resume section in your profile. Choose the file and double click on it. Make sure to make any adjustments to your resume prior to this step.
A tip from Dice: "If Dice had trouble reading your resume to populate your profile accurately, please be aware that many employers will parse your resume similarly, so we would recommend adjusting your resume format to make it more machine-readable, and not exclusively formatted for viewing."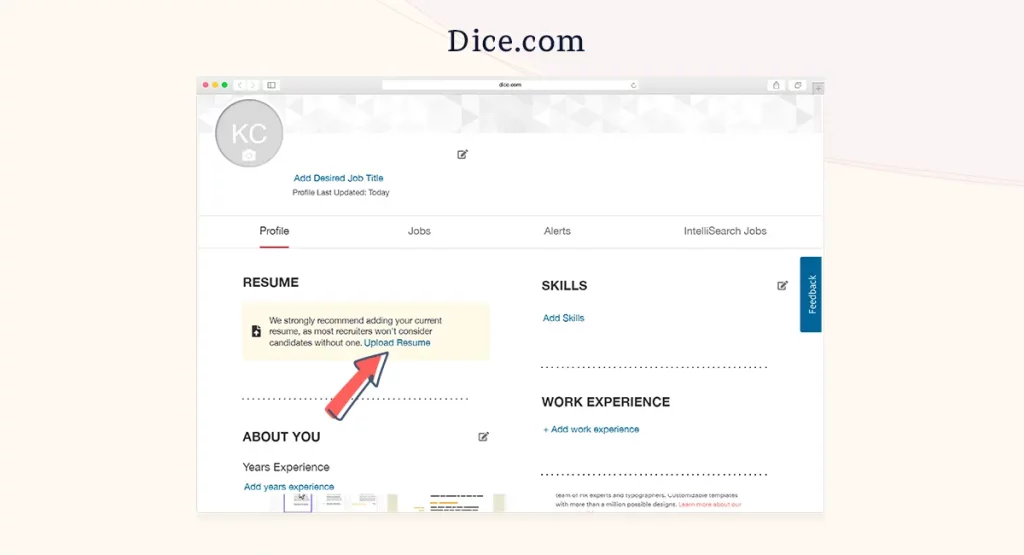 How to upload a resume to LinkedIn (advanced guide)
The reason why we present LinkedIn as a number five is that in a lot of cases, your LinkedIn profile already serves as a "mini resume". Furthermore, uploading a resume to LinkedIn is slightly more complicated than it is for the previous websites.
In fact, we already have an article that is dedicated to adding your resume to LinkedIn in 2023, which contains a detailed guide and screenshots.
Nevertheless, here's a succinct version of the step-by-step guide on how to post your existing resume on LinkedIn:
First, go to your profile.
Go to "Featured" tab.
Click on "+" icon, select "Media" and choose the resume file from your computer (e.g. "resume.pdf").
This way anyone will be able to see your resume under the "featured" section of your LinkedIn profile.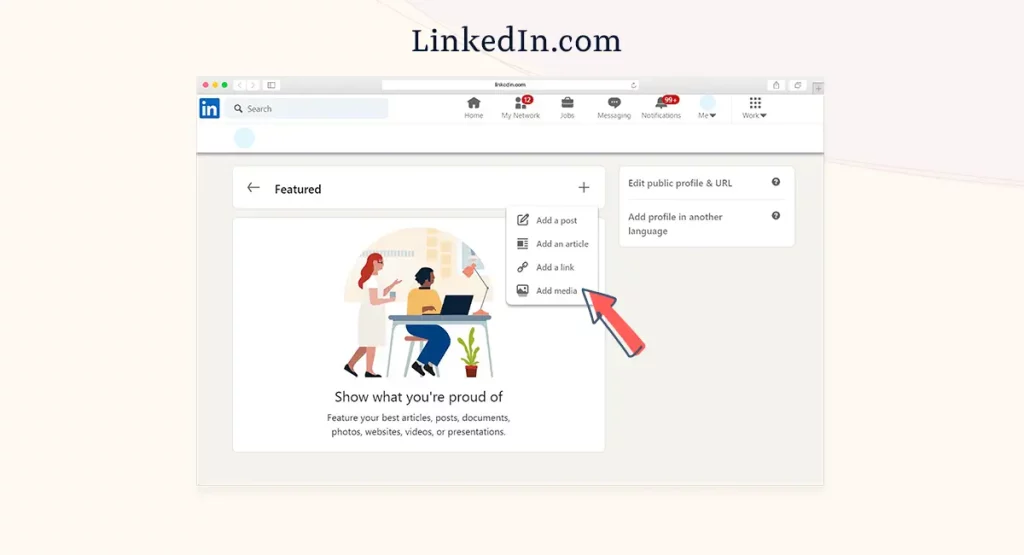 How to share a resume online with Kickresume (advanced guide)
With Kickresume you can now generate your own unique URL link which can be shared with anyone you want. This way you don't need to worry about choosing the right file type, or how to attach the files.
Furthermore, you don't need to worry about privacy-related issues, since you're the one deciding who to share your resume with, or which parts of your resume will be shared.
Here's how to share your resume online with Kickresume:
Sign up or log in to your account.
Go to "Your Documents". Here, select "Resume".
Click on your existing resume or create a new one. Here you can choose templates and adjust everything according to your needs. If you're creating a new resume, you can also import your LinkedIn profile info.
Click "Share" and tap on "Link active" button. This activates your unique URL link. Have a look at the screenshot below which shows these buttons.
Scroll down to copy the link. Once you or someone else opens this link in a browser, your resume opens on a sleek background and there's also a feature that allows people to contact you directly.
Share your link with recruiters or use it for networking purposes. Easy!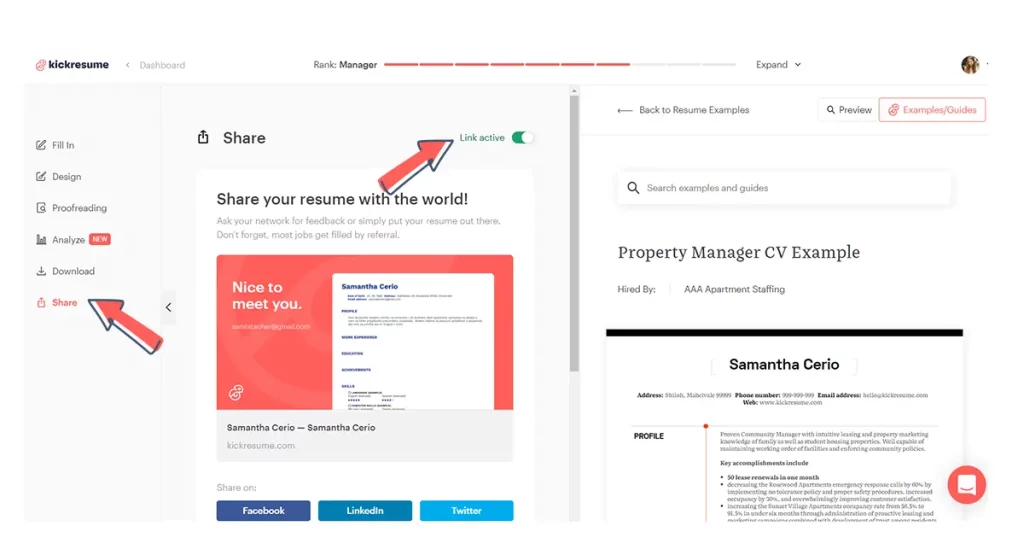 Build your own resume website
Another way to get your resume out there is to create your own professional website.
Why should you do that? Be honest, you've definitely googled a person before, right? So will your potential future employer.
Rather than them finding your old cringey Facebook or Twitter account, they would now find a professional website containing information about your past work experience, achievements, special projects, and more.
Kickresume's website builder feature lets you turn your resume into a personal website in one click.
You can choose from a variety of website templates (free or premium) that not only look great but also entail many useful features. And yes, it's for free!
Here's a quick guide to building your own website using Kickresume's website builder:
Log in to your Kickresume account. You can do so by logging in via your Facebook, Google, or LinkedIn accounts, as well as your email address.
View "Your Documents". Here, select "Webpage". It's the second option in the banner at the top.
Choose from 3 options. Hover over the "+" sign to display three options for creating your website. You can either create a new webpage, import information from LinkedIn, or create a webpage from your Kickresume resume.
Choose a template. Kickresume offers 1 free template and 7 premium templates designed by graphic designers and HR experts.
Edit. You can now make adjustments and edit the content of the website. Kickresume lets you do this in a very interactive and simple way.
Design. You can also manually change aspects of the website, including background, fonts, and date formats.
Click publish. And it's done!
Privacy tips for posting your resume online
Everyone can agree that posting just about anything online brings about certain risks.
Posting something so personal like a resume is no exception. And truthfully, it's better to be safe than sorry.
Here are a few helpful tips to make sure your information is safe:
Limit the contact information you offer. Make sure you don't post any sensitive information about yourself and your family. Under no circumstances share things like your home address, social security number, or your bank information.
Set up an email account specifically for your job hunt. This is a simple and neat way to separate private emails from the job hunting. It'll also help you eliminate any scams or advertisements from flooding your personal account.
Be selective about where you post your resume. Look for reputable sites that offer a privacy policy. Make sure to adjust the settings on these sites to make your resume visible only to recruiters and employers.
Limit social media links. Yes, it's pretty common to share your social media on resumes. However, think about whether that's appropriate for the job you want. And whether it's really necessary to share it. If you have an account that resembles a portfolio of some sort, that's, of course, different.
Remove your resume from the sites once you find a job. Once you find a job, it's not longer necessary to keep the resume out there in the cloud for everyone to see.
FAQ: Posting your resume online
In case the article didn't cover something you were looking for, this section will answer 3 of the most frequently asked questions you might have about posting your resume online.
FAQ: Where to post a resume online
Career Writer

Klara recently graduated from the University of St Andrews in Scotland. After having written resumes for many of her fellow students, she got an opportunity to write full-time for Kickresume. Klara is our go-to person for all things related to student or 'no experience resumes'. At the same time, she has written some of the most popular resume advice articles on this blog. When she's not writing, you'll probably find her chasing dogs or people-watching while sipping on a cup of coffee.