The amount of people who freeze when asked the job interview question "Why should we hire you?" is too damn high!
For no reason too.
Sure, the question is a bit tricky, but with the right approach you should be able to breeze through it. All while impressing your recruiter.
In short, when an interviewer asks the question "Why should we hire you?", they want to know why you, of all the candidates, are the right fit for the job, their company and their overall bottom line. In other words — are you the one?
We'll go over this question in detail and offer you tips and answer examples that will help you formulate the perfect response.
Best general answer to "Why should we hire you?"
There is a simple 6 step formula that career coaches recommend when answering the interview question "Why should we hire you?".
Step 1: Study the job listing. Understanding the ins and outs of the job at hand is a great way to put together a response that aligns with the company's demands. Ensuring both you and the employer are on the same page.
Step 2: Make it about them. Yes, your answer should be about how you are the right candidate for the job. However, it should be answered in a way that fulfills your potential employer's needs. In other words, give them what they want.
Step 3: Start the answer with a brief statement. A good way to do this is by stating you understand what they're searching for in an employee (skills, experience, and character).
Step 4: Voice your experience. Although you have listed your experience on a resume. We advise you to pick 2 to 3 things that stand out to you from the job listing and restate how your experience can fulfill those requirements.
Step 5: Present your benefits. Don't just state the skills you possess (features). Instead, talk about how your noteworthy skills, experience and personality traits can bring improvements into the job, team, or company (benefits).
Step 6: Be humble. Fight the need to over embellish your accomplishments. Sure, you might have the proper technical skills for the job, but you also need to show them your soft skills, for example answering this answer with tact.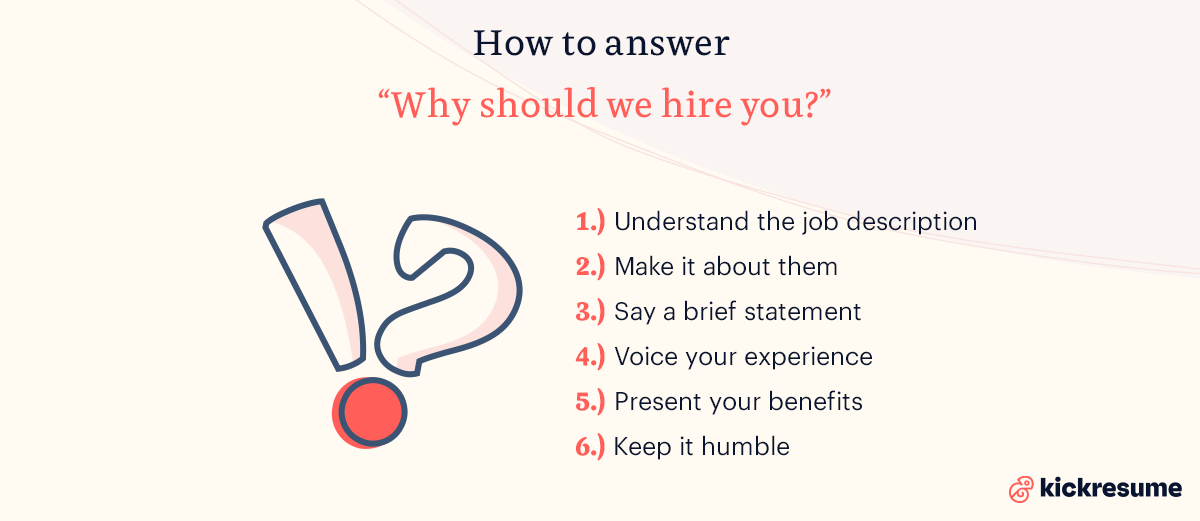 Best general answer (example)
In the end, a general answer following the statement, experience, benefit formula should be something along these lines:
Or, another way to answer this question: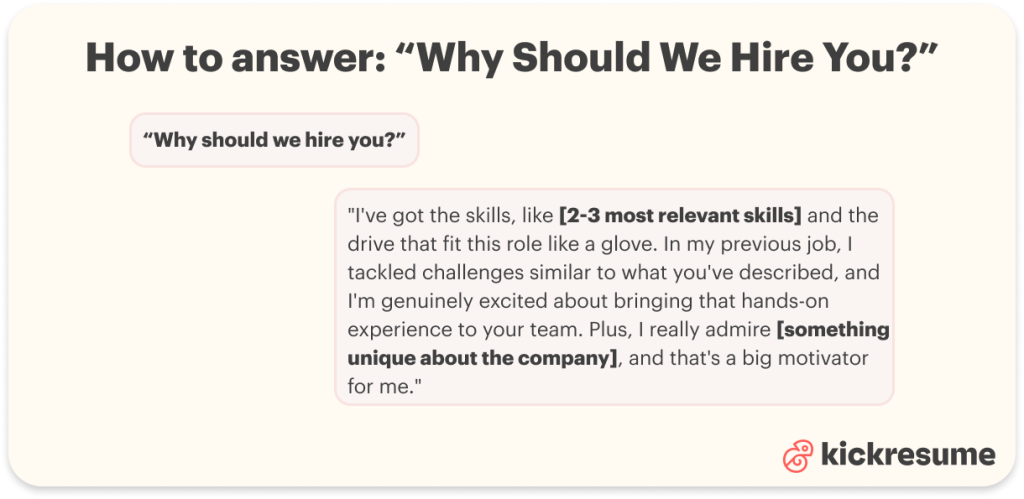 12 sample answers according to your job position/experience
A good general response can take you a long way.
However, when replying to any interview question it's always wise to tailor your response to the job at hand.
This is especially true if you're conducting your interview online, as recruiter's tend to have back-to-back interviews and therefore limited time. (Quick virtual interview tip: In order to avoid speaking over the recruiter due to internet delays, try to pause for a second or two when responding online).
Basically, the more you show you understand the job, the company, and its work culture. The higher the chances of you coming ahead of your competition.
Here are a few answer examples from different job positions and experience levels that can help you formulate an impressive response.
Best answer for a customer service job #1 (example)
"I know the value you place in providing excellent customer service in this company. I have over 3 years of experience providing exceptional customer service and various certifications on how to treat the customer, in fact I had over 95% customer approval in my previous job. I believe my approach can benefit the company's bottom line, as a happy customer is more likely to return."
Best answer for a customer service job #2 (example)
"I'm a people person. It doesn't matter if I have to talk with a customer through the phone or work together with a colleague towards a common goal, communication has always been one of my strong suits. So much so that in my previous job I was able to teach these skills to my peers and we were able to improve our customer approval rate by 25% in less than 3 months. With those numbers I would be a great asset to your company."
Best answer for a fresher #1 (example)
"From what I understand the role requires someone who's a good team player. I had an internship where I worked for 2 years with different teams and diverse people from various walks of life. I believe I would be a great candidate for this role, as my experience would allow me to get into the job with minimal training and supervision."
Best answer for a fresher #2 (example)
"Wow, where do I start? I have always wanted to work in such a great company. I have been preparing for years for this opportunity; with school, internships, and also part time jobs. I understand that I'm a fresher, but I can guarantee you that I'm that right candidate for the job and as you can see from my resume I have the dedication to pursue what I set my mind into. If you hire me I will apply the same dedication to this job."
Best answer for a teacher #1 (example)
"I went over and read the school's mission and I have to say it fits perfectly with my vision as a teacher. I believe that as a certified teacher with 4 years of experience I will be able to contribute immensely to this mission as I'm someone who has the track record of going above and beyond. I think you should hire me as I am someone with the ability to create a perfect learning environment with your mission in mind."
Best answer for a teacher #2 (example)
"I saw in the job listing that the school is searching for a candidate who can adapt to constant change. I have been teaching for years and I have always been resourceful and kept up with the changes of the modern world. In fact, I wouldn't consider myself a traditional teacher. However, it is because of my unconventional ways that students take a liking of me. I'm positive your students will appreciate you hiring me."
Best answer for a nursing job #1 (example)
"If i'm being honest, I have all the skills and experience that you're searching for in a nurse.. Apart from having years of experience and the technical skills, I am also a very motivated person and always go beyond what's expected for the job. Lastly, I have always taken pride in my professional and amicable relationships with my colleagues. I'm pretty confident that I am the best candidate for this position."
Best answer for a nursing job #2 (example)
"Great question, I have always been someone who commits fully to the job and the overall idea of nursing. Since I was young, I knew I wanted to be a nurse and now 5 years later I still think it is the best decision I have ever made. For me, being a nurse is more than a paycheck, I get tremendous satisfaction in providing my patients with excellent care. I think you should hire me because I sincerely believe I'm the best candidate for this job."
Best answer for a fresh graduate #1 (example)
"As soon as I read the job description I knew I was the right person for the job. That is because even though I'm a fresh graduate, my volunteering and internship work has allowed me to gain the skills and experience you're looking for. I am sure that I will be a great contributor to the company and I can assure you that you will not regret hiring me."
Best answer for a fresh graduate #2 (example)
"It has always been a dream of mine to work in this company and when I saw you hiring for an entry level position I knew I had to apply. The truth is that I'm very passionate about what you do and as you can see in my resume my skills and goals align with what you're searching for. At this moment I am rather fresh, but that doesn't mean I haven't put in the work. I am a very passionate and motivated person and I believe I am the right candidate for this job."
Best answer for accountant #1 (example)
"Keeping up with the changes in technology is a must for an accountant. I have always been passionate when it comes to learning new programs. Apart from knowing the basic accounting softwares, I have also taken the time to learn Python, as I think it will open up more possibilities for me in the future. If you hire me, know that I will always be up to date with the latest accounting trends."
Best answer for accountant #2 (example)
"I know your company is searching for someone with great attention to detail. I believe I am your candidate as I possess years of experience with the accounting softwares you use. Knowing the ins and outs of these programs will allow me to limit the amount of errors that slip by. On the other hand, I understand accidents happen and if they do I am able to quickly limit the damage they can cause. I believe I am the most capable candidate for this job and you will not regret hiring me."

How to answer the question "Why shouldn't we hire you?"
Sometimes recruiters like to throw oddball questions you don't find in your average job interview guide like, "Why shouldn't we hire you?" or "What is your biggest weakness?".
Usually, such questions are asked in order to gauge your limits, strengths and weaknesses, and to observe how you handle yourself in stressful situations.
Hence, why a good way to answer these question is to:
Keep your cool

.

Collect your thoughts

. Now's a good time to take a sip of water (Reason to always say yes when they offer you water).

Reverse the question

. Pull out your reverse UNO card and flip that weakness into a strength.

Be honest

. Even Superman has a weakness. If you're to show one, show a weakness you overcame.

Don't be too negative

. Negativity is not the best of traits and is definitely not good as a first impression.
With that said, here's an answer example if the company you're applying for values creativity and self guidance:
"If you're looking for someone who should perform each task with management supervision, then i'm not the one you should hire. As I tend to work better when tasks are given with an end goal and I have a bit of leeway to complete it. With that said, I have a good track record of meeting deadlines."
Similar job interview questions
The question "Why should we hire you?" comes in many variations, but with similar intentions. Such as:
Why do you want to work here?

Why are you fit for the position?

Why do you want to work for us?

What will you bring to the position?

Why are you the right candidate

Why should we take the risk in hiring you?
Christy's word of advice

"Because I'm the best!" probably won't cut it 😉 A better way would be to briefly reiterate why you're a great fit by summarizing what they're looking for vs. what you bring to the table: "As well as over a decade of experience as a fine dining chef, I believe my resume and our interview today demonstrate my passion for creating and serving incredible food, leading teams to success, and putting restaurants on the culinary map. As a customer, I've had excellent experiences in your restaurant and fully believe in what you do. I'd be thrilled to be part of your growth and continued success!".

Christy Morgan, Resident HR Expert
Other common job interview questions
"Where do you see yourself in 5 years?"
"Where do you see yourself in 5 years?" is a question asked by recruiters in order to gauge if a potential employee has the ability to commit long-term, especially to a job, project, or company. A good general answer to this interview question is:
"Within 5 years, I see myself in a position that continues to challenge me and that provides me opportunities to grow my skill-set."
"What are you passionate about?"
When answering the question "What are you passionate about?" it's important to be as specific and honest as you can. Recruiters ask this question in order to see what you're truly into and how you think. Also, how you answer this question might also affect where you get placed in the company, so embellishing could backfire.
"Why did you leave your past job?"
In regards to the question "Why did you leave your past job?" What you don't say is just as important as what you do say. Here are the do's and don'ts:
Do:
Answer truthfully

Reframe question back to job prospect

Show right amount of details
Don't:
Slander your past employer

Overdo It with details

Lie about why you left
If you really want to come prepared for the interview, here is an article that teaches you how to answer 100+ common job interview questions. Or simply watch the video guide below.
That's all, good luck in your interview!

Resident Writer

A documentary photographer and writer. Noel has worked for International publications like Deutsche Welle in Germany to News Deeply in New York. He also co-founded the global multimedia project Women Who Stay and collaborated as a journalist fellow with the University of Southern California. He went from traveling around the world to sitting on a couch thanks to the pandemic, but he got a nice job working for Kickresume thanks to that, so he won't complain.