Employees who take their work seriously strive to do their best in the workplace. They often work overtime, willingly take on extra projects and rarely take longer breaks. They do "working lunch".
However, recent research shows that "working hard" is very likely to have a profound negative effect on your productivity. Contrary to popular belief, it isn't that effective and it's definitely not healthy, either.
Without taking sufficient breaks from work, your mental well-being, overall work performance and productivity begin to suffer. In fact, overworked employees often deal with chronic stress that can easily lead to job burnout.
Regular breaks are instrumental in helping employees take a deep breath and recharge for the rest of the workday. So if you're one of those employees scarfing down lunches in their cubicles, you seriously need to consider taking a proper break.
Let's do the math
A recent survey by Tork shows that proper lunch breaks are becoming an endangered species. Step by step, they are falling prey to the recent trend of working lunches.
With only one-third of employees being engaged at work, the disappearance of regular breaks is alarming news.
Fresh thinking needs fresh air. Multiple studies prove that work breaks boost employee productivity, satisfaction, engagement, creativity and wellbeing.
Nearly 20% of employees worry their bosses will think they are less hardworking if they take regular lunch breaks — which actually 22% of North American bosses do!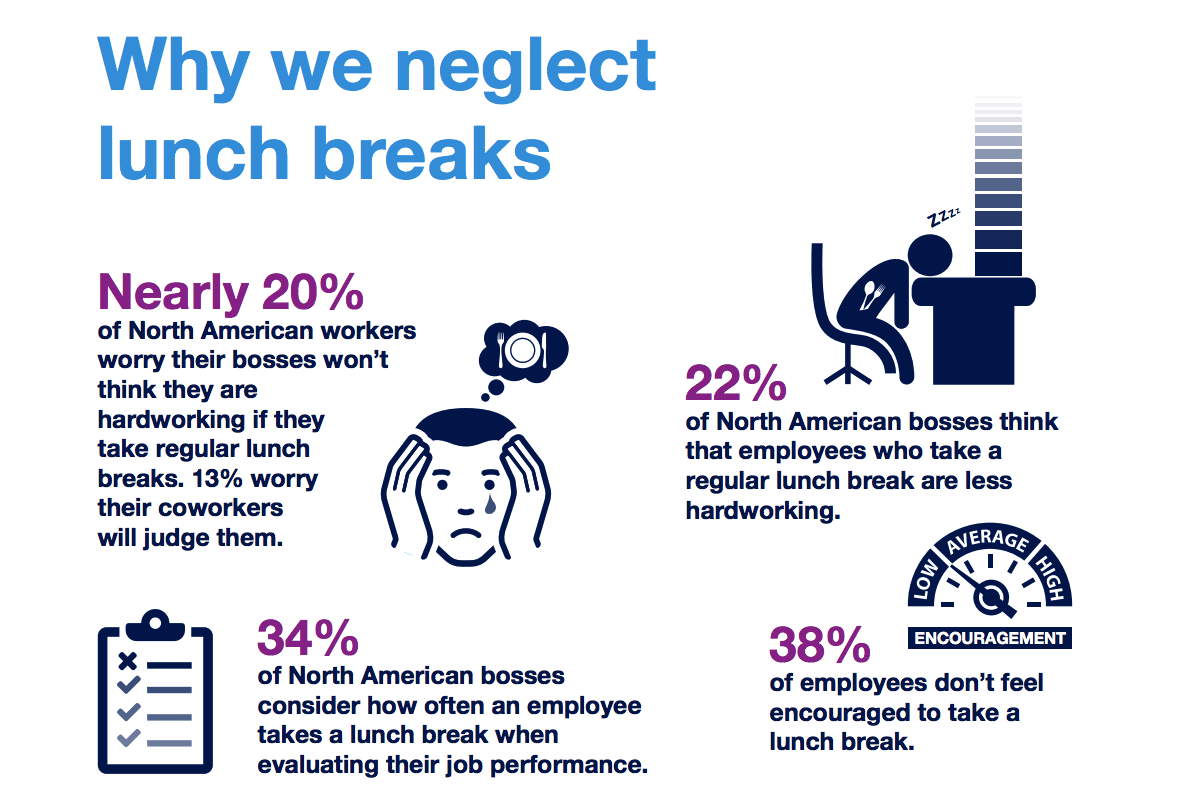 Courtesy of Tork
So what makes lunch breaks so special?
The true lunch break is indispensable and its absence has been shown to lower productivity, increase fatigue and cause tension in the office.
The Tork survey found out that employees who don't skip their lunch breaks feel more engaged and productive. Being able to enjoy their daily oasis of calm, they feel more refreshed and ready to get back to work.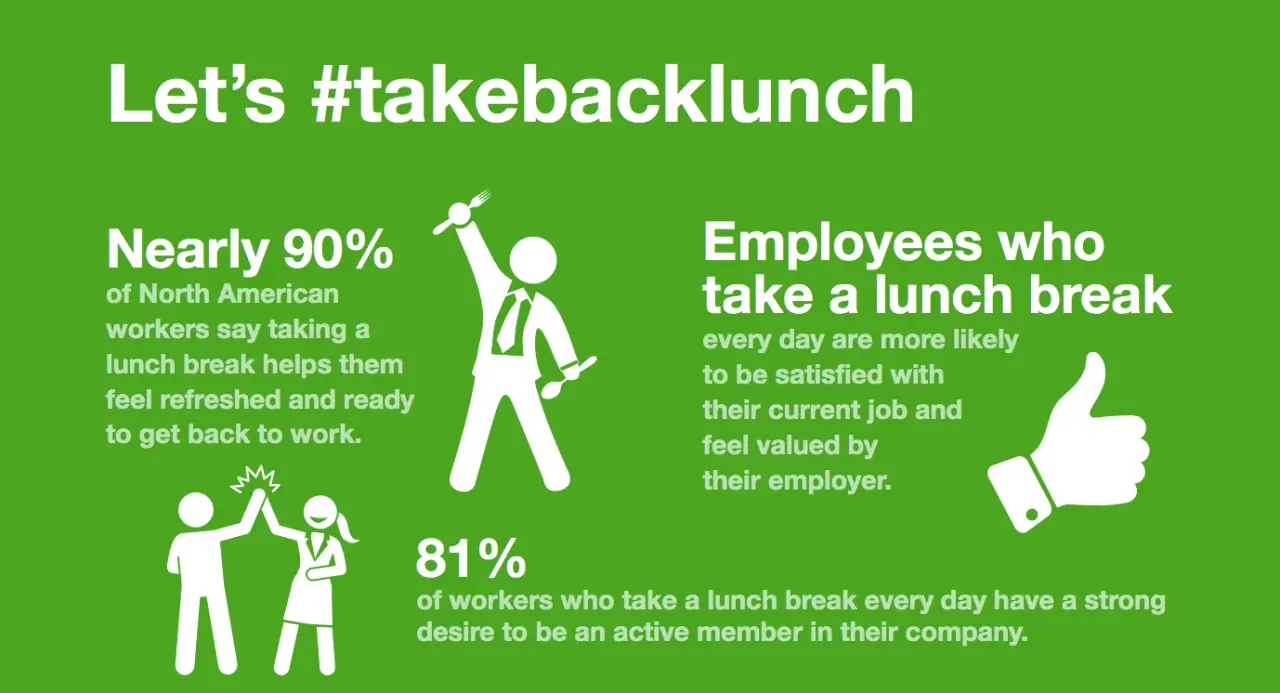 Courtesy of Tork
And it's not only about your lunch. There are many reasons why you should leave your desk at least several times a day.
Regular breaks have research-backed health, wellness and performance benefits. Here are just some of them:
Breaks boost productivity.

While this might sound counterintuitive, but breaks are the best way to reclaim your focus and energy. A refreshing break is also the ultimate weapon to battle that dreaded unproductive, mid-afternoon slump.

Breaks boost creativity.

Long meetings or exhaustive conference calls can drain you completely. But letting your brain rest for a bit can get those creative juices flowing again. The lunch break will help you find perspective on challenging projects and come back with fresh ideas.

Breaks improve your mental well-being.

Workers need time to recharge. Don't let workplace stress occupy your mind by allowing yourself some time to let off steam every now and then. Your mental well-being will thank you.

Breaks are a good time to develop healthy habits.

Besides using your breaks to have a bite, you can also exercise, meditate, or engage in some other type of a self-care activity.

Breaks can help create stronger relationships with your colleagues. Inviting your coworkers to grab a lunch is more than just a good excuse to hang out with your colleagues. It's an ideal time to get to know people who work in the same office as you do and build a sense of community.
Healthy break ideas
There are many types of activities you can use your break for. However, spending your break time practising poor health habits, smoking, or scrolling through social media won't yield any good results.
So how can you make sure each of your breaks should be meaningful and healthy? Here are several useful ideas:
Take a walk.

Fill your regular breaks with physical activity and invite your colleagues for a stroll. Two 10-minute walks each workday are sure to keep the fatigue away.

Snack healthy.

Explore your company kitchen and break rooms. They should offer some healthy snacking options like fresh fruit, veggies and nuts.

Work out.

Regardless of whether you have an onsite gym, you can do some stretching to help blood circulation. If you need to reclaim your inner peace, bring a mat and do a little yoga instead.

Find your quiet spot.

Not all breaks need to be filled with activity. Feel free to retreat someplace to clear your mind and recharge. You can also use this time to read a bit or listen to some relaxing music.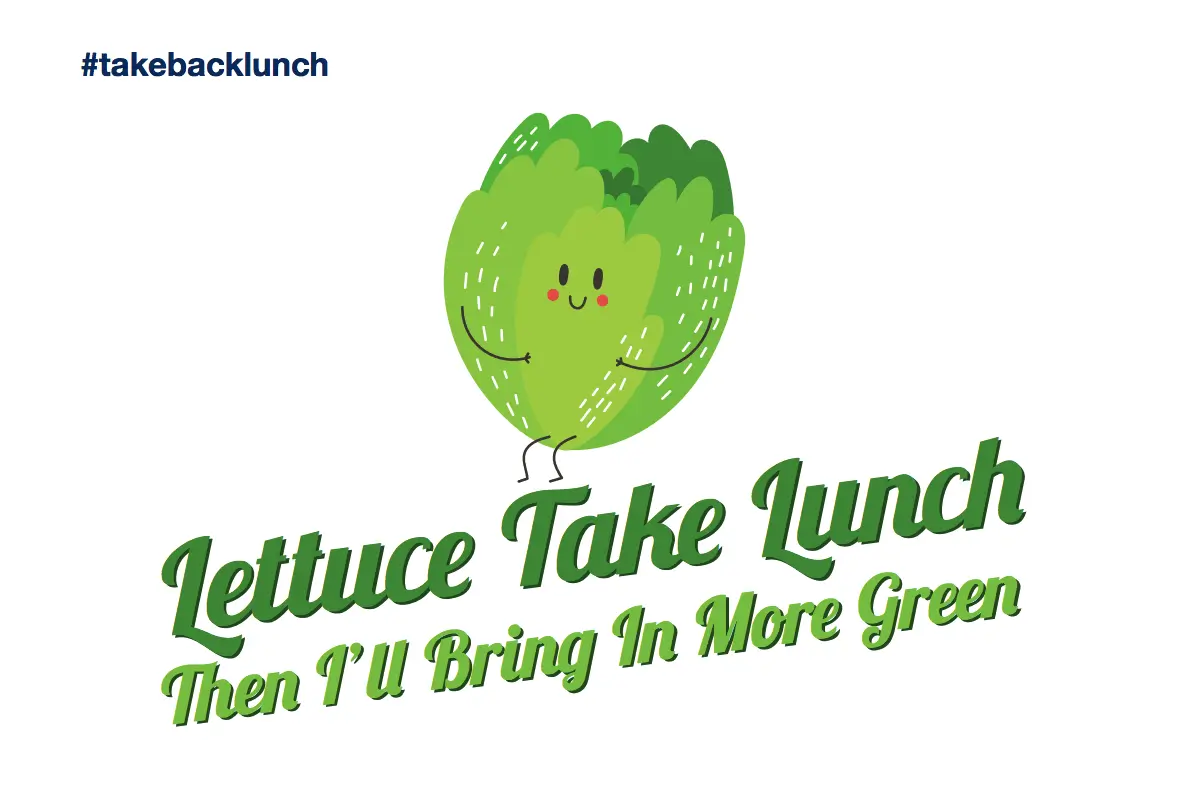 Courtesy of Tork
Working lunch is awful. Lets make the lunch great again.
You might have thought that ditching your lunch break was a sign of dedication to your job. But it seems that's not the case and, apparently, such habit can bring you nothing but despair.
The truth is that employees who value their daily lunch breaks have higher job satisfaction, are more likely to continue working at the same company and recommend their employer to others.
Even Singapore's stock market understood the break is simply indispensable and decided to bring it back. So I guess it's just about time to revisit the concept of productivity and start to enjoy our meals facing something else than our laptop screens.
Bon appetit!
Career & Resume Writer

Jakub Kapral is a former professional linguist and a career writer at Kickresume. He has written almost 100 diligently researched resume advice articles and his texts are visited by thousands of people every month. Jakub is a natural teacher who looks to help those who want to enhance their career prospects. He's also an avid drummer and a proud father of two.